Shonda Rhimes talks to us about her Dove #RealBeauty campaign
Since March of this year, Shonda Rhimes has been directing short narrative films for the new Dove Real Beauty Productions platform where she features the original beauty stories of women from all over the country. By some power of sorcery (read: highly tenable work ethic), she is juggling this new role while continuing to bring us injections of high-powered political drama on ABC (that will soon come to Netflix). She's also a mother of three while overseeing the kingdom of Shondaland. All hyperbole aside, this is a woman with an overflowing plate of projects.
Dove Real Beauty Productions recently hosted a workshop for girls from the Boys & Girls Club in NY. The workshop featured a discussion with Rhimes about the importance of recreating our cultural concept of beauty, and more specifically, the role storytelling can play in that process.
Before the workshop started, HelloGiggles was able to sit down with and ask Rhimes about her writing process, her personal relationship with beauty, and what albums she's currently listening to.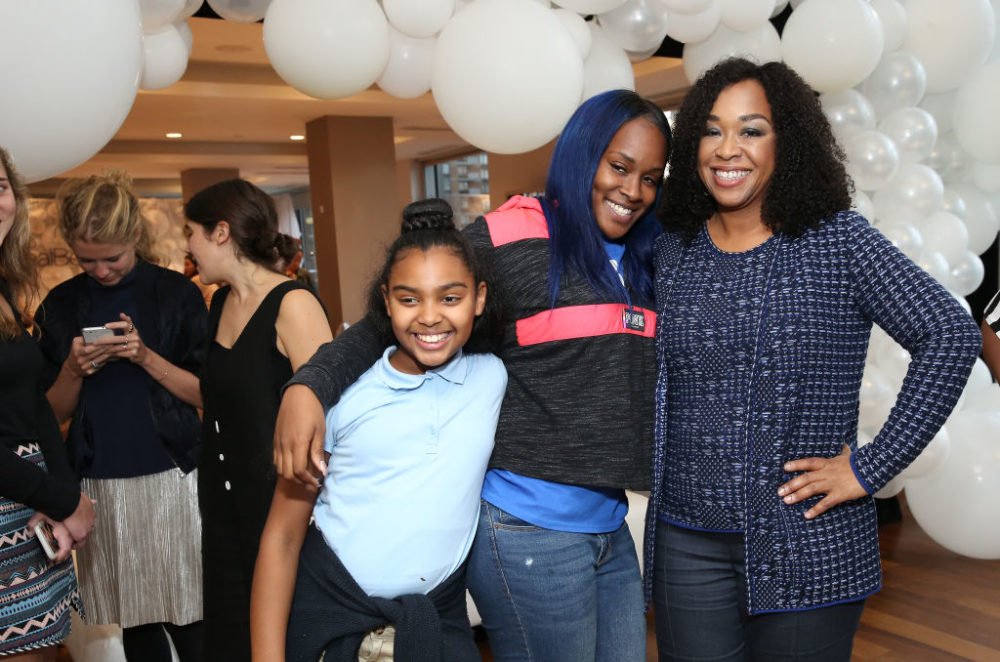 HelloGiggles: Who was one of your first role models as a child?
Shonda Rhimes: Umm, Oprah. I think if you lived anywhere in Chicago, you grew up in the church of Oprah. We spent all of our time watching her every day.
HG: What was your childhood relationship to beauty like? Did you have a definition of the word?
SR: My definition of beauty as a child had a lot to do with my black Barbie Kara, actually there were two — Kara and Christie. I probably thought that they were what a beautiful woman must look like, and go and do and be. Because my parents were such intellectuals, I don't necessarily know that I associated beauty with how you looked. My Barbies did a lot of stuff with their time; it was more about the adventures they went on. To me, that's what glamorous women did — they went on adventures.
HG: Do you view storytelling as an expression of beauty?
SR: Yeah! I feel very much who I am when I'm writing and telling stories. Me at my best, doing what I love is a piece of that.
HG: What does the process of the Real Beauty videos involve — do the women have to go through training to be on camera?
SR: What's great is, they're either nominated or they send their own submission and get picked, they're not trained at all. The point is, you don't want to have some super polished performance. You want to show the women exactly as they are. That's what makes it great; you're letting these women be themselves.
https://www.youtube.com/watch?v=-owM4crSd4Q?feature=oembed
HG: Do you have any rituals you do to relax and give yourself you time between projects?
SR: Oh, haha. I sort of paused there, because I was thinking "relax, what is that?!" I'm either powered up or powered down. There's no ritual there, but I do listen to music.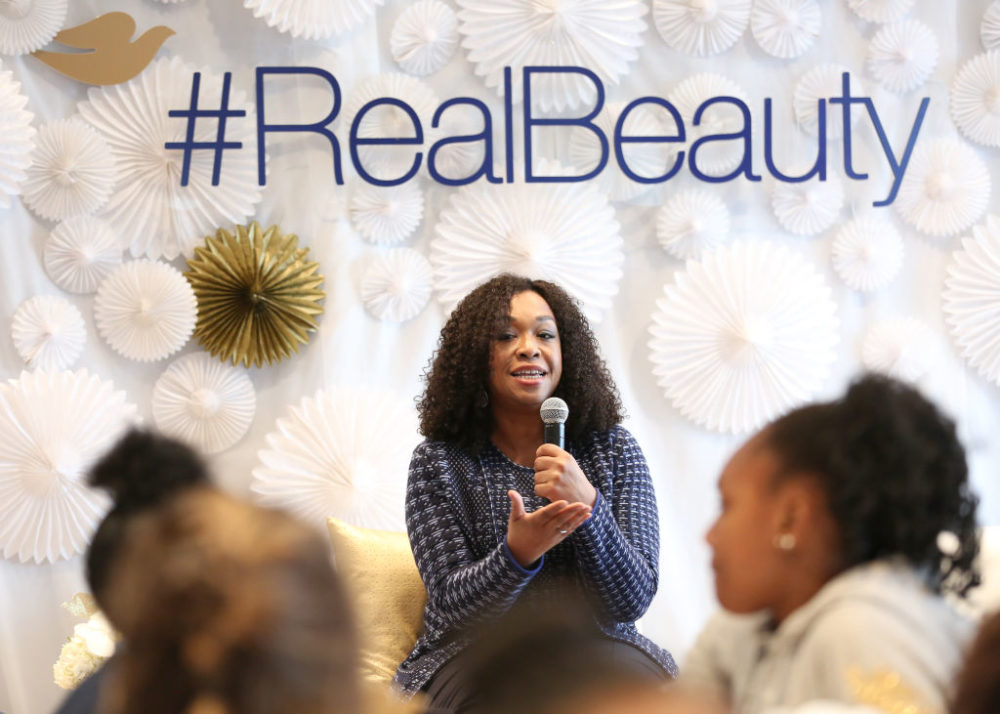 HG: Do you have any favorite albums right now?
SR: It depends. You know, it's not necessarily about my favorite album. It has to be something I love and wanna sing along to without thinking about it. For a full year I listened to Marvin Gaye while writing. Last year, the entire year, I listened to Aretha Franklin or the Hamilton soundtrack. It's not necessarily what I'm dancing to, because I can't write if it's music I dance to. It's really more about finding the songs that make me feel powerful or full.
HG: How different is your approach to creating the Real Beauty videos versus your television shows? Do you have a different perspective?
SR: For me, there's a real team for the Real Beauty videos, which is lovely. They're a very amazing team. For me it was more how we talked about beauty, and how we approach telling people's stories. I spend a lot of time thinking about that. I think, in both cases, it's the same. You want to portray women as they really are, and you want people to be as authentic as possible. I don't wanna make things pretty, because to me beauty really is women as they are. So in that sense, my approach is the same.
https://www.youtube.com/watch?v=poIrZELfEME?start=2&feature=oembed
HG: What's the most embarrassing television show that you love?
SR: Honestly, I don't believe in guilty pleasure television shows. If you feel guilty or embarrassed about watching something, you shouldn't be watching it. That's my theory.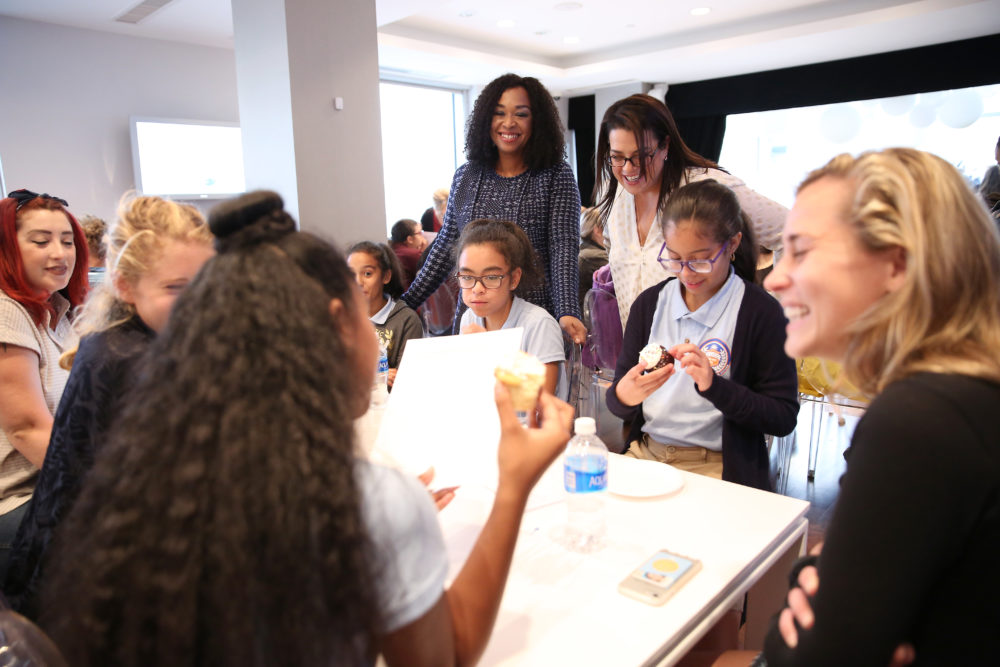 HG: Is it fun to see how much you're referenced in other media? For example, in Dear White People the show "Defamation" was heavily referencing you — was that fun or surreal?
SR: I'm a big fan of the show Dear White People and I watched it a lot. I don't know how I feel, I will be honest and say that I laughed hysterically at all the references. But I never really thought about whether it was surreal or not. I just enjoyed the show. So, I didn't take it as a reference to me, I just enjoyed their work. I thought "Defamation" inside the show was hilarious, and I thought the whole show was good.
HG: Do you have any specific moments meeting with young female fans that really stuck with you?
SR: You know, that's an interesting question. Part of the reason we did the Real Beauty campaign is because I wanted real women to have an influence on other young women. You could turn on the television and see someone who looks like you, and that would make you feel more at home with yourself or more like you could accomplish something. Sometimes I'll meet young women who say "I'm a doctor and Grey's Anatomy inspired me." For me, that's the real thrill. More than almost anything else, because if you're a doctor you're literally saving lives, and it's more women going into the sciences. For me, that's the biggest one. It's exciting! I'm a science junkie, but I could never make it as a doctor because blood scares me. It's really great to see that these women have the courage to go for it.
Find out more about Dove's Real Beauty Productions here.