Let Shiv Roy's style be your fall work inspiration
If you haven't gotten the memo, Succession is the TV show to watch right now. The HBO drama—which centers around Logan Roy, the head of a media conglomerate, and his highly dysfunctional family—is the water cooler show of the moment. What has captured many viewers' attention, besides the smart writing and sociopathic characters, is Roy's youngest child and only daughter, Shiv.
Shivon "Shiv" Roy, played masterfully by actress Sarah Snook, is a sharp businesswoman, and her style reflects that. Whether she will be the successor to her father's company remains to be seen, she already has the power wardrobe down. And while we don't condone the backstabbing her character commits, we do support emulating her streamlined wardrobe to tap into her girl boss energy.
If you break down Shiv's style, it's quite timeless and easy to pull off. Her clothing palette is mostly neutral with some autumnal accents, and her silhouettes are both simple and sleek. And although her closet might be full of luxurious designer brands, there is no need for yours to be. Check out what style staples you need to embrace your inner Shiv.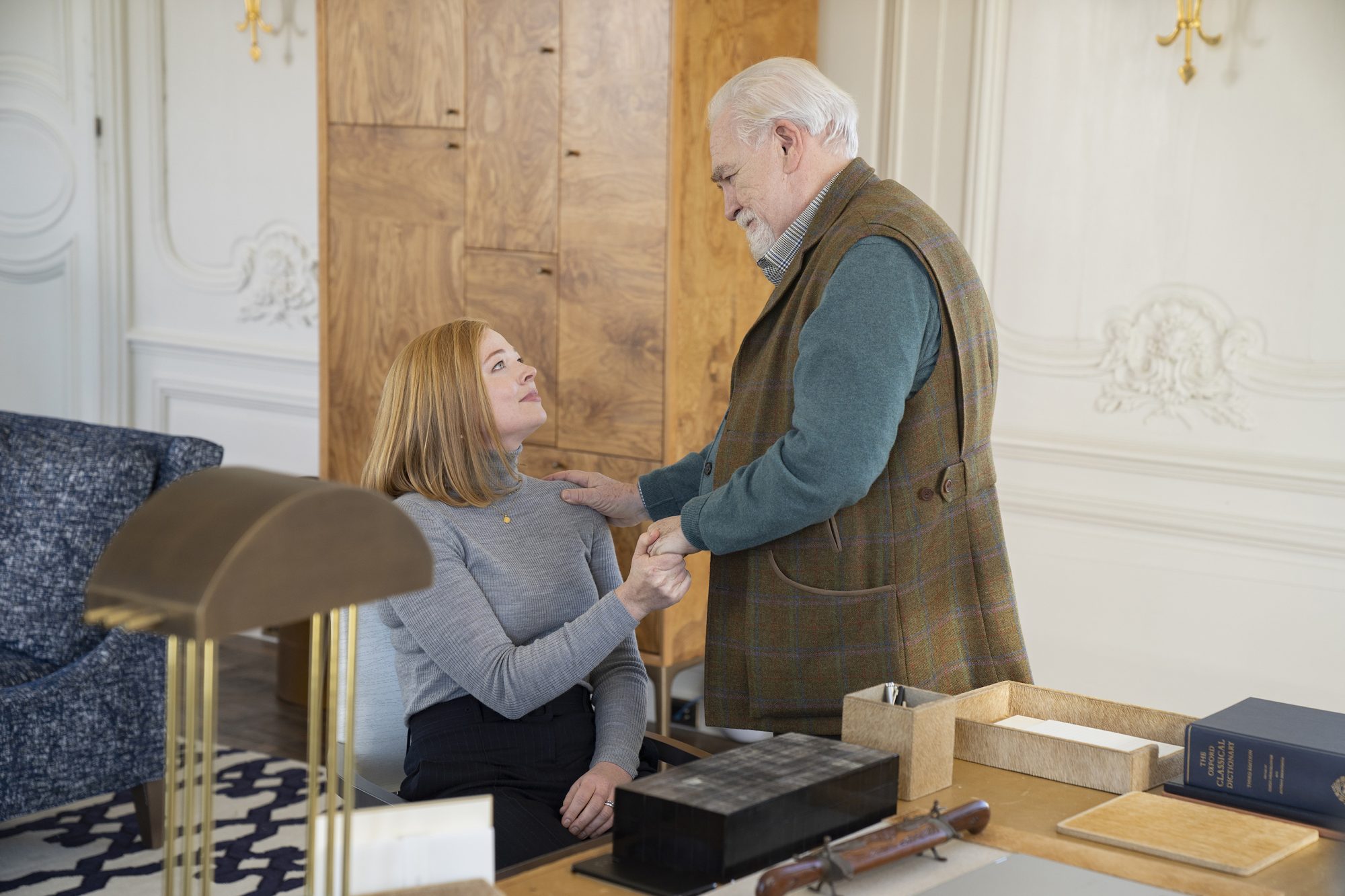 Turtlenecks
We imagine Shiv's closet (which must be epic) to have an entire side dedicated to turtlenecks. It's her signature piece, and we love how she has made something so simple become such a statement. Shiv tends to wear this piece tucked into pants or a skirt, but it also works as a great layering piece under a slip dress or top.
Although black, white, and gray are versatile; a fall color like teal matches just as easily and will add some dimension to your look.

Short-sleeved options are great to prevent overheating when you put something like a blazer or leather jacket on top.
A bodysuit eliminates the need to constantly adjust your top throughout the day to get that deep-tuck look.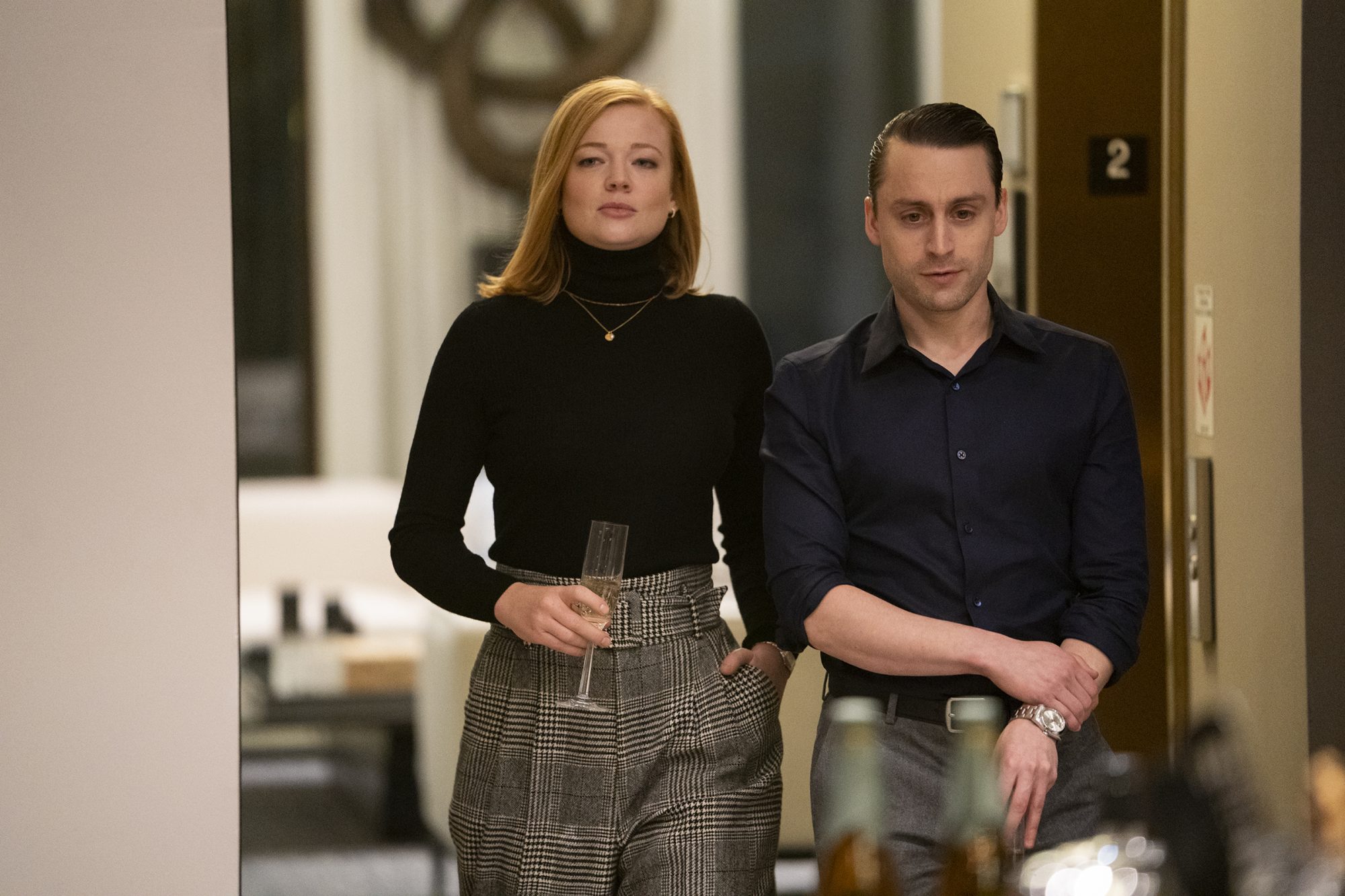 High-Waisted Pants
Damn, this woman sure knows how to wear a pair of pants. In recent years, pants have received a lot of attention thanks to the comeback of pleats and the wide-leg trend. Shiv prefers styles that sit higher on her waist to give her a tailored and polished appearance. The pants demand attention and respect, just like Shiv (and any woman for that matter) should have in a boardroom.
The belted waistband is elastic, keeping you comfortable all day. Also, the cropped cut lets you show off any shoes you slip on.
A paper bag waist is a flattering style–pair it with something fitted on top to balance out the fuller cut waist.
A tapered leg is a great option if you prefer a slimmer leg. It's like the skinny jeans of pants.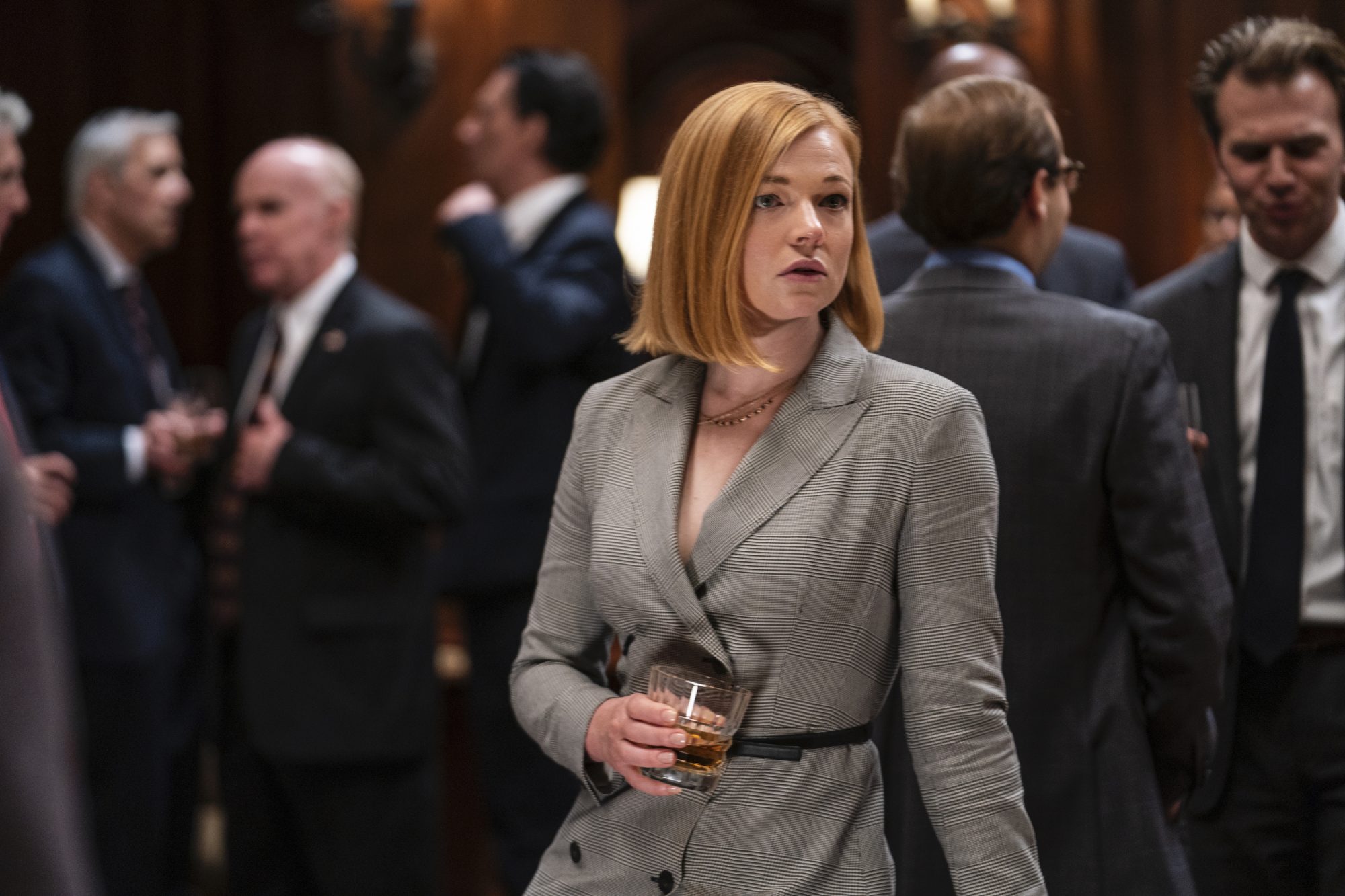 Double-breasted blazers
Shiv's looks are certainly menswear-inspired, but she makes sure there is a feminine or sexy spin to every outfit. She wears tailored double-breasted blazers and adds accessories, like a belt, to show off her shape. To imitate her style, look for blazers that have structured shoulders and some nipping in at the waist to create an hourglass silhouette.
Wear it with matching pants for the corporate environment, and with a rock 'n' roll tee for Sunday fun day.

If adding additional accessories makes you nervous, go with a style that has a belt attached to get the look without the fuss.

Master Shiv's monochromatic moments with a solid neutral–it's an easy way to look like you spent a lot more money on your look than you actually did.
Silk Blouses
Almost as strong as her turtleneck game is her button-down top collection. Fabrics like silk and satin and colors like rust and rose present a softer side of the character. Take note–instead of buying yet another white cotton shirt, choose one in a seasonal shade or in a stand-out material to jazz up your look.
This relaxed blouse in burnt orange embodies the relaxed feel of fall and works with navy and brown.
Yes, you always need a white blouse in your closet, but next time you add another one to your collection, look for one with a stylish touch–like this Victorian-inspired one.

A pale pink or purple shade adds a feminine touch, and the shiny satin makes this piece a little dressier too.
"Girl Boss" Accessories
No outfit is complete without a few accessories. Shiv keeps her jewelry classic and simple with delicate chain necklaces and small hoops. She plays into the corporate wardrobe with a briefcase that keeps her papers secure while she runs from a meeting in midtown Manhattan to a helicopter ride to the Hamptons. The only time she will add a busy pattern to her look is when she throws on a loose scarf. All these small details are what keep us tuning in week after week. Oh, that and the crazy family drama.
Layering simple gold necklaces is a thing at the moment. This lariat style is perfect over turtlenecks too.
Of course, there are moments for large hoops, but investing in some smaller ones you can wear daily is something you won't regret.

To keep your look on the right side of classy, go with a sophisticated print like paisley or floral in neutral color scheme.
This briefcase, made with vegan leather, is a useful and guilt-free purchase. The natural color will keep you looking sharp.