The shirtless Olympian from Tonga is back, and the internet is on fire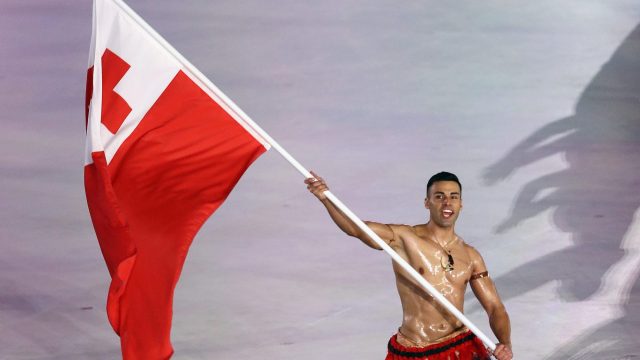 Two years after making headlines with his ripped, oiled-up chest at the 2016 Summer Games in Rio, Tonga's flag bearer Pita Taufatofua is back — and shirtless again. On Friday, February 9th, the Olympian braved the cold during the opening ceremony of the 2018 Winter Olympics in PyeongChang, proving that even freezing cold temperatures can't chill is vibe.
The toned athlete seemed unfazed by the bitter South Korean cold as he marched into the Olympic stadium carrying his national flag. The only thing better than seeing him shirtless again were the hilarious tweets that followed.
https://twitter.com/udfredirect/status/961960085659504640
Taufatofua was confident about his decision to go topless before heading out into the cold. "I won't freeze," he said ahead of the ceremony. "I am from Tonga. We sailed across the Pacific. This is nothing."
In case you're wondering why he's at the Winter Games after competing in 2016, the 24-year-old transformed himself from a taekwondo competitor into a Winter Olympic cross-country skier.
"After Rio I decided to find the hardest sport possible, because I needed a new challenge, and the hardest sport possible was cross country skiing, Taufatofua told the Olympic Channel. "The goal was to do it in one year. And we did it in one year he said. "Twenty years I sacrificed to become a summer Olympian, and one year to become a winter Olympian.
Dang. Better not tell all the other Winter Olympians that.
Honestly, we think Taufatofua deserves an Olympic medal for going up against those subfreezing temperatures. Or at least for "Most Popular Flag Bearer."