Shia LaBeouf's wife Mia Goth calls him "brilliant," and we're swooning over spouses who support each other's work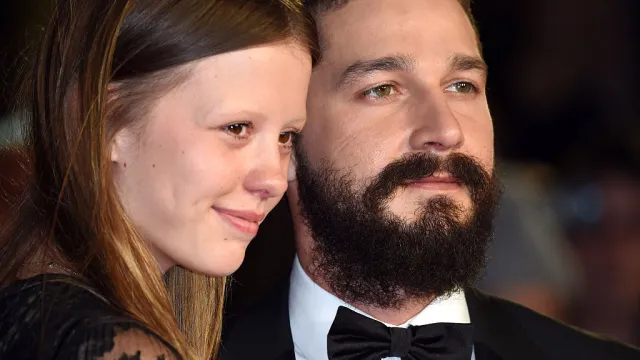 He could be called a lot of things — eccentric, talented, bizarre, and unpredictable to start, but we love that British-Brazilian actress Mia Goth calls husband Shia LaBeouf a "brilliant actor", without hesitation. Can we get an amen from those loving spouses that think the world of their partners!?
"I try to keep my private life, private and just try to stick to the work," 23-year-old Mia told ET while promoting her new film A Cure for Wellness; although she did take the time to gush a little about her controversial significant other. The film, which is described as a "psychological horror thriller film" was directed by adventure-master Gore Verbinski and first premiered late last year, just two months after Shia and Mia (does this make their celeb-combo name just Shia, pronounced Shee-ya?) tied the knot in Vegas. Sure, this has them still very much in the honeymoon phase, but we are so in love with couples who are, well, also in love. It's contagious!
The couple that praises each other, stays together.
"He's definitely one of the most brilliant actors, for sure," concluded Mia at the mention of her husband. LaBeouf was not in attendance for the premiere, most likely due to the filming of this fall's Borg vs. McEnroe, in which Shia plays a young John McEnroe as we follow the famous rivalry between he and fellow tennis player Björn Borg. Can we safely assume Shia is pouring his heart and soul into learning death-defying tennis skills at this very moment? Yes. Yes we can.
https://www.instagram.com/p/BNzGbDDgMub
See A Cure for Wellness in theaters everywhere this Friday! And, oh yeah…bring a friend. This is not the kind of thing you want to see alone. Watch the super spooky trailer here (Rated R!).