"She's All Fat" is the body-positive podcast we've been waiting for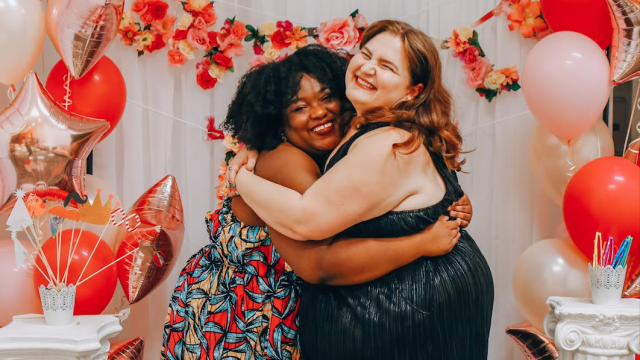 "Body-positive" may be a buzzword as of late, but that doesn't mean the internet always affords those in the movement the space they need to share their stories. While the internet is full of instagrammers and bloggers sharing their journeys, there's a niche that has yet to be filled. Thankfully, April K. Quioh and Sophie Carter-Kahn created "She's All Fat," a fun, entertaining body-positive podcast devoted to fat stories. The two Los Angeles-based writers and friends were inspired to create the podcast after realizing there was nothing else like it. And the rest, as they say, is herstory.
The word "fat" still has a stigma surrounding it, which is part of the reason these two were so inclined to create the podcast in the first place.
Sophie explains,
"We want to help people understand that 'fat' is a neutral term/descriptor, just like 'short' or 'tall.'
Instead of shying away from this language, the two have embraced it, and rightly so. It's only by having these conversations that we'll be able to see real change.
The inspiration behind She's All Fat came after Sophie started to post about her own journey toward body positivity online, and began receiving a positive response. After April came up with the idea, and Sophie's friend Lindsey came up with the name, the two decided to create the lovechild that is "She's All Fat." Sophie reveals,
"We found that our conversations aren't being heard or had in public in a lot of other places, and we love hearing other conversations about people's experiences and identities, so we figured...we'll share ours!"
April tells Hellogiggles, "Between the two of us, we've had experiences that so many can relate to and we're excited about creating a space where people can hear voices like ours for the very first time. Since many women of color often feel excluded from body-positive conversations online, we place a great emphasis on being as intersectional as possible."
She's All Fat is the answer to this, creating an online safe space where women and femmes can can learn about the fat experience in a way that's open, real, inviting, and accepting.
And while Sophie and April have plenty in common, they're also very different, which is part of the beauty of their podcast. Not only will they have interviews and fake ads, because they're funny (and to let potential advertisers know they're looking for sponsorships), in the podcast, but they'll also have a segment called "It's Okay, You Can Ask." This is when the two get to ask one another questions they wouldn't feel comfortable asking in another space, like when Sophie asks April the difference between a wig and a weave in Episode 3. 
Yes, this is a space to have discussions about everything fat, but it's also a space of positivity, of real conversation, of healing and change. Although this is a new podcast, the duo still have big dreams for what they plan to accomplish. Not only do they want to grow and make merch — they also plan on creating events to bring their podcast to real life. If you want to help make this a reality, then you can support their Patreon.
And of course, don't forget to listen on iTunes now!