Apparently, people want Sheryl Sandberg to take over Facebook amid the #DeleteFacebook crisis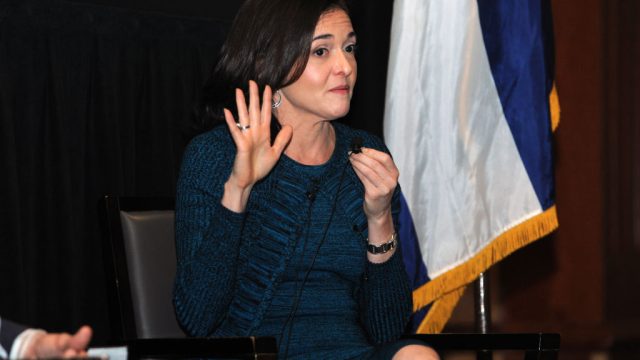 In the midst of Facebook's latest scandal, technology investor and CEO of Inside.com Jason Calacanis says that it's time for Sheryl Sandberg to run Facebook. In case you missed it, Facebook's latest scandal is much worse than algorithm changes and News Feed problems.
In 2014, conservative research firm Cambridge Analytica, under the guidance of Steven Bannon, gained access to 50 million user profiles (without consent) in order to target them with unique political advertisements ahead of the 2016 election. It reportedly took Facebook a year to realize the scale of the information harvest and the company never informed users of the breach.
This latest incident has many chanting "delete Facebook" and the hashtag #DeleteFacebook swirled online.
Calacanis seems to think that Zuckerberg has done a bad job at managing the myriad crises at the social media giant and that Sandberg could lead the company back to prominence.
"It's a complete and utter failure of leadership," Calcanis revealed on CNBC's Closing Bell. He even added that Zuckerberg has been "MIA" in the wake of the security breach news. "She's better at understanding how to manage these issues," he added, calling Sandberg a "tremendous leader."
https://twitter.com/udfredirect/status/976028931160723457
Simply based on how much Facebook was weaponized in the 2016 election, we don't blame anyone for wanting to delete Facebook, but a Sheryl-run Facebook might not be the better option. Both she and Zuckerberg were noticeably absent from an all-staff meeting on Tuesday, March 20th, 2018 that took place to allow employees to ask questions about Facebook's relationship with Cambridge Analytica. Sandberg has typically been the public face of the company in recent crisis situations, but her press conference in October 2017 about Russia's involvement with Facebook didn't go over well with users.
Maybe #DeleteFacebook is the right movement and we're all better off jumping ship. Once upon a time, Facebook was a place to post photos and like your friend's clever status, then it became a tool for the Russia government to spread fake news, and now it's bordering on 1984 territory. Big Brother, is that you?