"Sherlock" co-creator talks about whether Sherlock and Watson would ever be romantically involved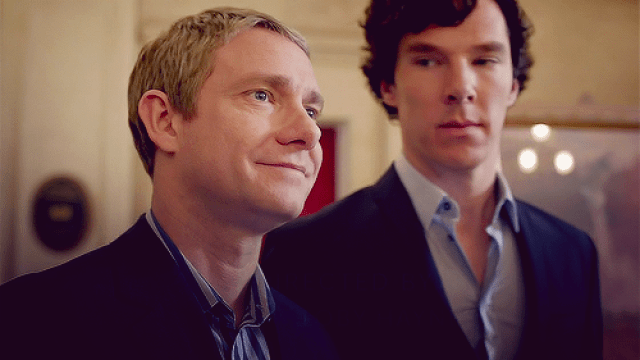 While some fans may be rooting for a Sherlock and Watson relationship, apparently that's just never going to happen. The Sherlock co-creator doesn't foresee a relationship ever happening between the two characters, and well, he's in charge.
Sherlock co-creators Mark Gatiss and Steven Moffat chatted with fans during a question and answer session on Tumblr. They answered all kinds of questions about the TV series starring Benedict Cumberbatch as Sherlock Holmes and Martin Freeman as Dr. John Watson. But one question in particular gave fans some insight into where a certain relationship may or may not go.
Spoiler alert: It's not going anywhere romantic.
The question was, "Are you completely against the idea of Sherlock having a relationship with John? If so, what are your reasons?"
"Of course we're not against it," Gatiss responded. "But as we have explained many times, that's not the story that we want to tell. Obviously as a gay man myself, I have no problem with the notion that a Sherlock Holmes and a Doctor Watson could be in a relationship together, but ours aren't. It's as simple as that. Sherlock is clearly capable of feeling emotion and of falling for someone, but that someone is not John Watson, despite his love and great affection for him."
 Ah, well okay then. But what about when Sherlock says "I love you" to a mysterious person at the end of the Season 4 preview?
https://www.youtube.com/watch?v=vNb8JAqwTtQ?feature=oembed
"His mum, obviously," Gatiss joked. "He doesn't ring home often enough and usually forgets her birthday," Gatiss teased. "He's a very naughty boy."
At least we think he's joking.
Season four of Sherlock premieres on Sunday, January 1st.