Amazing news: "Sherlock" Season 4 is happening this year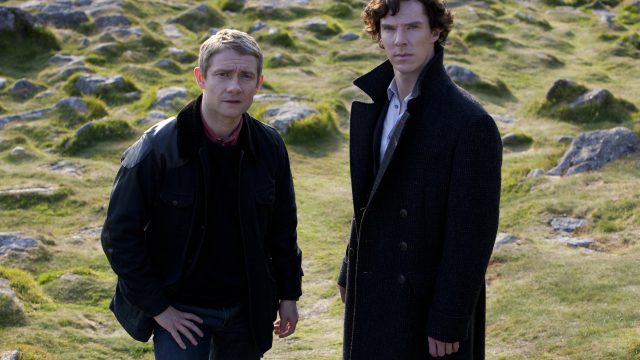 Has Christmas come early? Okay, we throw that idea around a lot, because with lots of amazing fangirl-y things are happening in the world, it sure does seem like Christmas is every day of the year. But now the phrase really rings true, because it feels like Christmas with the announcement of the BEST Christmas present ever: Sherlock Season 4.
Yes, the long-awaited, and heavily anticipated fourth season of the ah-MAH-zing BBC show staring our two favorite sleuthing BFFs, Sherlock Holmes and John Watson, is tentatively, supposedly, set to be released around Christmas this year.
!!!
Stopping by The Graham Norton Show (for an episode that will air tomorrow night) Doctor Watson himself, Martin Freeman, dropped some major Sherlock news. Explaining to Norton, "We are back filming now and the three shows will, I imagine, be out around Christmas."
!!!!!!
We always knew that Sherlock would be coming at some point in the future, but never knew when. And as you know, you sherlocked human, Sherlock loves to take its sweet time arriving to our television sets. Season 1 was already SIX YEARS AGO. It was kind of assumed that Season 4 wouldn't arrive till early 2017 at the earliest, late 2017 at the latest. But with the news that it ~should~ be out around CHRISTMAS? That's only 240 days away!!
And okay, it's probably going to be out around Christmas for those friends actually living in The U.K. with direct access to the BBC. Those of us stateside and relying on PBS will probably have to wait a tad bit longer, but hopefully not too long! And bottom line: SHERLOCK IS COMING. THIS IS INDEED WHAT CHRISTMAS FEELS LIKE.