"Sherlock" just released a crazy teaser for Season 4 and we're super worried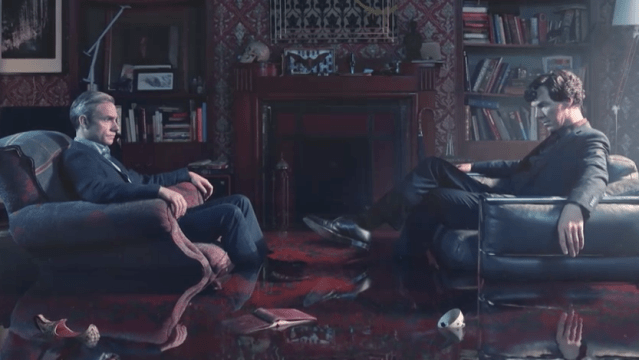 From the looks of the new teaser for Season 4 of Sherlock, our favorite functioning sociopath detective is about to go up against his greatest foe yet: Faulty plumbing.
The end of Season 3 ended on a pretty big cliffhanger — Moriarty, anyone? — and though Sherlock was technically banished, he's coming back to try and stop…whatever's about to happen. Taking a gander at the newly released teaser for the BBC show, Sherlock is coming back to stop a leaky pipe from flooding his apartment. But hey, that's just all in a day's work when you're Sherlock Holmes.
The 15-second teaser offers up nothing but Sherlock Holmes and John Watson sitting in their usual chairs in their (once) shared apartment. And everything is completely flooded. They're sitting in knee-deep water, as items from the apartment float around them. Doesn't it just break your heart to see Sherlock's violin bobbing up and down in the water like that? What kind of pipe burst? WHO caused this pipe to burst? Why isn't type-A Sherlock trying to do anything to stop it??
The text on the video reminds us that "it's not a game anymore" and you know what they say: It's all fun and games until Moriarty comes back from the dead. Still not entirely clear if he's the one behind this flooding, or if it's one of his cronies carrying out his work, or if he did somehow survive his own suicide. So many questions, at least we'll finally get some answers when Sherlock returns in early 2017.
Also, is it just us, or have Sherlock and Watson just totally nailed the mannequin challenge with this teaser?