The "Sherlock" Season 4 episode titles have been announced, and they're very mysterious
Something we know for certain is that beautiful Sherlock will grace our television sets sometime in early 2017. When, though, is still a ~mystery~ that we desperately want to solve, and now it appears as if we've got a brand new Sherlock Season 4 puzzle on our hands too: The titles for the first two episodes have been released, and SAY WHAT?
Over the weekend, there was a Sherlock convention in London (and yeah, we sadly missed it, but we were totally there in spirit). Lots of information about the upcoming season was spilled, but the biggest nugget has to be the first two episode titles. As you probably know — because you live and breathe Sherlock — all Sherlock episodes somehow allude to an OG Sherlock story by author Sir Arthur Conan Doyle, AND somehow related to what happens in the episode.
Episode One will be titled, "The Six Thatchers," and is probably a nod to the story, "The Six Napoleons" (about a dude who is going around smashing busts of Napoleon — and the entire plot of this story may have actually already been revealed by John Watson himself). Episode two will be "The Lying Detective," after "The Dying Detective" (where Sherlock pretends he's dying to solve a case, because of course he does).
The last episode remains a totally MYSTERY, which just makes our heart (and head) hurt a lot. This upcoming season is already being described as much darker than prior seasons, and along with the fact that Moriarty may or may not be dead is very stressful as it is. At Comic-Con, three "clue words" were teased, and we see Thatcher in the episode titles. Also, in the story of "The Dying Detective," the bad guy's name is Smith (um, spoiler I guess).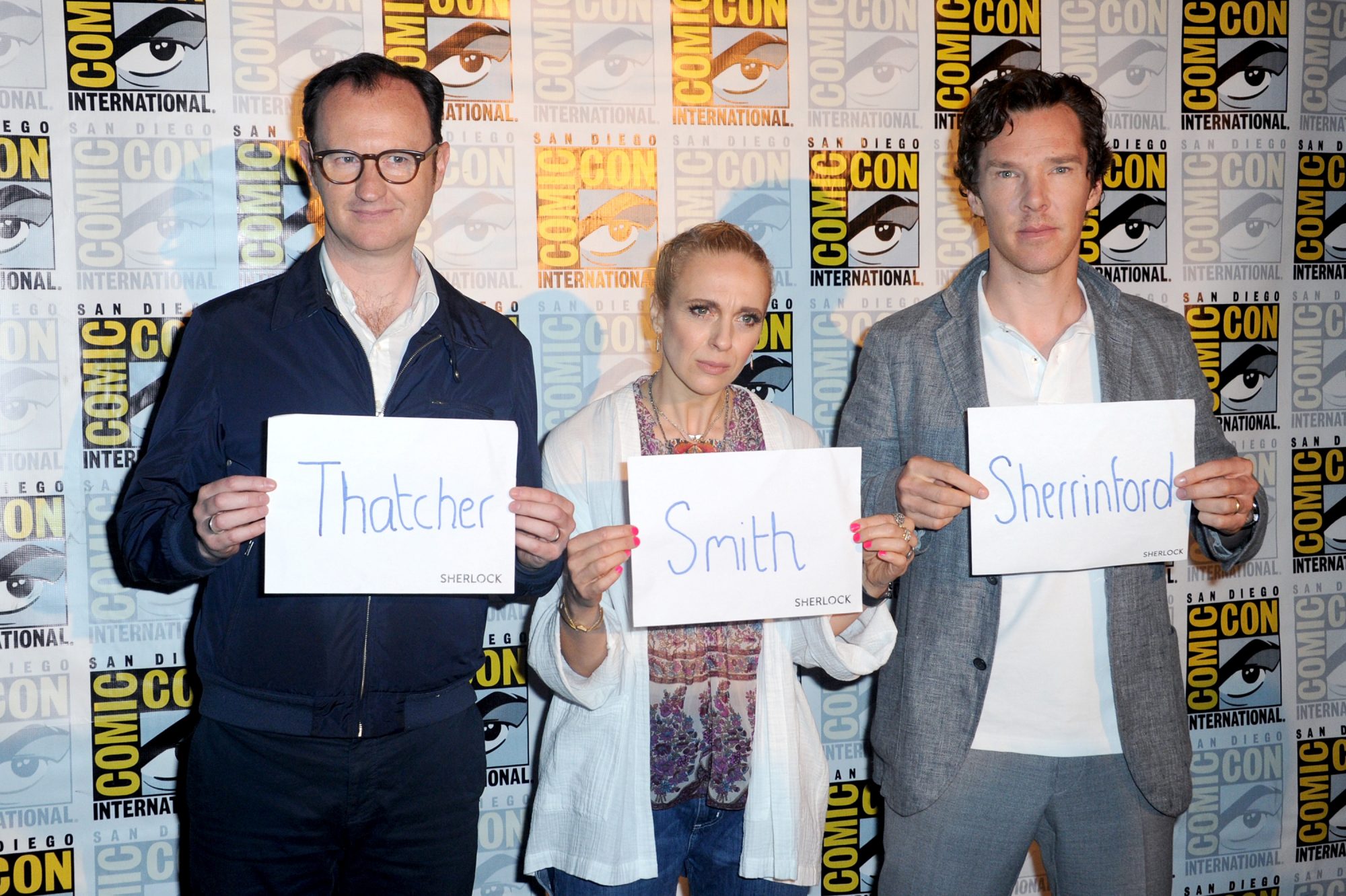 The last word MAY OR MAY NOT REFERR TO A LONG-LOST HOLES BROTHER (who may or may not be Tom Hiddleston). It also probably refers to the last episode of the season, so start preparing your hearts for it now. We're in for a heavy Sherlock season, that's for sure.