Shay Mitchell's patriotic glam is the perfect 4th of July makeup look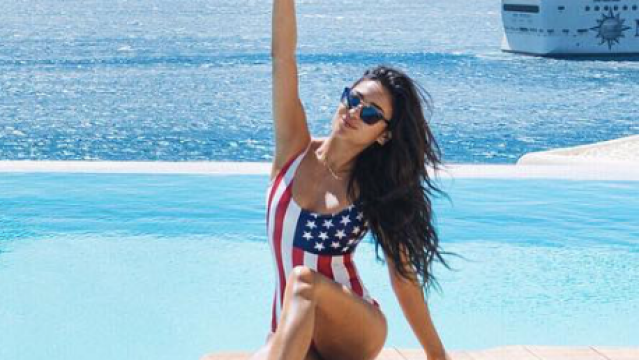 Happy Fourth of July! While you're celebrating this patriotic day, remember that your beauty look can be all about the Fourth, too.
Makeup artist Patrick Ta shared a throwback picture of Pretty Little Liars star Shay Mitchell rocking a particularly patriotic beauty look, and we think it's just perfect for the Fourth.
It may only be Tuesday, but Patrick Ta decided to celebrate Independence Day with a throwback from January. And we have to say, he couldn't have chosen a more appropriate look: Shay Mitchell looks glam, gorgeous, and perfectly patriotic. The makeup manages to subtly celebrate this national holiday while still being chic enough that you could wear it to a fancy party.
When you're going red, white, and blue with your makeup you have to be careful to pull off the perfect balance. When it comes to Shay Mitchell's look, Patrick Ta used a bright blue shadow — but kept it focused on the bottom of her eyes. The effect is unconventional and provides a surprising burst of color. The rest of the eye is done in a simple brown that doesn't take away from the rest of the look.
For the "red" in "red, white, and blue," what else could Patrick go with besides a bold red lip? Shay Mitchell rocks the perfect red shade the complements the blue of her eyeshadow without either being too overpowering. Make sure to find the right red for your skin tone when trying out this look. And for the finishing touches, a highlighter is used to enhance and accentuate. The final result is a beautiful twist on those classic Fourth of July colors.