Shay Mitchell told us her top 5 workout tips for staying motivated and getting results
Working out is usually easier said than done. It not only takes a lot to stay motivated, but it can be hard to just figure out what exercises to do, and when, and how.
We recently got the opportunity to chat with Pretty Little Liars alum Shay Mitchell, who participated in the Propel Co: Labs Fitness Festival in Los Angeles with her trainer Harley Pasternak. She gave us some of her top fitness tips for efficient workouts, as well as how she powers through on days she's feeling less-than-motivated. Needless to say, WE'RE LISTENING. Hard.
So if, like us, you struggle with staying motivated, read on for Shay's top tips!
1Combine weights and cardio in one workout.
Shay said, "I swear by combining weights and cardio in the same hour. I like to do cardio to start off my workout and then mix in some weights — it can even be your own bodyweight. I like to do planks or lunges with a weight. But I think it's that switching back-and-forth that is so important — like a Barry's Bootcamp."
2Workout regularly — but not necessarily at the gym.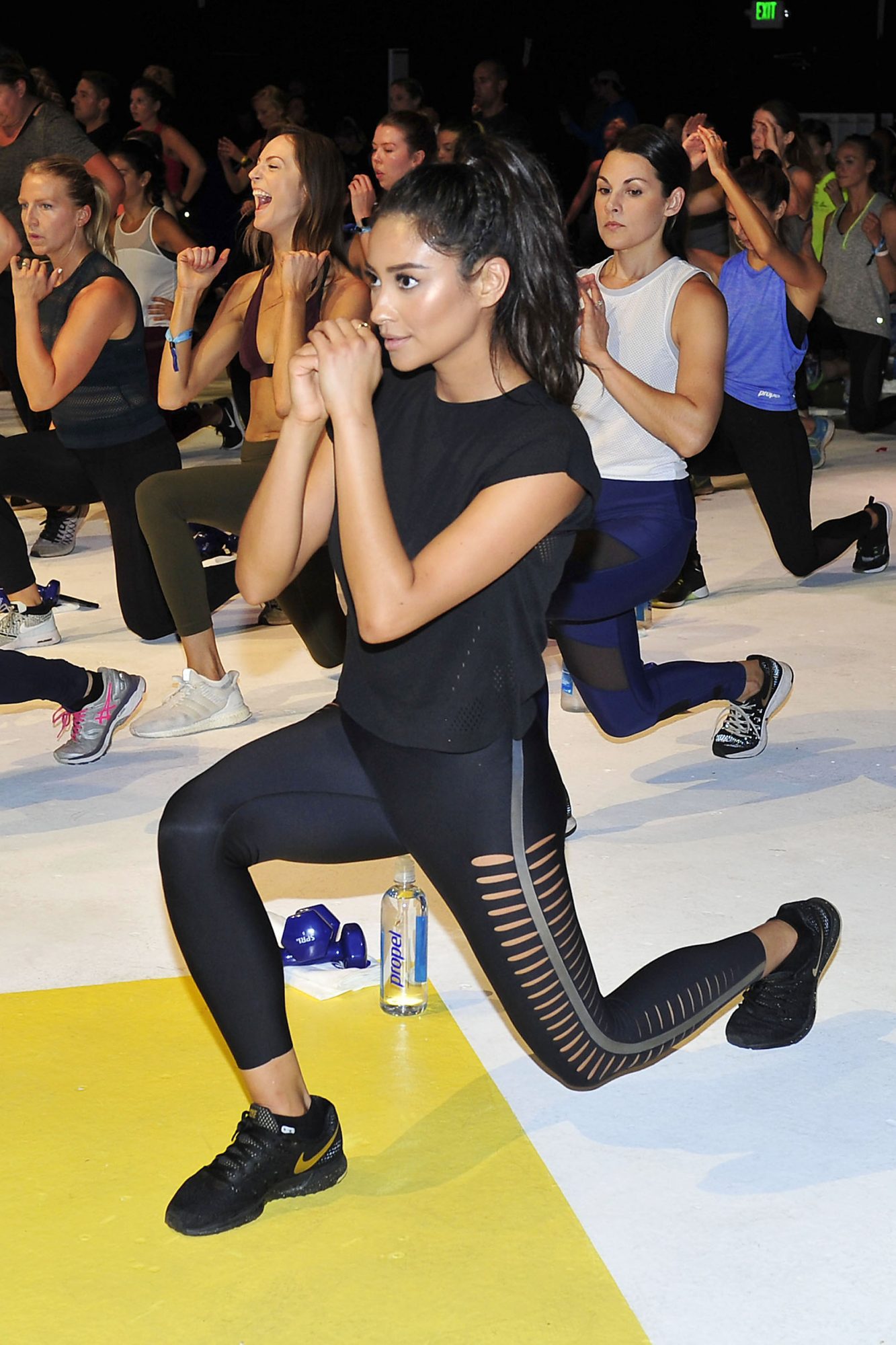 "I typically workout for an hour," Shay said. "But sometimes I work out two times a day. When I can, I like to work out four-five times a week. But that doesn't always mean in a gym. It can mean taking my dog for a walk or hike. Or I might jump on a bike and ride that from Santa Monica to Venice."
3Make a playlist!
Take some time to fashion a super solid pump up playlist, whatever that may mean for you. Shay noted, "I love R&B, hip-hop, pop – anything that has a good beat. Nothing gets me more excited than 90's hip-hop."
4Focus on how good you'll feel after.
When she's having trouble getting motivated, Shay said, "I honestly think back to how I felt after my last workout and how I know I'm going to feel after this workout. It's sometimes a little difficult to get yourself out of bed and make it to a class. But the endorphins that are released during that workout and how you'll feel for the rest of the day are worth it."
5Stay hydrated!
This is HUGE for Shay. "Hydration is number one when it comes to working out – you have to stay hydrated to get a good workout," she said. "And I love flavored water…especially Propel."
Okay, it's impossible not to feel inspired when someone is this enthusiastic about working out. We're gonna go turn up the beats and ease into a nice groove!
Happy day to all.