Shawn Mendes and Camila Cabello Got a Puppy, and This Is the Distraction We Needed
These pics of Tarzan the golden retriever puppy just saved the day.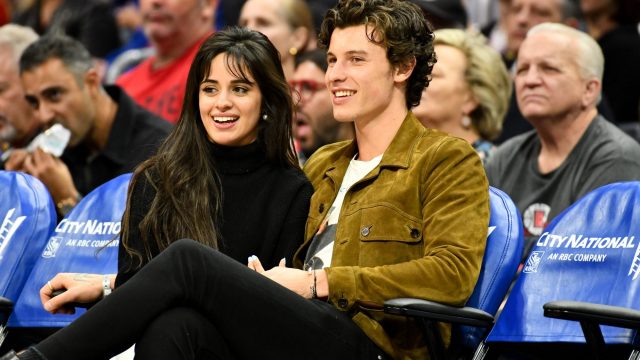 And now for some lighter news on this post-Election Day Wednesday: Shawn Mendes and Camila Cabello got a new puppy named Tarzan, and he's the only thing keeping us afloat today.
In a November 3rd Instagram post, Mendes shared several photos and videos of the brand new baby, a golden retriever puppy, captioning his post, Hi Tarzan 🥺❤️.
Hailey Bieber commented "OMG!!!!!!!" on the post, with singer Bazzi adding "omfg." Mendes' sister Aaliyah Mendes commented a trio of sobbing emojis, and we're right there with you, girl.
Did Mendes and Cabello know today was going to be a swirl of nerves and anxiety thanks to a too-close-to-call election? Did they preemptively decide to introduce Tarzan to the world when we needed him most? All signs point to yes, in our opinion.
In Mendes's post, we can hear Cabello say, "He loves himself. That's a good sign," as Tarzan investigates his reflection in the selfie camera. Honestly, what's not to love?
The internet is already obsessed, and Tarzan's picture is booting out the political drama and filling up our Twitter feed (and thank goodness for that).
Yes. We can absolutely agree.
Mendes and Cabello, who officially began dating in the summer of 2019, have been living together in Cabello's Miami home since the beginning of the COVID-19 pandemic. They moved in at the start of the quarantine period, and now with a baby pup, it appears that they have no intention of living separately for the foreseeable future.
Tarzan joins a dog pack consisting of Cabello's Shih Tzu named Leo; her chihuahua, Eugene; and her German shepherd named Thunder. Tarzan is the first pup that Cabello and Mendes have brought into the family together.
Okay, the results are officially in: Tarzan wins the 2020 presidential election (in our hearts, anyway).