Everything you need to know about shaving your body
Hair removal is hands down the least glamorous part of any grooming or beauty routine. Regardless of how much you prefer the feeling of silky smooth skin, the actual process of removing hair often feels messy and tedious. Luckily, as technology progresses and the beauty world grows by leaps and bounds, the options for shaving are as diverse and individualized those who use them. You no longer have to settle for the same pack of bright single-blade pink razors that quickly rust (unless that's what you're into), because there are options galore.
But before we dive into our favorite hair removal products, we chatted with Dr. Omnia. M. Samra-Latif Estafan about hair removal methods that are easier on your skin. She gave us the lowdown on the most common mistakes people make when shaving, and what she recommends to fix common problems.
"The two most common damaging mistakes that people make when shaving are not cleansing the skin to be shaved first, and not using any moisturizers, such as shaving the skin dry," Dr. Samra-Latif Estafan says. "Both methods increase the risk of cuts, infection and ingrown hair."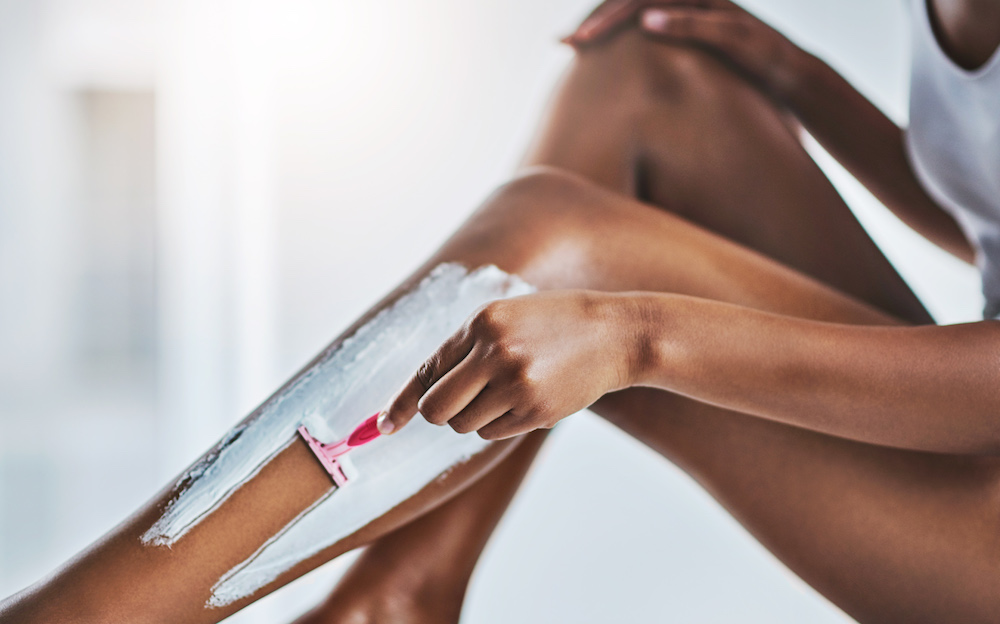 Make sure to cleanse prior to shaving
Dr. Samra-Latif Estafan says to always cleanse the skin first to remove anything that can increase the risk of irritation, razor burns, razor bumps, and infection. She recommends a pH balanced product, such as the Nelly De Vuyst BioFemme Cleansing Foam, since it can help prevent dry and flaky skin and includes the antibacterial ingredient tea tree oil.
Moisturize, moisturize, moisturize
She then went on to share how important it is to deeply moisturize your skin after hair removal, in order to prevent razor burn and bumps.
"Moisturizing shaven skin is key after shaving to maintain hydration of the skin. Issues post-shave, such as razor burn and razor bumps, are annoyances of shaving. Burns happen during shaving or immediately after that cause tiny red blotches on the skin that can be painful and itchy."
Dr. Samra-Latif Estafan says essential oils have many positive effects on post-shaven skin. "Evening primrose oil is known for its topical soothing and moisturizing effect of both skin and hair," she says. "It also promotes smoothness of the skin, a great remedy for sensitive red, dry and irritated skin post-shave."
Dealing with ingrown hairs
She capped off her advice by sharing how ingrown hairs function, and the best ways to straighten out hair growth so it doesn't curl back into the skin. "Razor bumps happen when the hair regrowth will curl back onto itself rather than growing straight," she says. "It can cause pain, swelling, itchiness, and infection." Dr. Samra-Latif Estafan suggests using a product that has lavender and tea tree oil, both of which contain anti-inflammatory and antibacterial properties and will help reduce ingrown hairs and razor bumps.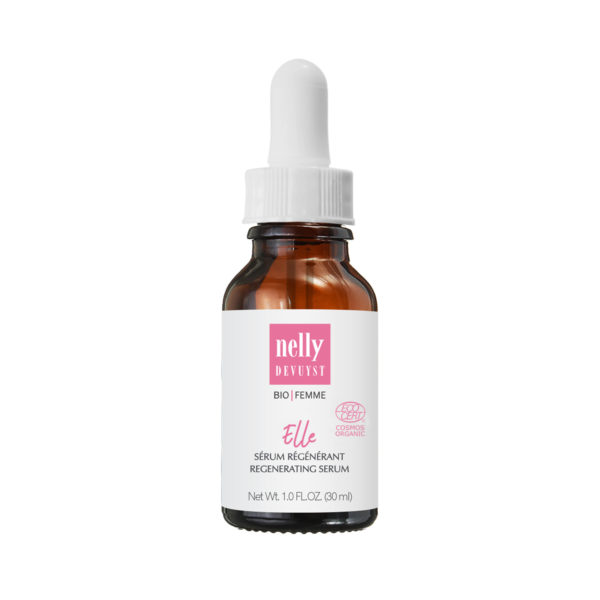 Before we share the rest of our favorite shaving products, we'd like to reiterate that hair removal is a very personal choice, and this article is not meant to pressure anyone. We recognize there's a huge push for women and femme-identifying people to remove their hair, but that is a completely individual choice—it's your body and you should do what you want. This is meant as a tool for anyone who wants to remove their hair and is curious about all the best razors out there right now. That being said, here are some findings to tuck into your hat for later.
1Sphynx 3-in-1 Portable Razor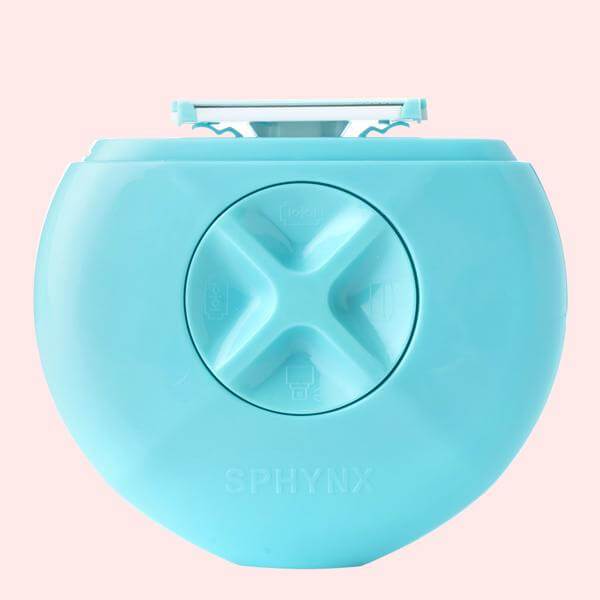 One of the hardest parts of shaving is keeping all the supplies together and evenly stocked. Soaps and razor gels fall and spill, razors dull and rust, and all too often a razor's time is up right when you've bought a new gel, and vice versa. For this reason, the Sphynx presents a solid option for those of us who are constantly scattered or traveling. The 3-in-1 container is compact and sealable and includes a refillable water spray bottle, two razor blades, and a moisturizing bar. So, the gang's all there and ready to go.
2Dorco Shai Soft Touch Beauty Kit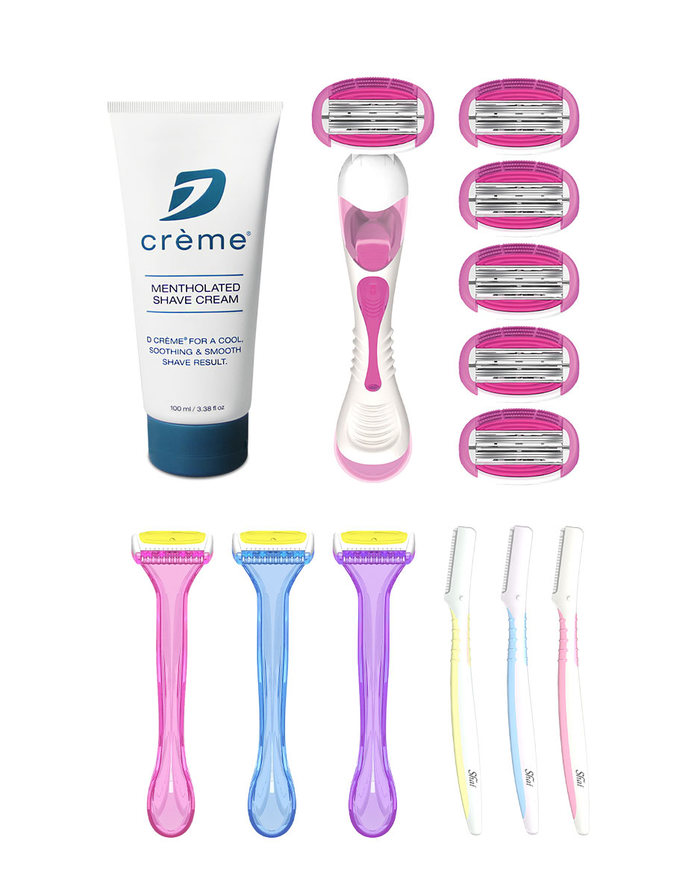 This colorful bad boy has a triple formula moisturizing strip to make sure even your gentlest areas are safe and sound during the shaving process, which is honestly key no matter how long you've been in the trenches.
3Flamingo Razor
Having a high-quality razor can be a game-changer when it comes to the shaving process. This bad boy has a sexy ergonomic handle and five blades to make all the hair in its path disappear. This is a solid option to make the shaving process will be much less tedious and much more chic-looking.
4Billie Razor Starter Kit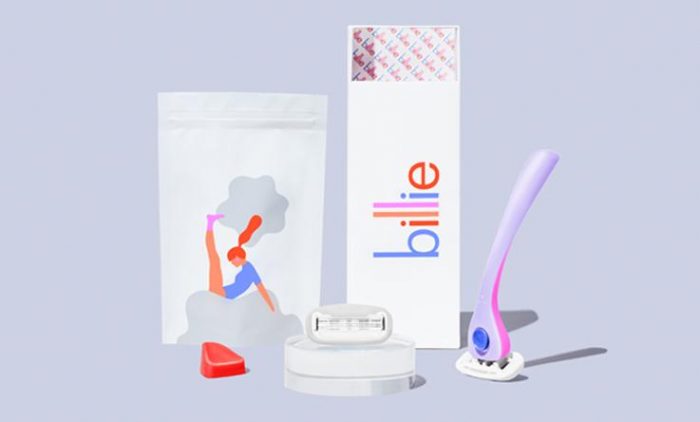 Billie is a women-run subscription shaving service, so basically, if you dig their style you can have a monthly shipment brought to your door, or opt for deliveries every two or three months. The starter kit includes the very trendy looking magnetic holder, and the 5-blade razor itself. If you sign up for the ongoing service, you'll get four replacement razor-heads for $9. There are five color options as well so you can make your shaving get-up super cute.
5Parker 70c White and Chrome Open Comb Safety Razor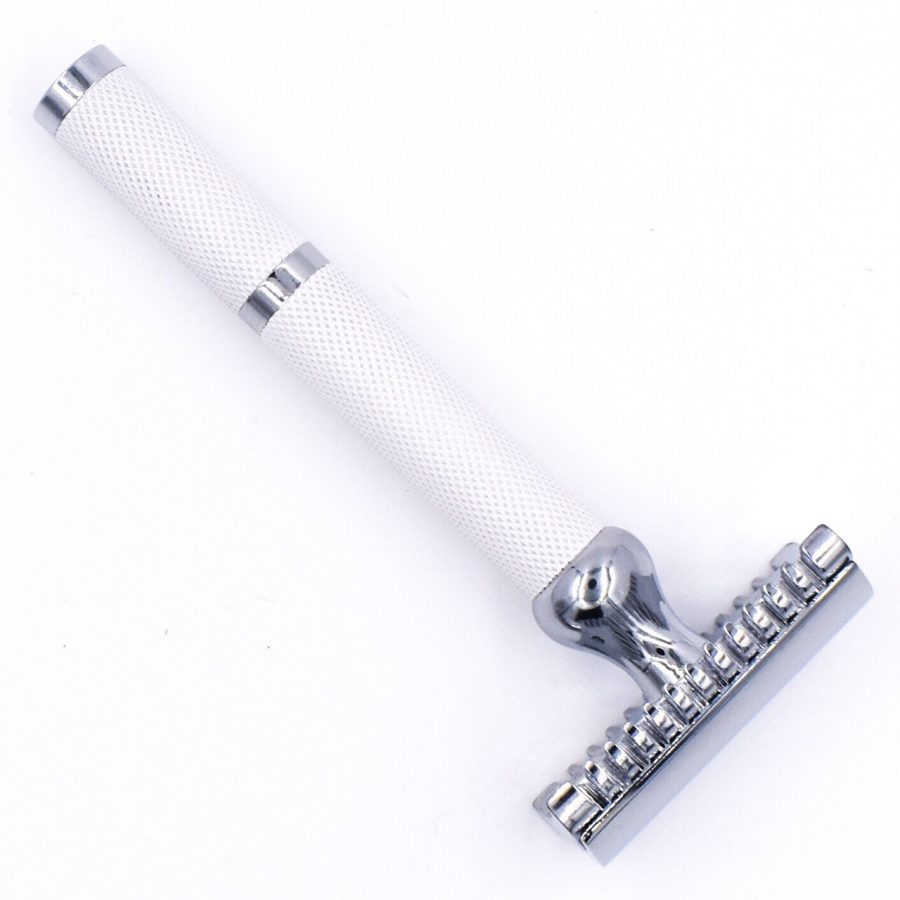 If you want to protect your precious skin with a razor that looks like it was handcrafted for a Christian Bale character, this open comb model may be just what you're looking for. For those unfamiliar with open comb razors, the design stretches the skin momentarily during the shaving process in order to deliver an extra close shave.
6BIC Soleil Bella Sun-Twist Scented Disposable Razor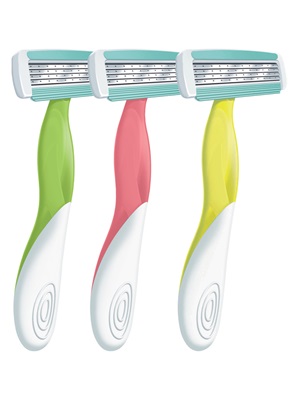 Each razor in this 3-pack includes four blades for a close shave, a shea butter moisture strip to help keep your skin fed throughout the process, and citrus spray so you smell like summer during all of it.
7Oui Shave Rose Gold Razor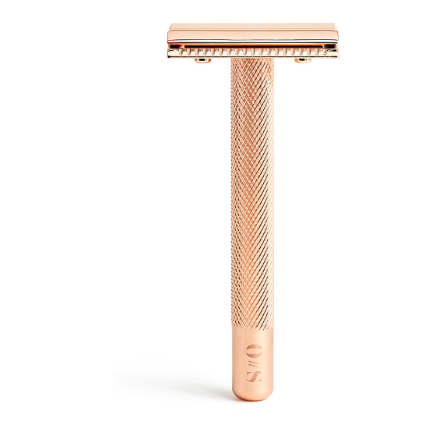 If you're looking to rock a razor that makes you feel like a character from The Favourite, then the luxurious rose-gold appearance of Oui might just do the trick. The razor itself is pricier than other options, but it includes 10 replacement blades and you'll create less waste by having one fancy razor vs. a pile of cheaper ones.
8Venus Spa Breeze Razor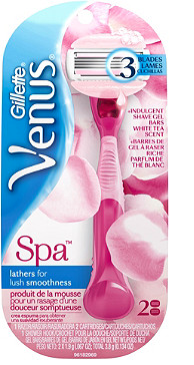 This 3-blade razor includes a moisture strip with a white tea scent so you'll be smelling like a waft of fresh spring air after the deed is done.
9Venus Flexiball Razor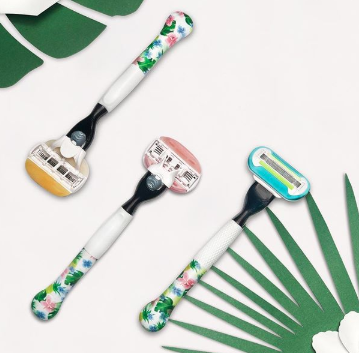 Venus teamed up with the influencer Remi Cruz to design a tropical looking razor that will hopefully add a little fun to the otherwise endless feeling of removing body hair. Who doesn't want to feel vacation vibes while shaving their legs?!
10Schick Hydrosilk Sensitive Care Razor

Beyond making sure you don't cut yourself and bleed everywhere, one of the hardest parts of the process of shaving is keeping your skin moisturized in general. The process of removing hair often doubles as an exfoliating process which, if done wrong, can lead to dry or damaged skin. In response to that struggle, this razor includes a water-activated serum to keep your skin happy.
11EOS shave cream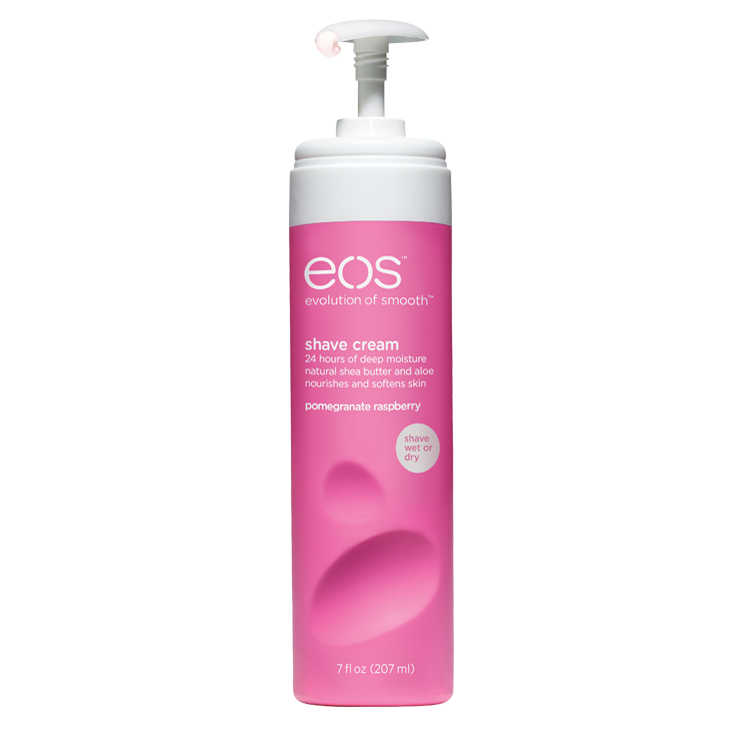 Regardless of which fancy (or approachable) razor you settle on, it's crucial that you have a shaving cream that is gentle on your skin and moisturizing enough to help you avoid a rough, bloody shaving experience. This affordable formula has shea butter and vitamins E and C to help cool your skin into happiness even during the turmoil of hair removal.
12Malin & Goetz Ingrown Hair Treatment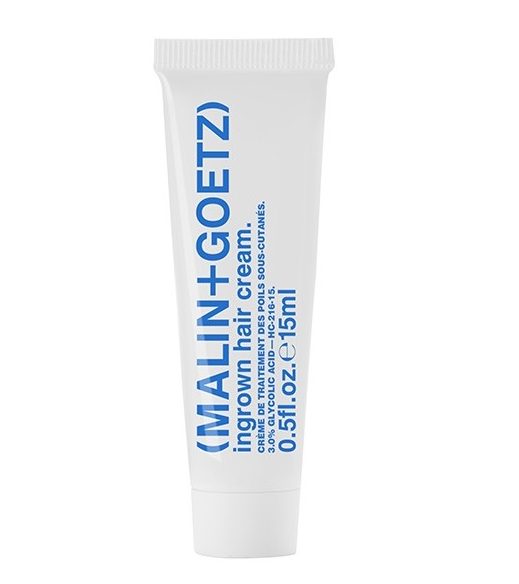 Staving off the pain of ingrown hairs is an ongoing journey, and while we'd like to just have a one and done hair removal process, it often gets stickier than that. If you find yourself regularly suffering from irritated bumps and ingrown hairs, this formula mixes chamomile with papaya and pineapple to soothe and exfoliate the sensitive areas, while B5 helps boost your skin back to normal.
Happy shaving!