Sharon Osbourne shares a nude selfie in support of Kim Kardashian, we applaud vigorously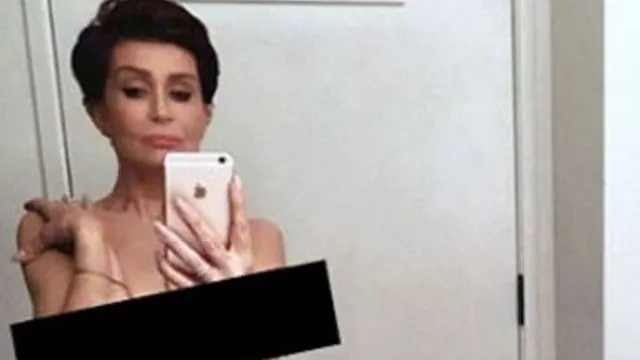 Sharon Osbourne is known for a lot of things, but mainly, we know and love her for saying exactly what's on her mind, consequences be damned. The current co-host of The Talk is smart, funny, outgoing, and unapologetic, so when she talks–or in this case, posts–we listen.
Like yesterday, when she took to Instagram to post a nude selfie in support of Kim Kardashian West. Her caption? "@kimkardashian you inspired me! #liberated #thetalk."
Kim has been slammed since she posted a similar photo two days ago, on International Women's Day. About the backlash, Kim posted an empowering essay on her website, addressing why the negativity is not OK and why she can post whatever she likes.
"The body-shaming and slut-shaming—it's like, enough is enough," Kim wrote. "I will not live my life dictated by the issues you have with my sexuality. You be you and let me be me. I am a mother. I am a wife, a sister, a daughter, an entrepreneur and I am allowed to be sexy."
And she's absolutely right, which is why it's extra wonderful that women like Sharon Osbourne and, previously, Kanye West's former girlfriend Amber Rose are coming out in support of Kim while many are speaking out against her for no good reason at all. Solidarity is what it's all about this week of International Women's Day, and we applaud these women wholeheartedly for being unapologetic about calling the shots on what parts of themselves they are comfortable sharing with the world–bodies included.