Shannen Doherty's latest Instagram of her chemo treatment is so heartbreaking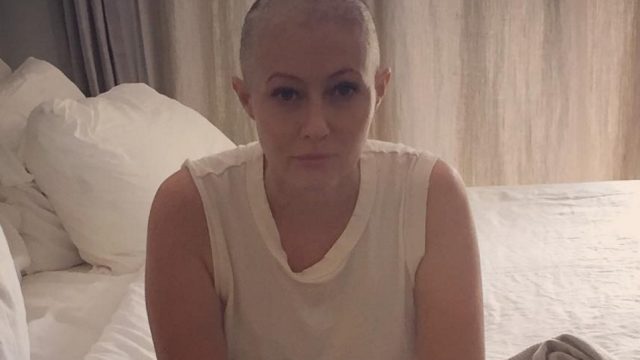 If you've been following actress Shannen Doherty on Instagram, you likely already know that the beloved and talented star is fighting breast cancer. Doherty's posts are always inspiring, and they're always honest. In her recent post, Doherty posts an image of herself receiving medical treatment in a hospital, and it's pretty intense – and heart-wrenching.
https://www.instagram.com/p/BJvRoSTBzRW
In her caption, Doherty explains, "The many faces of cancer. Chemo Day. What we call the Red Devil being injected into me via the port thats in my chest. Dawn is my nurse who takes excellent care of me August 10, 2016 #cancersucks #fightlikeagirl."
She also shared this photo of her and Kurt Iswarienko, her husband.
https://www.instagram.com/p/BJvO4q5h8_5
Others have also been by Doherty's side, like her mom.
https://www.instagram.com/p/BJDrQU_BcKn
We think Doherty highlights a really important point with her photo and her choice of caption: Cancer is a grueling disease and one that involves a lot of painful medical procedures and time spent in the hospital, fighting for recovery and health.
https://www.instagram.com/p/BIxtOSihsrM
While we talk a lot about raising money for cancer research and supporting our loved ones who are fighting their illnesses — both of which are so important to do — it can be tempting to forget about the specific, draining reality of what actually fighting cancer looks like. That's why it's so empowering and so heartening to see Doherty share images of her actual, lived experience with cancer. We're all rooting for you, Shannon!
It's never too late to get involved with an organization (like Susan G. Komen) that's helping fund the cure for breast cancer. Every effort helps!