Shannen Doherty says she's twinning with her husband now, but we love her short, curly hair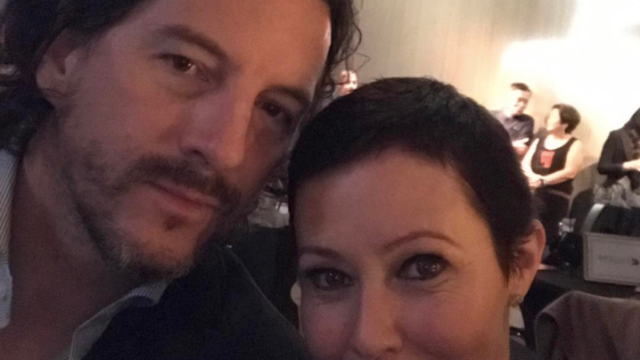 While battling cancer and undergoing chemotherapy, Shannen Doherty lost her hair. Now, though, her mane has begun to grow back, and she joked that she's starting to look an awful lot like her husband, Kurt Iswarienko — but we think it's fab.
The actress' locks are coming in curly, and at just a couple of inches in length, her 'do is similar to her husband's curly, salt-and-pepper mane.
In a sweet Instagram photo of the pair, she wrote, "I think my husband and I are morphing into each other," adding the hashtag #twins.
We're loving Doherty's current hair!
https://www.instagram.com/p/BVmq6twBZsW
Doherty has been battling breast cancer since March 2015 and documenting her journey on social media. She did chemo and began radiation treatments in November 2016, and just last month announced on Instagram that she's officially in remission.
https://www.instagram.com/p/BTcmUkahi0J
"As every single one of my fellow cancer family knows, the next five years is crucial," she wrote. "Reoccurrences happen all the time."
The risk of a breast cancer recurrence varies from person to person, but is most likely to happen in the first five years after the completion of treatment; the cancer can come back in the same place it was located before, or in a new part of the body. Things like the size of the original tumor and the presence of cancer in lymph nodes can influence whether or not a person's cancer returns.
https://www.instagram.com/p/BVnUemYhtbg
For now, we're keeping Doherty in our thoughts and just giving thanks that she's in remission. We'll never stop rooting for you, Shannen!