Shannen Doherty posted the most beautiful throwback photo of her getting married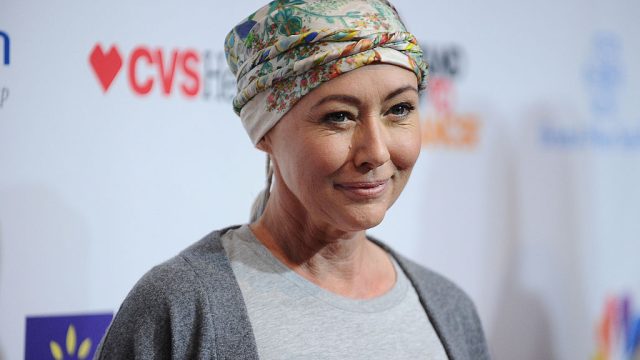 There are throwback pictures and then there are throwback pictures. Typically, people use the #TBT hashtag as an excuse to post awkward, braces-riddled yearbook snaps or baby portraits. You know, in a spirited effort to poke fun at their younger selves before their inevitable glow up. But, for others, it doesn't seem like they've ever had an awkward moment or took a bad picture. Apparently Shannen Doherty is one of those exceptional people. Doherty posted the most beautiful throwback picture of her and her husband (Kurt Iswarienko), on their wedding day, and it's abundantly clear that the camera loves this particular couple. But, more than that, that they love each other.
For the actress, sharing this photo wasn't about participating in a social media fad. It was that fact that this new trend allowed her to reflect on her appreciation for the man she chose to spend her life with, after some prodding from a friendly vampire slayer.
In her caption, Doherty explains that she felt compelled to participate in the, "#loveyourspousechallenge" because Sarah Michelle Gellar told her, "about going [through] old photos and the memories and emotions they evoke."
https://www.instagram.com/p/BK07hseh2nl
Because the 90210 and Charmed alum's recent health woes (breast cancer), her declaration to Iswarienko is understandably emotionally heightened and all the more staying. Here's the couple back in August:
https://www.instagram.com/p/BJvO4q5h8_5
Case in point, she wrote, "...we committed for better or worse, in sickness or in health to love and cherish one another. Those vows have never meant more than they do now. Kurt has stood by my side thru sickness and makes me feel more loved now than ever. I would walk any path with this man. Take any bullet for him and slay every dragon to protect him. He is my soul mate. My other half. I am blessed."  
This isn't the only Instagram Doherty has dedicated to her loyal, caring, wonderful husband. The actress has sprinkled several photos that are making our hearts burst.
https://www.instagram.com/p/BK4LzocDJZh
https://www.instagram.com/p/BK62avVDRDV
https://www.instagram.com/p/BK8jptFDWUO
Beautiful. Doherty's participation in the #loveyourspousechallenge proves that there's merit to the internet's obsession with hashtags and nostalgia.