Shannen Doherty just opened up about the difficulties of staying optimistic after chemo with this Instagram photo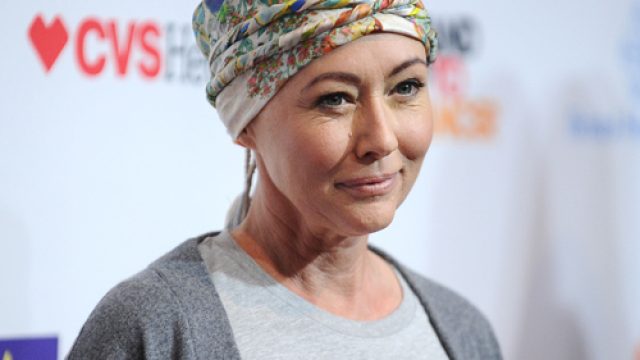 Shannen Doherty really is warrior and we are so proud of her bravery throughout her cancer journey!
The former Beverly Hills, 90210 actress has been fighting cancer since March of 2015. Although the process is hard and tough on her, Doherty has been sharing every step of her battle with her fans on social media, which makes us love her even more.
On Friday, Doherty shared a flashback photo from one of her chemo treatment days and revealed that it is definitely hard to stay optimistic all the time while fighting cancer.
"#fbf to a very short bit ago. Day after #chemoday isn't always so great. Sometimes one isn't able to dance, or eat or even to think about the next day. Sometimes it just feels like you aren't going to make it. That passes. Sometimes the next day or 2 days later or 6 but it passes and movement is possible," Doherty explained about her long and tiring journey.
https://www.instagram.com/p/BL11pM6DNwt
Although it isn't always easy, the 45-year-old star also pointed out that she has hope and faith and that's what helps her get through it all.
"Hope is possible. Possibility is possible. To my cancer family and everyone suffering.... stay courageous. Stay strong. Stay positive. #wegotthis. #fightlikeagirl," she added.
Wow, if this isn't inspiration to overcome all the problems we have in our daily lives, then we don't know what is!
Doherty has been strong throughout her battle thanks to her family, friends and fans' support. In fact, fellow actress Sarah Michelle Gellar's constant shout-outs manage to make us feel more empowered and hopeful about Doherty and her cancer fight with every post.
Another recent post shows Gellar's continued commitment to her friend.
"Today is recognized as #internationalbreastcancerday, although for some people, that is everyday. I am only a footnote in this picture. To my left is the @theshando, my friend who is kicking cancer in the you know what. But more than that, she is sharing her battle, so people fighting this horrible disease know they are not alone," Gellar wrote alongside a sweet photo on Thursday in honor of International Breast Cancer Day.
"I am inspired by her on the daily. To my right is Dr Lawrence Piro, the Oncologist who has been side by side in Shannen's fight. It's not a job to this incredible doctor, it's his life. I have never been in the company of a more passionate or dedicated scientist. He is the true definition of a hero," she continued.
"I am honored to know you both. Breast cancer is nowadays the most frequent malignant tumor in the world. But with early detection and incredible doctors like Dr Piro, breast cancer can be fought and won," she said.
"So today I urge you, make an appt to get checked or even remind a friend to get checked or just think pink and honor those fighting this battle today and everyday," the former Buffy the Vampire Slayer actress concluded.
Although Doherty's cancer diagnosis is difficult news, her optimism is something to be admired, as is Gellar's continued support for her longtime friend. You go, ladies!