Shannen Doherty posts an emotional Instagram about her cancer recovery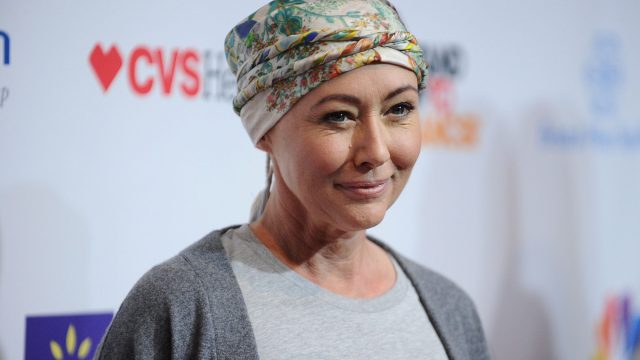 In August 2015, Beverly Hills 90210 and Charmed star Shannen Doherty revealed that she was diagnosed with breast cancer. Everyone in Hollywood, her friends and family, and her fans were devastated to hear the news, but she made it clear from the very beginning that she was going to do everything she can to fight the illness. Ever since the diagnosis, Shannen has been doing just that.
She's done with the chemo and radiation treatments for now, thankfully, according to her last Instagram post. "Now that I'm done with chemo and radiation, the waiting game is here," she writes. "Waiting for test. Waiting to see if I'm clear or not. Waiting for reconstruction." 
https://www.instagram.com/p/BQ5s7rCj57V
This picture is actually from October 7, 2016. It was Shannen's last day of chemo and she admits that she was "exhausted." Her head is shaved and she's curled up in bed. It's impossible to think of anything more painful and debilitating that chemotherapy, and our hearts go out to Shannen for getting through it with so much strength and grace.
"I think when one gets cancer, they are always waiting to a certain extent. To those who know... I'm waiting with you. #cancerslayer," she writes.
Shannen has made it her mission to reach out to others who are also fighting cancer and encourage them to persevere. Last year in December, she was given the Courage Award at the American Cancer Society's inaugural Giants of Science Gala. She was honored to receive such an award, and she told ET she accepted it on "behalf of every single cancer patient out there" for their "courage."
It seems that she's recovering from her chemo well. She celebrated Valentine's Day with her husband Kurt Iswarienko. Her hair is starting to grow back and she looks as beautiful as ever.
https://www.instagram.com/p/BQjYuV6gmC1
We wish all the best for Shannen, and we believe she'll bounce back as a brave cancer survivor who has a lot to offer to others who are currently fighting cancer.