The advice Shannen Doherty gave Michael Bublé after his son's cancer diagnosis is empowering and heartbreaking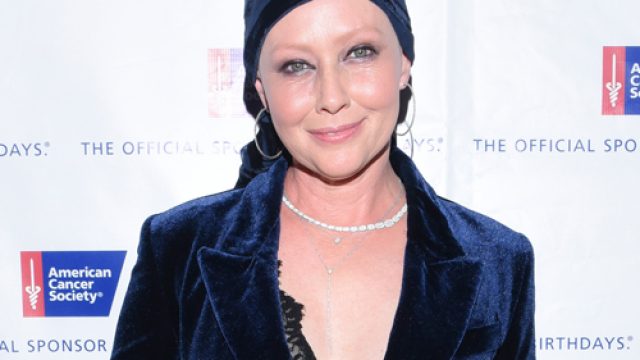 While cancer is a horrible disease, Shannen Doherty's advice to Michael Bublé and his family after his son, Noah, was diagnosed with cancer is sweet and makes us continue to believe in the good of people.
The "It's a Beautiful Day" singer announced on Friday, that he was taking time off from his career in order to take care of his son, who has cancer, and our hearts broke a little inside.
"We are devastated about the recent cancer diagnosis of our oldest son Noah who is currently undergoing treatment in the US," Bublé, and his wife Luisana Lopilato wrote in a statement on the singer's Facebook page. "We have always been very vocal about the importance of family and the love we have for our children."
"Luisana and I have put our careers on hold in order to devote all our time and attention to helping Noah get well. At this difficult time, we ask only for your prayers and respect for our privacy," the statement continued. "We have a long journey in front of us and hope that with the support of family, friends and fans around the world, we will win this battle, God willing."
A day after the sad news was reported, Doherty, who has been battling breast cancer since March 2015, shared some advice and well wishes for the family in their time of need, which also makes our hearts both happy and sad.
"I can't even begin to touch that one, to be honest, because it's a 3-year-old," the former Charmed actress told Entertainment Tonight at the American Cancer Society's Inaugural Giants of Science Gala. "I would imagine your child having cancer is devastating as a parent."
Doherty, who received a courage award, with her husband Kurt Iswarienko, and friends Chelsea Handler and Sarah Michelle Geller by her side at the event also added some advice that anyone with cancer should hear.
https://www.instagram.com/p/BMc_j1_DU-b
"Just trust in your doctors. Make sure you have amazing doctors, a great team and know that organizations like the American Cancer Society, Stand Up to Cancer, they are doing so much good for cancer," she said.
"And [there is] so much research that we have much better chances now. Stay positive. That positivity, that outlook on life that you can get through something, it actually does get you through," she added.
We wish both Michael Bublé and his family, along with Doherty and hers, a healthy and quick recovery through their cancer battles.