Shania Twain says Brad Pitt's nudes inspired "That Don't Impress Me Much"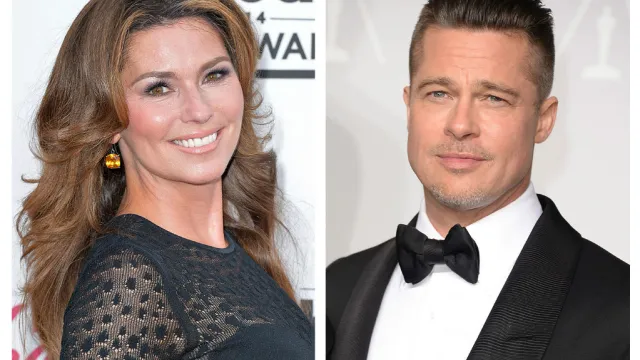 Sometimes you hear someone say something and think to yourself, "How is that even possible?" This was pretty much our reaction to learning the connection between Brad Pitt and Shania Twain's "That Don't Impress Me Much." So brace yourselves: After seeing Pitt's nude photos, Twain was moved to write a song about how underwhelmed she felt when the actor's naked photo scandal broke in the late '90s.
Honestly, it was hard enough finding out Pitt isn't (or wasn't) all that funny, but Twain being unimpressed with seeing one of our favorite Hollywood actors in the buff is a bit more difficult to process.
Like, we're genuinely confused right now. We are impressed, Brad.
Fortunately, this story has a bit of a bright lining, so don't expect a feud to erupt between Pitt and Twain anytime soon. As she explained to Billboard, her massive country hit wasn't intended to be a diss to Pitt's naked bawdy. The singer was actually referring to all the fuss surrounding the nudes and not the actual content of said photos.
https://www.youtube.com/watch?v=mqFLXayD6e8?feature=oembed
While promoting her first album in 15 years, Twain explained the meaning behind the famous lyric, "OK, so you're Brad Pitt? That don't impress me much":
"I remember I had a girl friend visiting me and it was near Christmas and we were baking cookies. I was writing this album and there was a scandal of [Pitt] and Gwyneth [Paltrow] where there was naked photos of him [in Playgirl magazine, which Pitt later successfully sued for publishing the paparazzi photos]. And this was like all the rage. I just thought, 'I don't know what all the fuss is about.' I'm like, well that don't impress me much, I mean what is all the fuss. We see people naked every day. That's really what I thought. I wasn't picking on Brad Pitt. But that was just the association in that moment and things we make fusses about and whatever. Of course, it could have been any gorgeous guy."
Phew, we're so relieved. Thanks for clearing that up, Shania.