Shania Twain performed on "The Tonight Show," and we're having trouble believing she's 51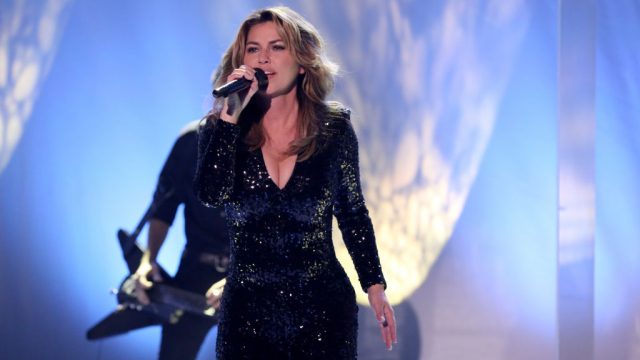 On Thursday night, the world was reintroduced to a legend after almost a decade out of the spotlight. Shania Twain performed on the Tonight Show, in a sparkly jumpsuit no less, and reminded all of her fans just how much they missed her. The 51-year-old performed "Swingin' With My Eyes Closed," a new single off her album Now, which comes out at the end of September.
So where the hell has this goddess been? For the past 10 years, Twain's been largely out of the spotlight after being diagnosed with Lyme disease. The Canadian singer was diagnosed in 2003, while she was riding high on the success of her album Come On Over. She said of the time, "I was on tour, so I almost fell off the stage every night. I was very, very dizzy and didn't know what was going on. It's just one of those things you don't suspect."
How scary! The Lyme disease led to dysphonia, which is a vocal disorder that led to her having to do a lot of therapy and vocal training before thinking of returning to her career. Twain said, "It's like dealing with an injury. I'm just glad that it's not my heart or my kidneys or something like that. At least I can do something about it."
All that hard work paid off, because Twain sounds better than ever.
https://www.youtube.com/watch?v=PRv8ZGheTyU
Can we please talk about this jumpsuit? Aftera decade of recovery, jumping around on stage in those sequins is definitely the way to make an entrance. Then again, jumpsuits are sort of Twain's thing. Remember this leopard print beauty?
https://www.youtube.com/watch?v=mqFLXayD6e8?feature=oembed
An official video hasn't been released for "Swingin' With My Eyes Closed," but she has already made a video for another single off of the album, "Life's About To Get Good."
https://www.youtube.com/watch?v=we-VfNnbzzY?feature=oembed
After performing, Twain dropped her tour dates, too. To which we can only say, YES PLEASE. What the world needs right now is more of Shania Twain and lots more sparkly jumpsuit.