Shangela of "RuPaul's Drag Race" talks to us about perseverance, "All Stars 3," and the best advice she got from Lady Gaga
"Halleloo!" Even if you aren't a drag enthusiast, you have likely heard the iconic catchphrase of the one and only Shangela Laquifa Wadley, the Comeback Queen of RuPaul's Drag Race. Having appeared on Season 2, Season 3, and now All Stars 3, Shangela has gifted viewers with some of the most legendary moments in RuPaul's Drag Race herstory: from her "I am what? SICKENING!" monologue to her acrobatic death drops. Each time the quotable fan favorite returns to the Emmy-winning series, her evolution is more striking — beginning on Season 2 as a rough-around-the-edges performer and now emerging as a refined stage presence on All Stars 3.
Currently a front-runner on this season of All Stars, Shangela is winning challenges, giving us Beyoncé realness on the runway, throwing Game of Thrones references left and right — and her Drag Race success has led to her bustling television career outside of RuPaul's workroom.
Shangela — whose real name is DJ Pierce — has appeared in TV and film both in and out of drag, most notably in 2 Broke Girls, Glee, Bones, X-Files, and the upcoming film A Star is Born, starring Lady Gaga and directed by Bradley Cooper.
We were lucky enough to hop on the phone with Shangela, where she talked about her plans to make it into The Drag Race Hall of Fame, her refusal to let rejection keep her down, and the surreal moments she spent hanging out with Lady Gaga in her dressing room.
HelloGiggles (HG): What are you most excited to show the Drag Race audience now that this is your third time interacting with us?
Shangela (S): Well, you know, like I continue to say, third time's a charm. Beyoncé's lucky number is four; my lucky number is three, okay? This is my third time back. This is All Stars 3, and I don't want just one crown honey — I want three!
Honestly, being back in the workroom, I just feel like I have a sturdier foundation of drag. When I first came in the room, I'd only been doing drag for five months. And then I loved going back on the show on Season 3, but I'd still only been doing drag for one year. You know, RuPaul saw something in me, and I definitely wanted to win. But I've learned and I've grown. And I hope I've evolved since Season 3, that I'm walking into that workroom to be what Beyoncé would call a grown woman.
I wanted to be able to show RuPaul and those judges and everyone there: Look, this is what y'all have invested in over time. This is what being on the show has helped me to become! And now it's like cashing in a 401k, honey! I'm here!
HG: RuPaul has brought you back onto more separate seasons than any other queen in Drag Race herstory. How does that feel?
S: I am so grateful and I haven't taken it for granted. For every opportunity that I've had because of RuPaul's Drag Race, I have turned ten cents into two dollars.
I have a song called "WERQIN' GIRL." I wrote that song, and it was featured on the show Dance Moms. I truly carry myself as a working girl. I've been working since the age of 14. I grew up in a small town called Paris, Texas, and my goal was to make it out. And then I went to college in Dallas on a leadership scholarship because I was involved in so many different things. Then I moved to L.A., and the only way to make it in Hollywood, honey, is to never give up. And that is my story on RuPaul's Drag Race, and I hope to inspire people. It doesn't matter if you win one particular thing or not, honey, you just never give up on the marathon. And this is where it can take you, and now I'm ready to snatch that crown.
HG: You've been so open about the financial roadblocks you overcame when you began performing in drag. Do you have advice for people who face similar obstacles while trying to achieve artistic goals?
S: I would say to them, don't focus on what you don't have — focus on what you can create. And that's the joy, the brilliance, the genius of drag. I've learned that drag queens are some of the most resourceful people in the business, honey. You wanna get something done, you hire a queen! Because she will be like, "Oh you need that sewn together? I can put that together for you — we don't need to send that to a seamstress. That wig needs to be styled? Let me get this brush and comb."
You know, drag queens generally don't make a lot of money at first. You rely on tips, but you do it because you have a passion for it. And I just say, keep going, don't give up, don't let the financials hold you back. If you do your craft well, the money will come. And if not, figure out a way to make it work. When I first started drag, I was working a 9-5 at a PR agency during the day and doing my drag at night. Momma still had to eat, and drag is lovely, but I can't go hungry. I can't be no hungry queen on the show!
HG: You've had such a versatile and successful television career outside of Drag Race. Which of those projects are you most proud of?
S: Well, first of all, just to be able to work in television and film is a dream come true for me. I remember watching TV as a kid and always wanting to be on there. So I got involved in theater, but I'm not a trained actor; I didn't go to college for acting. But I quit my job two years in, and decided I really want to be an actor, so I'm gonna pack up my little Explorer and I'm driving over [to L.A.] — I was like Dora, honey! So I drove west and I never looked back.
And I didn't get these opportunities handed to me just because I was on RuPaul's Drag Race — to be able to work with people like Michael Patrick King, to be on 2 Broke Girls, Glee, Community, and Bones. Honey, I beat down an alien with my purse on X-Files. I've done films like Hurricane Bianca and Hurricane Bianca 2, which we just finished. I now can proudly say that I have a role in a film with Lady Gaga where a star is born, honey! All that from someone who just followed his dream. It goes back to never giving up…There's a lot of rejection in this business, and I've been told to sashay away enough times by RuPaul, and from other people in Hollywood besides RuPaul! But I keep coming back.
HG: We are so excited about your role in A Star Is Born. Is there anything you can tell us about the project?
S: Well, we wrapped filming last year, and I actually have scenes with Lady Gaga and Bradley Cooper. And Bradley — I call him Mr. Cooper — directed the film. So he comes to me on the first day (I play a drag bar owner) and he says, "Now Shangela, this is your world. I want you to use the script and be the character, but I also want you to bring in that extra thing that I just don't know myself. And if it's too much, I'll pull you back, okay?" And I said "Oh yes, Mr. Cooper!" He said, "Action," and honey, I just went there. I went full-on Shangela. After we cut, he goes, "That was great! Do it all again!"
So you know, to have that validation from someone like Bradley Cooper who is, oh my God honey, the sexiest man alive! And then to work alongside Lady Gaga, someone I've admired, not only for her art but also for her work ethic. Talk about somebody who never gave up! Even through all the adversity that she's had, she has continued to grow and build and be representative for our community — and here we are working together.
And you know, she called me Shan. Honey! Yes, God! Call me Shan! We would be in the dressing room — just me, Gaga, her people — and she'd go, "Shan, tell me another story, Shan." So girl, I was telling stories left and right.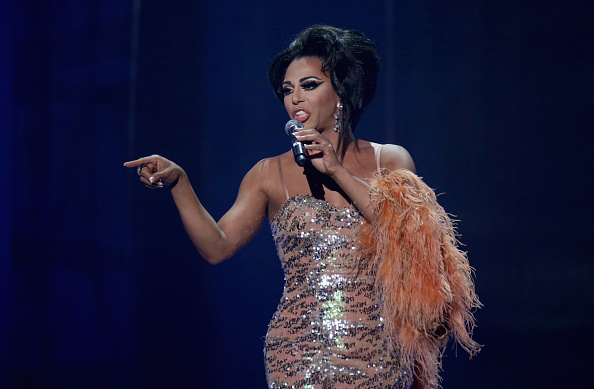 HG: I can only imagine what you two talked about.
S: She's a star. She was so kind and generous. It's who she is at her core. And I got to ask to her one thing that was really on my mind. I got that moment with Gaga, so honey, I didn't waste it. I wouldn't shut up. You had to pull me out of the room. I asked her, "How do you keep up with all of your memories? It's kinda like you finish one huge project, and you're already on to the next. How do you remember all this stuff?"
And she goes, "You wanna know? Really? Well, first, for my costumes, I have two warehouses for all the costumes, gowns, and dresses that I've loved." And I was like, "Oh my god girl can you sign me up to do tours?" Can you imagine me driving people on a golf cart to Lady Gaga's clothing warehouse?
And then she said, "Look around this room. There's my choreographer, my manager, so many people I've worked with for my entire career. When I look at them, I see my memories. I see standing outside in an alley, trying to get inside of a club to perform my song. I see all these different experiences because I've kept my team around me from the start."
Girl, I was about to cry. I said, "Listen to you, woman. Just dropping jewels of knowledge in here with me. I'm kicking it with Gaga." In my head, we are homegirls, okay?
HG: You do a lot of community work with the LGBTQ Center in Houston. Can you tell us more about what you do with them and with other organizations?
S: I work with LGBTQ organizations around the U.S., but most notably, I co-produce a tour called Werq the World with Brandon Voss of Voss events. We created this tour where it's like a concert-style experience. We're doing it in Europe, in the U.S., and Mexico and South America. Houston was one of the stops on our U.S. leg of the tour, and when the hurricane hit Houston so hard, I knew that the LGBTQ Center would have needs. I contacted them and we're excited to be making a donation and working with the center — it's so important to be involved in our community.
I also went to Puerto Rico right after the hurricane there and did some volunteer work through Delta Airlines. People have helped me so much in my life, getting me from where I started to where I am. I always have that sense of community; I want to give back.
HG: On top of all the amazing things you are already doing, do you have a dream project?
S: Believe it or not, girl, I'm doing a 61-city tour and I'll be all around the world. The biggest thing that would really just feel like a cherry on top of the cake (a cake that will hopefully have many layers) is to work in a scripted comedy series. I just want to continue to grow and work as an actor. I hope that my fans will continue to support me along this journey, and I think they will. They never gave up on your girl.
Watch RuPaul's Drag Race All Stars on Vh1, Thursdays at 8 p.m.