The Shamrock Shake is officially back, so who needs a four-leaf clover?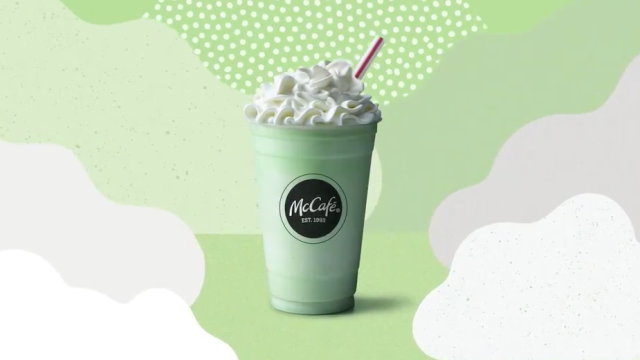 Hello — hello? Is this thing on? We have a huge announcement to make. The McDonald's Shamrock Shake is officially back and we're feeling lucky in love with the return of our old green flame.
The Shamrock Shake has been tip-toeing its way back into McDonald's locations around the country since early February. But now, according to Elite Daily, as of February 21st, the Shamrock Shake is officially back for the spring season in all locations.
If you're not freaking out about this news, then you have obviously never tasted a Shamrock Shake before.
If that's the truth, then you need to get your hands on one of these minty vanilla beverages ASAP. In fact, the drink is such an iconic treat that McDonald's has even released an app to help wannabe sippers find the nearest St. Paddy's Day treat supplier. No, we're not kidding. The app is called "McDonald's Shamrock Shake Finder."
But we experienced McDonald's customers need no such thing. We're already well acquainted with our nearest McDonald's locations, and the employees are already well acquainted with us and our Shamrock Shake obsession. Hi, Brian and Rhonda.
Remember, the Shamrock Shake is only available for a limited time during the St. Patrick's Day season. So if you want to grab one (or fifteen), now is the time.
https://www.instagram.com/p/Bfd94khFlnj
And during the off-season, you can actually make your own version of the beverage at home. We have the DIY Shamrock Shake recipe all ready to go right here.
Americans have been enjoying the Shamrock Shake since 1970 and we're not about to stop now. Get to your local McDonald's as fast as possible to see what the green gold at the end of the rainbow tastes like.