A clever Twitter user summed up Shakespeare plays with Parks and Rec quotes, and it's absolute perfection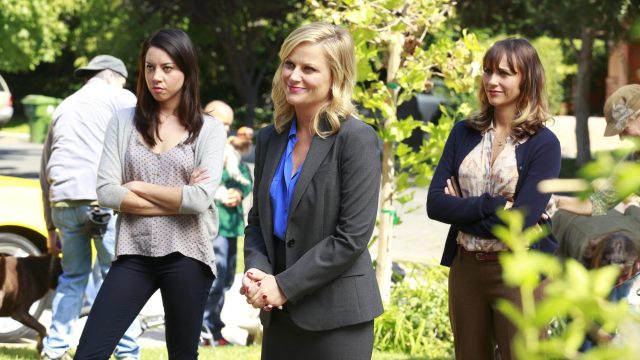 How often do you rewatch Parks and Rec? At least twice a year? Same. Somehow, the show just gets better with age. We're forever holding our breath for a Parks and Rec revival (never say never — the entire cast is into the idea). But until then, we'll take any new Parks-related content we can get. Like this Twitter thread, which is absolute perfection.
A very clever Twitter user named Alison Sloan decided to mash up Parks and Rec with…Shakespeare? Yup, in a genius move, she summed up many of the playwright's most famous works with classic Parks and Recreation quotes. And every last one is SO hilariously accurate. Needless to say, when we saw the thread, we were over the moon excited. Because, to channel our inner Chris Traeger for a moment, Shakespeare and Parks and Rec are LITERALLY our two biggest interests.
But Sloan didn't just name a few plays and call it a day. Oh, no. She went above and beyond, matching nearly 40 Shakespeare plays with Parks and Rec quotes. Talk about dedication. She began posting on Thursday, July 19th. Since then, her thread has gone viral. The Parks and Recreation official Twitter account even gave her a shout-out, as did the series' co-creator Mike Schur. NBD.
Behold: Shakespeare plays, as described using Parks and Rec quotes.
All's Well That Ends Well
Antony and Cleopatra
As You Like It
Comedy of Errors
Coriolanus
Cymbeline
Hamlet
Henry IV, Part I
Henry IV, Part II
Henry V
Henry VI, Part I
Henry VI, Part II
Henry VI, Part III
Henry VIII
Julius Caesar
King John
King Lear
Love's Labours Lost
Macbeth
Measure for Measure
The Merry Wives of Windsor
The Merchant of Venice
A Midsummer Night's Dream
Much Ado About Nothing
Othello
Pericles, Prince of Tyre
Richard II
Richard III
The prologue to Romeo and Juliet
And the rest of Romeo and Juliet
Taming of the Shrew
The Tempest
Timon of Athens
Titus Andronicus
Troilus and Cressida
Twelfth Night
Two Gentlemen of Verona
And finally, the end of Winter's Tale
Phew. We're impressed. So is Mike Schur, one of the co-creators of Parks and Rec.
And so is the actual Parks and Rec Twitter account.
Well done, Alison. Leslie would be proud.