Shake Shack will now be serving breakfast, and what a time to be alive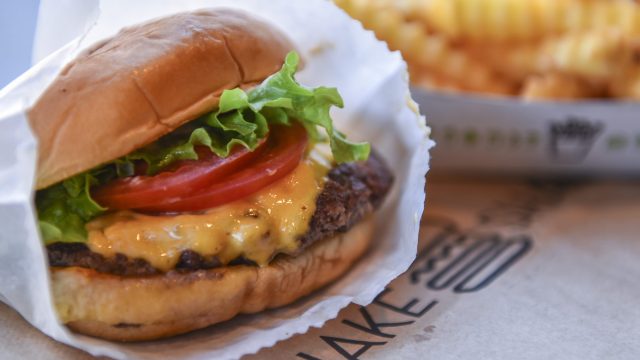 This is something to wake up early and write home about! Our beloved burger joint, Shake Shack, will be serving breakfast at its original Madison Square Park location. That's right people, according to a Shake Shack press release, starting Monday, May 22nd, the Madison Square Park Shack will open from 7:30 — 10:30 a.m. Monday through Friday, and 8:30 — 10:30 a.m. Saturday and Sunday, to serve you breakfast delicacies.
Breakfast is currently only served at a select few Shakes Shacks, all of which are in airports and train stations, so this is BIG news. And if you have yet to sink your teeth into breakfast at any of those outlets, get thee to Madison Square Park at the end of this month.
https://www.instagram.com/p/BQkmK9XARde
For the event, Shake Shack has teamed up with Union Square Hospitality Group's Daily Provisions eatery. Daily Provisions will provide their specialty coffee cake exclusively to the Madison Square Park location.
The cake will only be available in limited quantity, so get there early to give it a try.
And of course, Shake Shack will offer their classic breakfast options: Bacon, Egg N' Cheese, Sausage Egg N' Cheese, and Egg N' Cheese, will all be available for you to nosh on. Thank goodness!
To make things even better, each breakfast sandwich is made with cage-free eggs, American cheese, all-natural sausage and bacon, and served toasted potato buns. Is your mouth watering yet?
Stumptown Coffee Roasters will supply the caffeine and anyone who orders breakfast in person will receive a 16oz. complimentary cup o' joe! We're sold, we're sold!
Enjoy your Shake Shack breakfast, New Yorkers! Our fingers are crossed that this will become a mainstream Shack offering at all locations in the near future.