Shailene Woodley is still protesting against the Dakota Access Pipeline, and we're in awe of her passion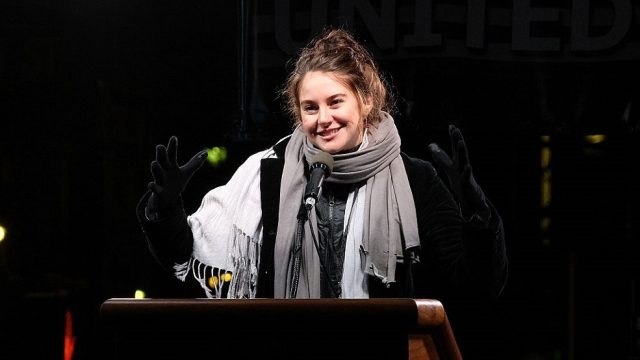 When you think of passionate people, please think of her. Despite an arrest last year, Shailene Woodley still fights against the Dakota Access Pipeline construction on a daily basis. Even better, she's trying harder and harder to make sure her voice — along with the voices of the many Standing Rock Sioux tribe members — is heard.
Woodley started protesting back in September, and her dedication truly helped inform many of what was happening. She's fighting against the construction of a pipeline that would endanger the land and resources on cultural Native American sites.
While she's seen a lot go down during her time on-site, she definitely feels as if it's time to take things a step further.
"What we could do now as a population, as a society, is to hold our corporations accountable and hold our banks accountable, because there are a lot of banks that are invested in this pipeline, she said to a reporter.
https://www.youtube.com/watch?v=3Vab-iTXZHM?start=2&feature=oembed
For those who agree with Woodley, this would definitely be a good move. While originally halted, the new presidency just put the construction of the Dakota Access and Keystone XL pipelines back on the schedule, which is pretty worrisome.
"Regardless of any executive order or what our politicians want to do, if there's no money invested in the pipelines, then they can't be built," Woodley stated.
One of the problems with pipelines? They've been known to burst. In fact, a pipeline in Canada just erupted this week, which dumped 200,000 liters of oil on land in Saskatchewan.
This is one of the key issues that Woodley wants to publicize.
"It's not a matter of if pipelines leak, it's a matter of when pipelines leak. And when this one leaks, it would affect the drinking water of 18 million people, not only Standing Rock Sioux tribe in North Dakota [and] South Dakota, but millions of people down river as well," she said.
All in all, it's a tough situation — and we really hope that people continue to spread information on why this pipeline could be a terrible idea for the environment. Shailene Woodley is definitely an inspiration for activists everywhere, and we know she'll never be giving up the fight.