I took a class at Shadowbox, a boxing studio that centers women, and it made me feel like Wonder Woman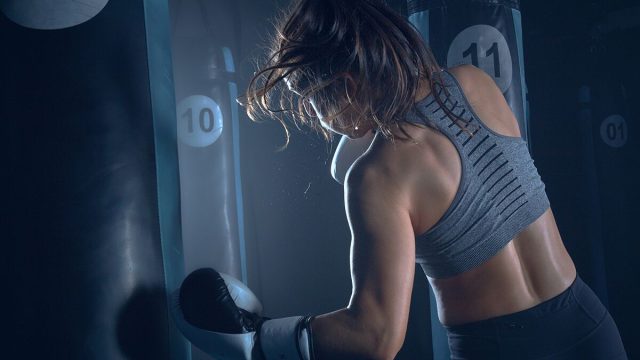 I'm a 25-year-old woman whose relationship to exercise resembles that of a gardener to her basil plant. As you may or may not know, basil is among the easiest plants to grow, so it doesn't take a lot of effort. But the payoff isn't that great either. (Sure, basil makes a delicious addition to a meal, but it's not exactly doing a lot on its own.) The same goes for exercise: I don't put a lot of effort into it, so I don't gain a lot from it (i.e. abs). You can imagine, then, that I felt apprehensive to try my first boxing class at Shadowbox, an inclusive boutique boxing studio that will soon build upon its New York locations to add studios in Chicago, Austin, Dallas, and Los Angeles.
In the interest of full transparency, I wouldn't say that I never work out—basil plants do need some water, after all, and I know that I have to put a little bit of effort into maintaining my health. Not only that, but I notice a difference in my mental health when I consistently work out, so I try to make it to the gym a few days a week to at least to walk on the treadmill on an incline. And though I've never taken a boxing class with a punching bag, I used to take a kick-boxing class in high school, so I'm familiar with the different types of punches: jab, hook, and uppercut.
Here's how my first legit boxing class went:
Side note: The term "shadow boxing" actually describes boxing without a bag or opponent, but this class (the Standard class) included the use of a bag.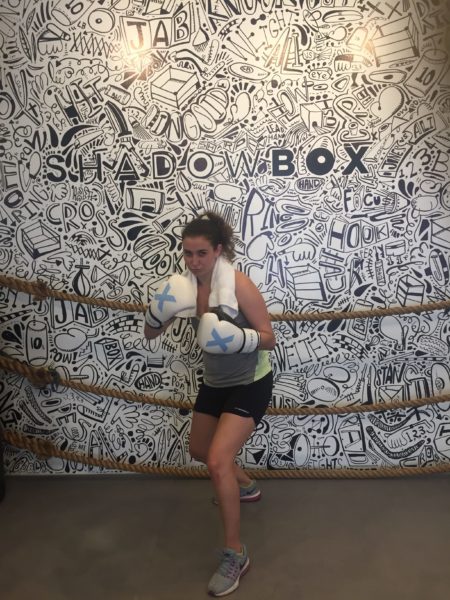 I happened to show up to the Shadowbox class right as it was beginning, which I blamed on the train even though three years of living in New York City should have taught me to factor subway delays into my travel plans. I arrived at the Flatiron location where a woman at the front desk greeted me and helped me get into the class as quickly as possible. I have to say that I greatly appreciated the help with finding a locker and getting ready with my punching bag because I wouldn't have known what to do otherwise. I definitely give them an A+ for customer service.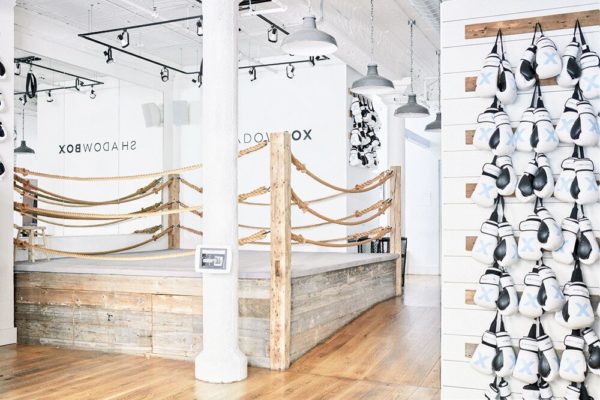 I got into the class as it started and quickly put on my hand wraps, which the studio provided; my bag was located right near where the female instructor stood for most of the class. I only mention that the teacher was female because that's one of the reasons I was most excited to try Shadowbox. It's a boxing studio that sets itself apart from others for its inclusivity and roster of mostly women instructors—a rare feat in the male-dominated sport. The studio's mission is to welcome people who might not usually try boxing classes, like, say, me.
If you like to do high-intensity cardio sessions in the dark—especially when they're led by fierce ladies—then you'll love this class.
I've never been to a SoulCycle class, but I've heard a lot about it, and it seems like Shadowbox might provide a similar atmosphere. The lights were off in the studio, but the punching bags glowed under blue lights as did our big white gloves. First, we started with punching routines with our wraps on our hands without punching the actual bag, then we moved quickly between various punching sequences.
Not only did we punch, but we also did jumping jacks, sit-ups, and squats, and even before getting to punch the bag, I felt that I'd worked myself out more than usual. Fortunately, the high-energy pop music that blasted throughout the room helped me remain motivated, and once we moved to the bag, I felt a second wind with the excitement of actually seeing the bag move with my punches.
I enjoyed the pace of the class because I didn't feel that I needed to perfect any of the different routines. We would repeat a few moves and move on, and I liked that, though the perfectionist in me wished I could have received a little more instruction about how exactly to place my feet or hips.
Overall, I felt a boost of badass run through my veins after the class.
Actually, I felt a little bit like Wonder Woman.
If you want to try Shadowbox, I might suggest learning a little bit about how exactly each punch should go if you're like me and like to do things as perfectly as possible. Then again, it's kind of freeing to not worry as much about it—you don't want to get hurt, of course, but taking a Shadowbox class with the goal of trying something new and having fun will definitely make you feel great.
I never felt judged for not having visible biceps or for taking an easier modification during some of the interim workouts—I opted for simple pushups rather than burpees at one point—and I appreciated the few times that the instructor told me to change my footing or make another adjustment to my form. I really felt great after the class, and I could see why some people adore boxing as much as others love cycling.
If you ever want to get some aggression out while giving yourself a full-body workout—and in this climate, who doesn't need to do some major punching on the daily?—I recommend giving it a go, even if you think you don't have a "boxer's body."