Shadow Shields is basically the multipurpose beauty tool of our dreams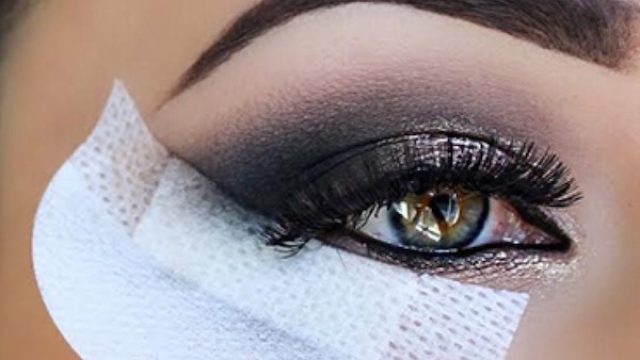 Have you ever looked at your favorite celebrity or makeup guru and wondered how is her eye makeup so crisp and perfect? Like, how are the wings of her liner so even? How does she not have powdery bits or errant flecks of mascara on her face? We'll let you in on a little secret: So many stars and beauty bloggers are probably using THIS unexpected tool to keep their eye makeup looking flawless. Shadow Shields makes an amazingly versatile product that will help you achieve a neat, precise eye look. It's basically a shield for your eyes and it's super easy to use.
This is what we call a makeup product of our dreams.
Now, their eye tool doesn't really look like much. It's just a little white half-moon shaped contraption that will probably just get tossed in the trash by someone who doesn't know better. But since we do know better, we can tell ya: These deceptively simple-looking babies are perfect for preventing shadow fallout, keeping the wings of your liner super straight, and helping you from smudging makeup too far underneath your lash line (there's nothing cute about the raccoon look). Did we mention that it won't ruin your foundation either? That's right, you can totally place it on top of your foundation when applying eyeshadow or eyeliner and your face makeup will still look flawless.
This product isn't just meant to help with your eye makeup either. You can totally use it to apply lipstick perfectly. All you have to do is place it under your bottom lip and sport your favorite color lipstick. You'll never have to line your lips like a 5-year-old ever again. Want the Kylie Jenner pout? This products also helps you perfectly overline your lips as well.
Shadow Shields are stupidly easy to use and super affordable. You can snag 14 of them for under $5 (yes, really) from Walmart, and they're sold through several other outlets as well.