This "sexy" Handmaid's Tale outfit is the first (but probably not the last) problematic costume of Halloween 2018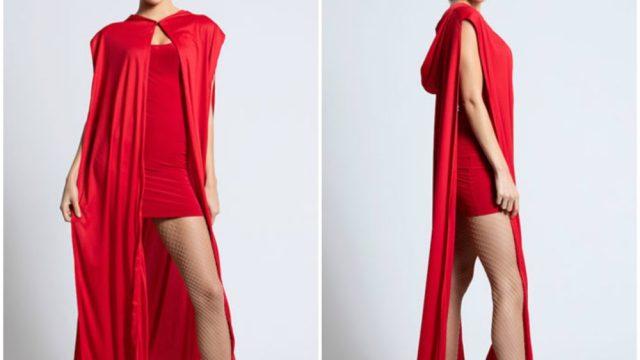 Update: Following backlash, Yandy has pulled the Brave Red Maiden costume from its website and released the following statement on Twitter: "Yandy always has stood, and will continue to stand, at the forefront of encouraging our customers to 'Own Your Sexy'. We support our customers being comfortable in their skin, regardless of who they are or what they choose to wear. Our corporate ideology is rooted in female empowerment, and gender empowerment overall. 
"Over the last few hours, it has become obvious that our 'Yandy Brave Red Maiden Costume' is being seen as a symbol of women's oppression, rather than an expression of women's empowerment. This is unfortunate, as it was not our intention on any level. Our initial inspiration to create the piece was through witnessing its use in recent months as a powerful protest image. " 
Another Halloween, another overly sexualized costume. A women's apparel brand is drawing ire from the internet for a very questionable Halloween costume. Recently, Yandy released a Brave Red Maiden costume inspired by the Hulu series The Handmaid's Tale on its website, and it's guaranteed to make you cringe.
The product description reads, "An upsetting dystopian future has emerged where women no longer have a say. However, we say be bold and speak your mind in this exclusive Brave Red Maiden costume featuring a red mini dress, a matching cloak with an attached hood, and a white bonnet headpiece."  Included in the tagged categories is "Sexy Halloween costumes."
Here's a closer look at the Brave Red Maiden costume, which retails for $65: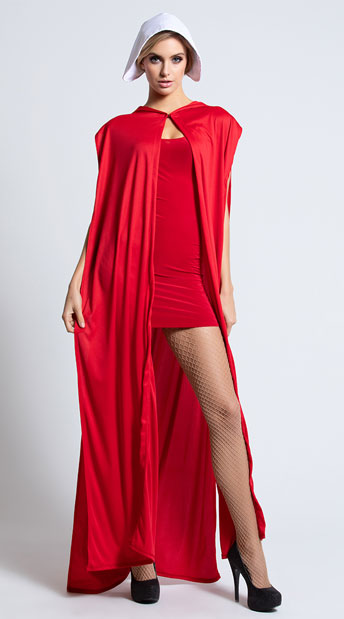 Yandy's costume references the famous red cloak and white bonnet uniform worn in the series. Based on the bestselling novel of the same name by Margaret Atwood, The Handmaid's Tale is a dystopian series that follows Offred (Elisabeth Moss) as she navigates a society where women are owned by the government. The cult-favorite show earned a staggering 20 nominations at the 70th Primetime Emmy Awards on September 17th, and Orange is the New Black alum Samira Wiley took home an Outstanding Guest Actress in a Drama Series award for her role as Moira.
The iconic red cloak has become a symbol for women's rights across the globe. In July of this year, women in Argentina took to the streets in red cloaks to march for abortion rights. Earlier this month, women dressed in the handmaid cloaks stood outside Supreme Court nominee Brett Kavanaugh's hearing in silence. Given the feminist implications of the cloak and bonnet, Yandy's decision to sexualize the ensemble is certainly jarring, to say the least.
Twitter reacted to the costume accordingly.
https://twitter.com/udfredirect/status/1042892843013103616
https://twitter.com/udfredirect/status/1042816807709679618
A word of advice to Yandy: Don't. Pls. No.