Sexual harassment in Congress might be handled very differently if this new bill passes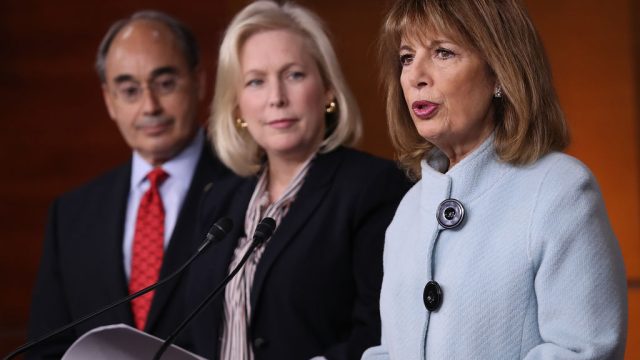 In the wake of the #MeToo movement, so many industries are looking in and trying to figure out how to fix the problem. Surprisingly, one of the most comprehensive attempts at reform is coming from Capitol Hill, where far too often it feels like nothing can ever change. Thanks to a bill introduced on Thursday, sexual harassment allegations in Congress could be handled very differently than how it is now. And judging from some of the suggested changes in the bill, this has been a long time coming.
The bill was introduced by a group of representatives including House Reps. Jackie Speier (D-Ca.),  Gregg Harper (R-Miss.), Bill Brady (D-Pa.), Barbara Comstock (R-Va.), and Bradley Byrne (R-Ala.), and is apparently supported by even Speaker Paul Ryan, according to BuzzFeed News. Many in Congress think that this bill could even pass before the end of January, which would be one decent, humane thing will be accomplished under the Trump administration. The bill updates 20-year-old guidelines about how to handle discrimination in Congress that are pretty backwards, such as having taxpayers foot the bill when someone settles a discrimination claim and ensuring that the Office of Compliance, which handles sexual harassment cases, is more transparent about complaints and where they end up.
A July survey of congressional staffers found that only 10 percent of women even *knew* about the OOC or that it was where they should report harassment. According to CNN, 80 percent of the people who have come forward about sexual harassment have chosen to not report to the OOC because of the tedious processes.
The new bill overhauls the Congressional Accountability Act of 1995 Reform Act, an old fashioned piece of legislation meant to protect employees of Congress from discrimination and harassment and shines some light on its secretive procedures. For one, it will force people who are accused of harassment to pay their settlements out of pocket, since as of right now, those funds are coming from the U.S. Treasury. Back in November, when the dollar amount of settlements was called into question, the OOC released a report saying that since 1997, it has paid out $17 million in discrimination settlements.
But we don't even know how much of that was for sexual harassment settlements alone, since the office also handles other discrimination cases, like for race, gender, or disabilities. It's out of control to think that a Congress that's so intent on cutting the budget would just not wonder where $17 million went and want to know exactly why. There's absolutely no reason that taxpayers should have to pay for the crimes of a lawmaker who harasses or assaults women. In addition to not knowing exactly how much went to sexual harassment, we also don't know who was accused in these cases.
Because everyone wants more money in the government coffers, that should be something everyone can get behind, but this legislation is far more comprehensive than just forcing lawmakers to pay out of pocket for their alleged crimes. Anyone who doesn't get behind these changes that make it easier for victims to report harassment and hold the accused accountable is going to have a lot of explaining to do, since these are all common sense measures to ensure transparency and the safety of the accuser.
For one, the OOC would be rebranded as the "Office of Congressional Workplace Rights" and would also protect unpaid Congressional staff like interns. The bill would also create a new office for employee advocacy, since in the past, someone who complained of harassment didn't have an advocate to walk them through the process, and provide unbiased consults and legal assistance. Right now, when someone makes a complaint, they have to pay for their own legal representation, while members of Congress and their staff could just use House counsel. The new advocate won't be able to represent them in federal court, but it can walk them through the process.
In addition to shuffling up all of that, it also requires the new office to hand a report over to a House committee two times a year about all of the cases it's taken on, so there's no two decade-long log that we'll have to go through the next time something like this happens.
Wait, wait, there's more! The bill would grant a person making a complaint paid leave or allow them to work remotely while the case was pending, so that they wouldn't have to walk into a potentially hostile work environment. It would also change the reporting process entirely, which is a good thing.
Get this: Right now, before making a complaint, someone has to go through 30 days of counseling and then another 30-day "cooling off" period before filing the complaint. It also forces them to sign a confidentiality agreement. Under the new bill, the office would start investigating immediately and the employee and the office of the accused could talk about the case, although it would still be handled confidentially if they wanted it to be. That means if a senator gropes an intern, that intern can tweet all she wants about it (as can the accused), which is something we need to start encouraging if we want to keep this conversation going and really change peoples' minds about sexist behaviors.
Congress seems toPennsylvania Rep. Bob Brady told NBC News:
"This bipartisan proposal is the result of months listening and learning about how we can improve the process. These reforms focus on justice for the victim instead of protecting the offender and they are long overdue."
Ryan also made a statement approving the bill Thursday, saying, "This past fall, we pledged to enhance the workplace safety of Congress, and today's bipartisan legislation brings us one step closer to fulfilling that promise. It ensures that victims of workplace harassment have the resources they need to get the justice they deserve. No staffer or Member should ever feel unsafe in public service, and this bill will help make that a reality." So it really looks like this could pass the House and then move onto the Senate, where supporters like New York Sen. Kirsten Gillibrand is just waiting to make sure it passes.
The bill is all about common sense and protecting government employees, which means that any senator or representative who scoffs at it is going to have a lot to answer for. Ironically, if all goes as planned, the long overdue overhaul of sexual harassment reporting procedures will be signed into law by a president accused of sexual harassment and assault by 19 women. Only in 2018, folks.