5 incredible ways technology is helping battle sexual assault
There's an app for pretty much anything — ordering food (all hail Seamless), making a totally profesh-looking music video, creating your own dream lipstick, convenient bra-sizing, and even pregnancy tests. Although all these apps are great, none of them are life-changing — at least, not as life-changing as the new technology aimed to prevent sexual assault and helping survivors.
As April is Sexual Assault Awareness Month, we want to highlight five important innovations in the fight against rape culture. Several of them are free and they're excellent resources so long as we live in a world where sexual violence is the norm.
Cost: free
Circle of Six was one of the very first sexual assault apps on the market. Like the name says, it allows you to choose six people to add in your "inner circle."
If you get in an uncomfortable situation, you can use the app to send an automatic text to someone in your circle. One alert them to call you and pretend they need you, while another provides your GPS coordinates and asks them come get you. You can also contact friends in your circle if you just need to chat.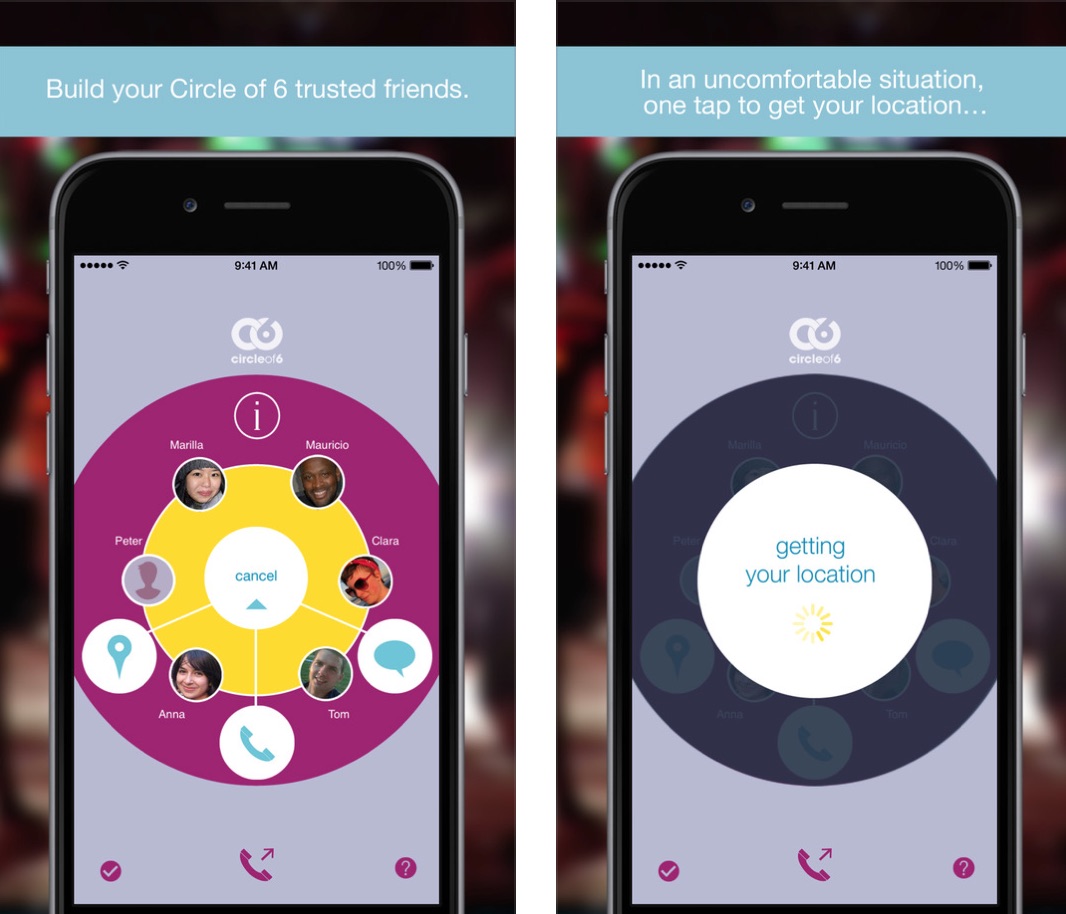 Another cool function on Circle of 6 is direct access for hotlines where you can receive help. Circle of 6 has become so popular that some college campuses, including UCLA and the University of Houston, have customized versions for their students.
Cost: $99.99 (though currently on sale for $79.99)
Roar for Good is a company that aims to prevent sexual assault, and their very first project, Athena, was a major success on IndieGoGo. Athena is a small, clip-on device that comes in three colors; you can easily clip it onto your belt, sleeve, purse, or even make it into a necklace. When it's pressed for three seconds or longer, it will emit a loud alarm while also texting your location to your set emergency contacts. A SilentROAR option "for discreet situations" lets you tap the button three times and then it texts your contacts.
"We took a self-defense class and we found out that the worst place to wear a safety device is on your wrist, because you only have one hand to activate it," 34-year-old Roar cofounder Yasmine Mustafa told Mashable. "That's why we designed ours so it's not a bracelet. You can wear it in a couple different ways."
Athena is available for pre-order and is expected to ship this fall.
Cost: free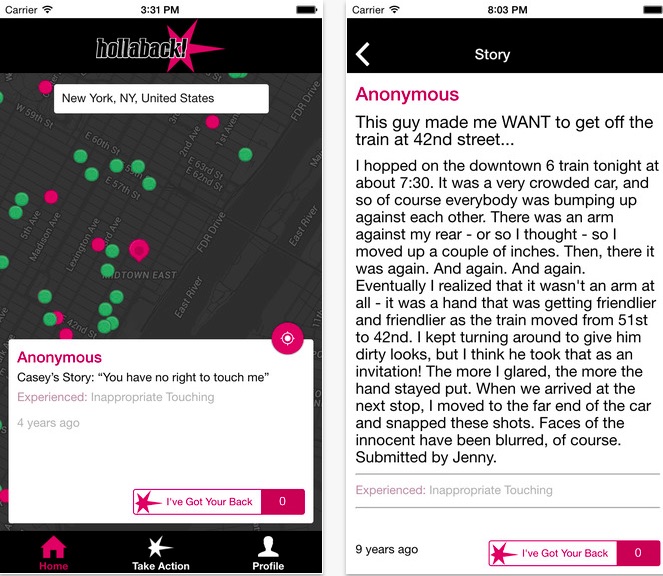 What would the world look like if street harassment didn't exist? That's what the makers of the app Hollaback! want to know. The app allows women to report and document incidents of street harassment — not only to share this important information with other women, but to hold perpetrators accountable.
"Street harassment teaches us to be silent, that taking action will only escalate the situation. While this isn't bad advice, it has led us down a dangerous road," the makers of the app wrote on their website. "Ultimately, perpetrators realize they won't be held accountable and continue to harass. Hollaback! was designed by a group of young folks who were tired of being silenced and sought a simple, non-violent response. What has emerged is a platform where thousands of stories of street harassment have been told."
Price: Upon request by partnering universities
A victim of sexual assault may feel exhausted, lost, and trapped after the assault took place. That's exactly why Callisto exists — to help inform sexual assault survivors of their options. The web site was developed "by survivors, for survivors" and serves as a reporting system that allows victims to submit their case to the authorities (or not, if they don't feel comfortable taking that step). Survivors can create time-stamped records of an assault, see the available paths they can take, and visit resources such as nearby STD clinics.
"If you have to walk into a building to report, you can only go at certain times of day and you're not certain who you have to talk to, how many people you have to talk to, what they will ask," Jessica Ladd, the nonprofit's founder and chief executive, told the New York Times last November. "Whereas online, you can fill out a form at any time of day or night from anywhere and push a button."
Cost: $4.99 a month or $59.99 for one year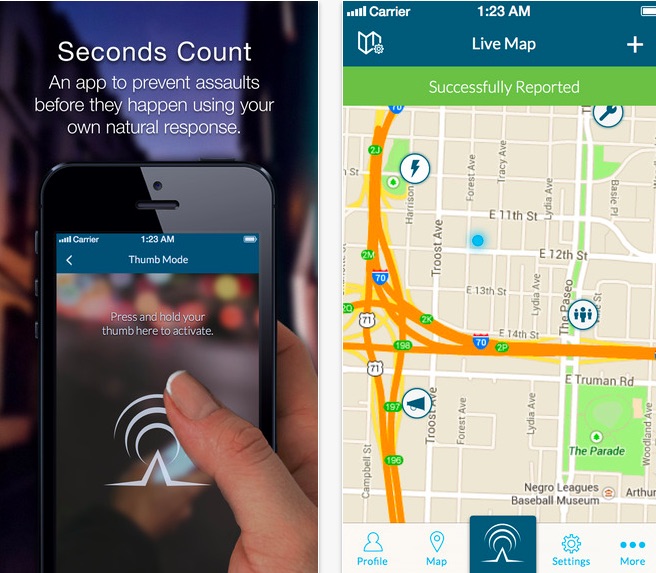 If you're being assaulted, it can often be impossible to call 911, let alone communicate your location. The app LifeLine Response provides a monthly subscription service where it will alert the authorities of your location if you feel you are in danger. When LifeLine Response is open, you can hold your thumb to the screen and as soon as you lift it, the app will turn into a flashing alarm with GPS tracking and emits a siren that can be heard up to two miles away . You can disarm the app by entering a four-digit code when you are safe.
If you need to speak to someone about rape, sexual abuse, incest or any other sexual violence, you can reach the National Sexual Assault Hotline at 1-800-656-HOPE.