Someone made a sexist meme of a plus-sized model, and her clapback was perfect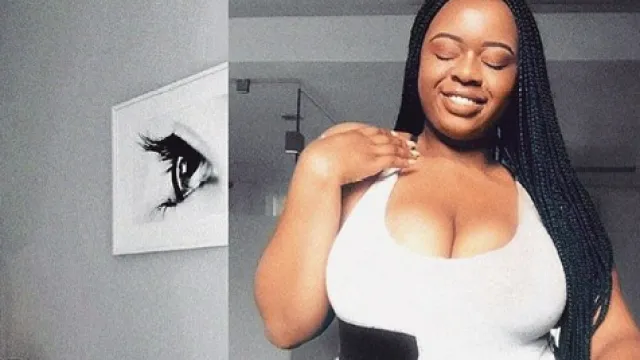 Earlier this week, one South African model found herself the unwitting subject of a totally sexist meme. But instead of reporting it or ignoring it, she brilliantly shut down the sexist body-shamer in four words, and we are cheering.
Lesego Legobane, who goes by "ThickLeeYonce," is a 24-year-old plus-size model, blogger, photographer, and body-positive activist, and she recently managed to win the entire internet.
Legobane clapped back so hard when she stumbled upon an infuriatingly sexist meme featuring her in a side-by-side photo with fellow South African model Joëlle Kayembe. The man captioned the photo, "Girls that I like vs Girls that like me," insinuating that while he prefers thinner women, he's only given attention from curvier women…cue our collective eye roll here…and that that's a bad thing.
Legobane's response?
YASSSSS, GIRL.
The tweet quickly went viral, with celebrities like Ariana Grande and Nicki Minaj even liking Legobane's response, and we are so proud of her for standing up to body-shamers who think nothing of sitting behind a keyboard and spewing negativity.
It's honestly a little maddening, because both women are jaw-droppingly beautiful, and there is no reason to compare them in any way, let alone shame Legobane for her weight.
https://www.instagram.com/p/BYqs25wndSw
Both models were interviewed by BuzzFeed News, and unsurprisingly, Kayembe said she was "super proud" of Legobane's epic response, adding, "It was not a well thought out compliment, if that is what he was trying achieve. And to use one woman's picture (mine in this case) to body-shame another is just rude and unnecessary!"
As for Legobane? She remains 100% unbothered (as well she should!) and appreciates the opportunity to spread a body positive message to those who might really need to hear it.
"It means a lot to me that I can change someone's perception about their physical appearance by loving my own. I hate it when men think that fat girls are desperate and that we like every other guy 'cause 'we don't have options.' It's utter nonsense. I can be fat and still be out of your league."
We LOVE this, and now we're going to need a joint photoshoot between Kayembe and Legobane please. Forget breaking the internet. They'd melt it with their fire.