Sex IRL: We talked to 11 people who love using sex toys with their partners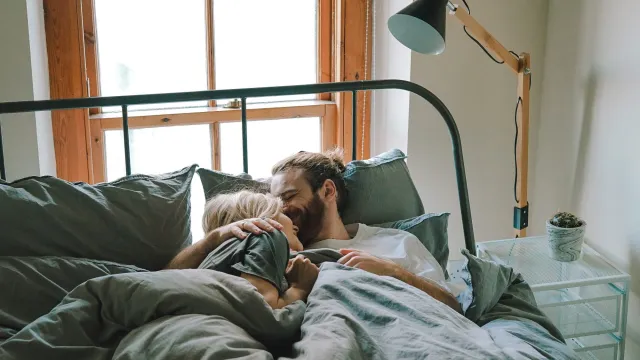 While sex toys are known to be a clitoris owner's best friend, you might've heard a little rumor about how some men feel about them. But should straight guys really be threatened by their partners' sex toys? Let's dive in, shall we?
According to a 2017 study published in the journal PLOS ONE, about half of all women in America have used a vibrator or dildo in their lifetimes, with 20% having used one in the past month. Also, you can accurately assume that they're even more popular among queer women: A 2011 study found 86% of women who have had sex with women have used a sex toy in comparison to 53% of straight women, and those who used a sex toy with a woman partner reported more sexual satisfaction than those who used them alone or not at all. Plus, past research has found people who use sex toys also have better sexual functioning (i.e. stronger desire, more lubrication, and higher orgasm frequency) and are more proactive about their sexual health.
However, the many benefits of women's sex toy use apparently do not bode well for some men: "I can't compete with a vibrator," an anonymous man wrote to the Good Men Project in 2015 upon finding a secret box of his wife's sex toys.
Considering that the majority of women cannot orgasm through vaginal intercourse alone and can reach climax way more reliably with the use of a sex toy, we can see where the worry comes from. According to some sex therapists, the fear of being replaced by vibrators and dildos is apparently a common concern among their male clientele. But this narrative is not new; it dates back to when vibrators first became widely available for purchase and were marketed as "marital aids."
But fortunately, research suggests a lot of that stigma has been fading away, as sex toys really can aid relationships and make couple's sex lives better. There is no competition: sex toys are, of course, great for masturbation, but they're also excellent to use when you want to mix things up with your partner.
According to one 2010 study, not only is it common for lesbian, bisexual, and straight women to use sex toys with their partners, but women's sexual satisfaction goes up when their partners know about their sex toys and like them, too. Another study the following year found most men have positive beliefs about women's vibrator use, with 70% disagreeing or strongly disagreeing with the idea of sex toys being intimidating to women's partners (compared to 37% of women who agree or strongly agreed with that statement, for what it's worth).
And that's just vibrators: Don't sleep on pegging (which we've discussed at length here at Sex IRL), butt plugs, and penis rings. About 18% of men have experimented with anal sex toys, according to the PLOS ONE study, and about 22% find the idea somewhat or very appealing.
To get a better sense of how couples are choosing to incorporate sex toys into their relationships, I tapped dating app OkCupid to ask how their users feel about the use of sex toys during partnered sex in general. Good news is, 84% of those who responded said they enjoy using toys with their partner—and more than half of them said this was an important topic to them in a relationship.
For some IRL insights, here's what 11 people told me about their experiences using sex toys during sex with their partner(s):
"It's so much easier for me to have an orgasm."
Using sex toys with my partner has been amazing! There are so many options out there from vibrators to cock rings to other fun toys like handcuffs and feathers. We don't use them all the time, but they're an exciting addition to [our] sex life. I first tried it early in my relationship with my current boyfriend. He actually suggested it—he got me a Magic Wand and "helped" me use it. This soon turned into incorporating toys during sex.
With vibrators, it's so much easier for me to have an orgasm. It's difficult for me to get there regularly, even when rubbing my clit (no matter how amazing the sex is). Plus, I like that they alleviate the pressure off my partner to get me to orgasm. He's always focused on pleasing me, and as amazing as his dedication is, I feel bad when it occasionally takes an hour or longer to make me cum. Depending on the position and the toy, they can be a little difficult to incorporate during sex. My favorite are cock rings that have a vibrating piece for the clit. They're so easy because you don't have to hold them, and they don't get in the way. Plus, the vibration isn't constantly on the clit; it comes and goes. The resulting orgasm is incredible.
—Woman (21), from Los Angeles
"He asked, 'Can we use a vibrator while I fuck you?'"
I've only used sex toys during sex with one partner because he is the only one I've trusted enough [to use them with]. It has been absolutely sensational. It's just another way to make both [of our] experiences better.
The first time he asked, "Can we use a vibrator while I fuck you?" I was surprised because I've always wanted to try it. If he is on top, I will use the vibrator on my clit, but if we are in doggy style, he will hold [on to] it. Also, we've used a butt plug while in doggy style. I can help him experience a different kind of orgasm, and he can tease me and make me cum more.
—Woman (23), from New York
"[Sex toys] can be very revealing. Is the person you're sleeping with invested in your pleasure as well as theirs?"
My experience using sex toys with various partners has really evolved throughout the years, and although I've found the more open and comfortable I am with myself, the easier it is to introduce various toys and pleasure products. [A]long the way, I've also discovered it can be very revealing, too. Is the person you're sleeping with invested in your pleasure as well as theirs?
I was already masturbating solo with vibrators for clitoral stimulation on a regular basis when I began dating a man who wanted to watch me masturbate to orgasm from across the room. It was absolutely his idea, and once I (quickly) got over my nervousness, I found I was able to reach [climax] almost as quickly as I could when I was playing [by myself]. I was HOOKED. I was around 19-20 years old, and I felt I had been given "permission" somehow to prioritize my needs. I've never forgotten how empowering that was, and as I moved through life, I realized we don't need anyone's permission—it's our right.
I have two favorite ways to incorporate toys during partnered sex: I love using any clit vibe from LeWand's Chrome Collection. They're small and unobtrusive while delivering super strong vibrations. I love holding them myself, but it's also a turn-on when someone else is in control. Doggy style is a great position for this; so is spooning. I also really love pairing a warming lube like Wicked Sensual Care's Ultra Heat with a metal butt plug prior to having anal sex. It feels incredible and provides a great visual as well."
—Jessica (44), a woman from Los Angeles
"We were a little afraid of the thing we wanted to try."
We have a growing collection of sex toys, and even have our own names for them in Spanish (we speak Spanish together). For example, we call my butt plug "La Cosa Azul" (The Rosie from Good Vibrations), which means "The Blue Thing." … Having our own language for our sex toys makes our sex exciting! Sometimes I will tease my partner and whisper something like, "Te gustaría La Cosa Violetta este noche?" Would you like The Purple Thing tonight? He loves that.
Before we started using sex toys, we already had very honest and good communication as a couple. Using sex toys is not an easy thing to do; it takes trust and openness to be able to tell your partner what you want and have them be open to trying it. We also both dealt with the guilt of sexual exploration from growing up in a Western culture; anal is not socially acceptable. This is why listening to your partner's desires and making sure they feel comfortable is so important.
Using sex toys [during sex] can also be challenging, in a good way. Now we use sex toys in just about every position, but initially, I was afraid to even tell him that I wanted him [to] penetrate me anally and vaginally at the same time, [while] stimulating my clitoris with a vibrator. FYI, we did it. It was amazing, and we can do it again at any time. More recently, he wanted to sit on top of me while I pegged him wearing the harness with La Cosa Violetta. In both cases, we were a little afraid of the thing we wanted to try, and we needed the other person to be supportive [during those] vulnerable moments.
For us, using sex toys during sex is about pleasure and connection: I want to please my partner, he wants to please me, and we want to feel deeply connected to [one another]. If you have a vagina, you can only imagine the pleasure you can get from having anal and vaginal sex at the same time, while having clitoral stimulation with a vibrator. I can't speak for my partner, but I know that his orgasms are more intense after his prostate has been stimulated a lot. I love that we have our own secret language and a special set of activities we do together that we don't do with anyone else. I was the first girl who ever pegged him, and this equality is a central part of our experience. Honestly, other couples might not be able to [do] this with sex toys if the male partner is not open to pegging. So unexpectedly, I guess we've become champions of anal equality.
—Woman (24), from San Francisco
"It's great to have my partner pick out something she likes and then let me use it on her in ways we both like."
The experience of using sex toys as a whole has really [been] enjoyable. I've found the most enjoyment when [we use] them during foreplay. It's great to have my partner pick out something she likes and then let me use it on her in ways we both like— we're kind of playing around with the whole south of the border area.
The first time I tried doing this was with my girlfriend in my mid-twenties. It was a mutual decision, so the initial response was very good. I've never had an experience where there has been any "pushback" on the idea.
It's not something that I like to do all the time. What's appealing about [sex toys] is the variety, and my partner really enjoys the different stimulation that comes from using the toys.
—Sam (44), a man from Austin, Texas
"When I'm in pain, I'm able to use a pocket pussy."
I can only orgasm by myself or with the help of a vibrator. I also have chronic yeast infections and endometriosis, so when I'm in pain, I'm able to use a pocket pussy and that can sometimes be a nice change-up from a blow job. I'm mostly using all the toys, and my S.O. is either watching, or I'm using them on my partner. All of my partners have reacted positively with me bringing a sex toy into the mix. Especially the women I've been with. They just get it. Using toys for me is just a way to spice things up. I don't think it necessarily makes sex better, just makes it different.
—Alexis (23), a woman from New York
"There are simply things sex toys can do that a human partner can't."
Incorporating sex toys into our sex life has been a very gainful experience. From my perspective, it has enhanced our sex life dramatically. We started experimenting with sex toys soon after we got married. We were both very receptive to the idea of experimenting with sex toys and our main reason for doing so was to prevent our post-marriage sex life from becoming stale, which is something we hear [that happens] all too often, especially in long-distance relationships.
During our time experimenting with various sex toys, sex furniture and other BDSM-related products, I've learned many important lessons about what types of stimulation I enjoy most. Many of the toys we've experimented with (the Lelo Sona specifically) provide a level of stimulation that isn't achievable without the incorporation of sex toys. There are simply things sex toys can do that a human partner can't due to biological limitations. For clarity, the Sona is a sonic vibrator that delivers sonic pulses that target the clitoris specifically. This toy is one we regularly incorporate into our bedroom routine (typically during foreplay, but also during sex). By using this toy, I've realized that clitoral stimulation is something that I personally really enjoy, and it's by far the simplest way for me to achieve an orgasm every time during sex. If my husband reaches climax before I do, he normally reaches for a clitoral vibrator and brings me to climax, without fail.
I've also become quite fond of incorporating butt plugs on occasion into our sex sessions. They provide a feeling of "fullness" which I very much enjoy—especially on nights where I'm feeling extra kinky. My husband is also quite fond of anal toys (he has the benefit of having a prostate, which I'd imagine makes it all the more enjoyable for him). However, it took quite a lot of convincing to make him open up to the idea.
—Angela (38), a woman from Oakland, California
"It was a very quick 'yes' from me when she suggested that we begin experimenting with sex toys during sex."
The main reason we began using sex toys during sex all started on our honeymoon. I had expressed to Angela that a concern I had was that our sex life would become predictable now that we were married and that this was something I wanted to avoid at all costs. Countless friends of mine complain about the lack of satisfaction in their sex lives at home post-marriage, and this was not something I wanted to experience firsthand. There are thousands of jokes about how blow jobs end after marriage, which shows this idea has some basis in the real world. I love my wife more than anything in this world and the thought of her being unsatisfied (either emotionally or physically) was something I wanted to prevent at all costs. I wanted to ensure she was thoroughly satisfied throughout our marriage. Of course, I also got to [partake] in her pleasure as I often have a better time when  my partner is [enjoying herself] in the bedroom. Selfish yet selfless, in a way.
It was a very quick "yes" from me when she suggested that we begin experimenting with sex toys during sex.
Typically, when we use various sex toys during sex, we opt for clitoral vibrators since this is something that my wife really enjoys. … We also frequently experiment with various prostate toys during sex (which I was VERY apprehensive about originally). My personal favorite is the Lovense Edge. However, they are not something I opt for regularly. They're something I need to be "in the mood for." Getting past the initial nervousness of having toys inserted into my rectum opened up a whole new world of sensation for me. Ultimately, I think I am much more well-rounded after experiencing what sex toys have to offer.
—Don (39), a man from Oakland, California
"I was 16 spending the night at my best friend's house with her partner when she whipped out a lime green vibrator."
My first experience with a sex toy was also my first experience using a sex toy with a partner. I was 16 spending the night [at] my best friend's [house] with her partner when she whipped out a lime green vibrator. We took turns using the vibrator on each other, alternating with the real penis [that was] attached to the boyfriend—[they both] seemed quite experienced with the device, and I followed suit.
It would be over a decade later before another sex toy appeared during partnered sex; this time [it was] a Magic Wand belonging to my then-boyfriend, [which was] always plugged in beside his bed. He was a well-endowed man and one night while I was struggling with anal sex, I impulsively reached down and placed the device under my belly with the head on my clit as he entered me from behind. This was how I discovered my A-spot, or rather, that my vagina could "weep with pleasure." The secondary stimulation allowed me to receive my partner more deeply to the point where he was able to reach that special cluster of nerves at the end of my vaginal canal via the wall [that connects] with my rectum.
Five years ago, I struggled with a partner whose general anxiety lead him to spontaneously lose his erection in the middle of intercourse, often when I was super stimulated and not keen on stopping. It happened again while at my place and rather than giving up, he asked for my toys, took the dildo from my hands and stuck it in my mouth like it was his cock. He proceeded to penetrate me while I used a second toy for outer stimulation; the dildo became his disembodied penis, and he wielded it as if it was his own. It was this encounter that later inspired me to confidently pull out my toys and begin masturbating should any other partner suffer the same misfortune. Using toys with an S.O. takes the pressure off performance and allows me to demonstrate exactly what I like. Also, it's super hot to watch someone self-stimulate, so there's that.
—Brianne (40), a woman from New York 
"With toys, we purposefully take our time and push each other to our limits."
As a fat woman, society expects [me] to be [a] sexless sack of laziness with no desire or sex drive, and nothing could be further from the truth. I've been married for over six years now, and my husband and I have used all kinds of toys to enhance our sex lives. Toys can bring new bouts of fun-ness to your sexual routine; they can [also] bring imagination and a new sense of play—we're all here for toys in this household!
We love exploring different toys that work for both of us and bring both of us pleasure. We first decided to use toys after we had been together for about five years and noticed [that] things [were] getting a little routine—so my husband suggested exploring toys, and we've never looked back! He loved the idea of making our sexual encounters last longer by using sex toys as well as making things more exciting. For me, the appeal is the playing process. [A]s parents we can get stuck in that "get in and get out" kind of love-making. [W]e purposefully take our time and push each other to our limits with toys. It's a great way to communicate as well as bond, while bringing a sense of playfulness into the bedroom.
—Woman (31), from Sacramento, California
"Like, why not?"
Using sex toys with a partner is just something that adds a little extra element of fun. My husband and I don't use sex toys every time we have sex, but we've collected a nice collection of toys that we both love over the years, and we just look in the drawer whenever the mood strikes.
I've been using pleasure products in the bedroom for a while, and I've never really thought twice about it. But my husband, from the beginning, has had no reservations about using sex toys [when we're together] either, so I've felt fully comfortable expressing what works and doesn't, or what I want to try. It's been great to just have fun exploring and introducing new toys into the bedroom. There are so many fun, well-designed toys out there for couples now. And the packaging isn't that old '70s-sleazy look anymore—so that helps with the fun factor. Shopping for toys that look modern and have all the information laid out in an accessible way, seems much more fun than what I'm sure it used to be when there weren't so many options on the market. [Plus,] most products were created by men for what they [thought] women wanted versus the more diversified products that are available today.
Part of it is just pure fun. Like, why not? It's just the novelty of trying new things together and seeing what you're both into. And of course there are certain things that a human just can't do. [F]or example, using a vibrating C-ring or some kind of vibe on the clitoris during penetrative sex, can give you what I have recently learned is called a "blended orgasm." But it would be difficult, if not impossible, to have those blended orgasms during penetrative sex without also using a vibrating product of some sort. So, I guess the appeal [of sex toys] is twofold: [You get to try] new things and [they] make orgasms better.
—Woman (30), from Los Angeles
Not everyone's comfortable talking about their sex life, but knowing what goes on in other people's bedrooms can help us all feel more inspired, curious, and validated in our own experiences. In HG's monthly column Sex IRL, we'll talk to real people about their sexual adventures and get as frank as possible.
Interviews have been condensed and edited for clarity.