8 things to put on your 2019 sex bucket list, if you dare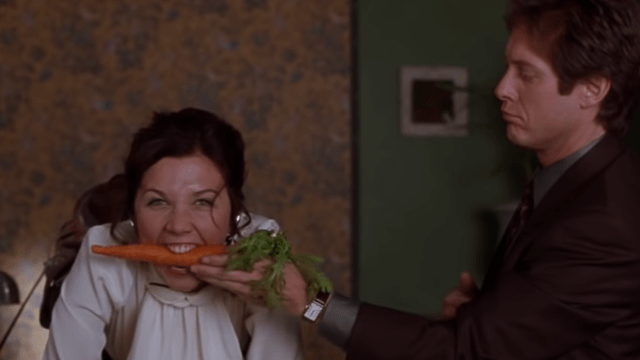 It's a new year, which means it's time to mix things up a little, including your sex life. If you have a bunch of sexual fantasies that you would like to explore with a safe and consensual partner, you might want to consider creating a sex bucket list. Just like an ordinary bucket list—a list of things you want to do before you die—a sex bucket list motivates you to explore new things that you've long desired to try (with maybe less morbidity attached to it—although the French do refer to an orgasm as "the little death"…we digress). Whether it's trying a new position or introducing role play or a new toy into the mix, there are countless things to explore in the bedroom.
"A sex bucket is a great way to bust complacency and make your life a big priority," psychologist, therapist, and author Dr. Cheryl Fraser tells HelloGiggles. "It gets both people involved in their sexual life as a living, breathing, changing thing that needs nurturing. The worst thing you can do for your sex life is expect it to take care of itself. It won't. Make sex a hobby. Plan, create, explore. Become better and better at your hobby."
So get creative! Get curious! And don't be afraid to verbalize and explore your deepest desires to your trusted partner. To help you get started, we rounded up these steamy sex bucket list ideas from an array of sexperts. We're pretty sure at least one will light your fire.
1. Read erotica
"I recommend reading a book that can expand your sexual and/or relationship horizons, and open the window to new ways of approaching your sex life," suggests Dr. Laura Deitsch, resident sexologist at Vibrant, Planned Parenthood's sex toy e-tailer. Some titles she recommends include: Sex at Dawn, The Ethical Slut, Opening Up, and What Wild Ecstasy. Looking for something free? Dr. Deitsch also suggests checking out Literotica.com, a website with free erotic stories, videos, art, and more.
2. Have sex in a public place
Dr. Fraser recommends this especially for adventurous-sex "newbies." Anywhere that heightens the excitement of getting caught is a good idea, like a national park, the steam room at the gym, or a rooftop.
3. Get a couple's massage
Says Dr. Deitsch, "Getting rubbed naked with other folks in the room can be a great turn on for those a little more shy and reserved."
4. Go to a sex club
"Many of the couples I work with visit sex clubs to get their juices flowing. They dance, flirt, watch, and leave without ever having sex or reaching orgasm," Dr. Jessica O'Reilly, host of the @SexWithDrJess podcast, tells HelloGiggles. "They use their experience as both fodder for intimate, [emotional] conversations and as material for sexual foreplay. In many cases, the anticipation is hotter than the reward, which makes sense, as dopamine levels can be twice as high during the anticipation pleasure as when you experience the pleasure itself."
5. Try a new sexual act
For those who want to dip their toe into sexual experimentation, Dr. Fraser reminds us that it can be as simple as trying a new sexual act. Anything from swallowing to anal sex to watching each other masturbate.
6. Attend a "munch"
If you're curious about BDSM, then Dr. Deitsch recommends attending a "munch," which is a casual social gathering of those interested in BDSM. "They gather clothed to just hang out and connect [usually at a restaurant]," she says. "It's a great way to learn about some kinky activities you might be unfamiliar with in a safe setting."
7. Try tantra
"Explore tantric sex techniques, where instead of having a typical climax orgasm, you stop before the point of no return and play with with sexual energy," suggests Dr. Fraser. "If you practice this, you can learn to have orgasms that can last for much longer than the typical seven seconds for men, 21 seconds for women."
8. Create a FetLife account
Dr. Deitsch suggests creating a FetLife account, a social network for kinky folk, "if you're feeling really adventurous. People use the site primarily to connect for a hookup, but events, seminars, and conferences are listed as well. If you are seeking a third person for some experimental action, FetLife is a great place to find one."
There you have it, folks. This should get your imagination, and your sex drive, running wild this year. And, remember, like Dr. Fraser says, "NO JUDGEMENT. In order for this to be a fun, erotic, and relationship-enhancing game, you must decide, before you create your list, that it is okay for you to each ask for what you want—and that your sweetie gets to say yes, no, or maybe without needing to explain why."
Adds Dr. Deitsch, "Sexuality is worth celebrating, and having goals for the year around [it] is one way to conquer shame, cement a connection, and find pleasure."