The Sex and the City episode that taught me it's okay to be single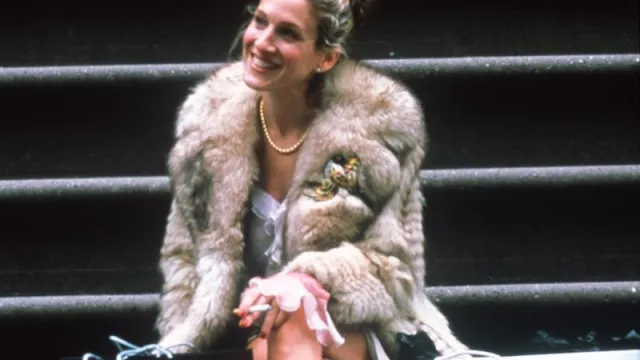 Today marks 20 years since Sex and the City premiered on HBO.
Before I'd even considered moving to New York City, my cousin got me hooked on Sex and the City during asummer break in high school. She was my cooler, slightly older cousin who often introduced me to all things good (e.g. Celine Dion's "It's All Coming Back to Me Now" in the mid-90s), and we holed up in her parents' bedroom, gobbling DVDs of television shows like candy. This was before the ridiculous, at times offensive antics of the SATC feature films. Before Carrie's column musings were critiqued, parodied, and memed. And way before Sarah Jessica Parker and Kim Cattrall's feuding made headlines.
I found myself completely taken by the series — but not because I could identify with it in any way. I was a high schooler in Georgia who had been born in Hawaii. I had only been to New York once, for my 12th birthday, and my only memories were eating soup dumplings and realizing that my wardrobe wasn't conducive to northeastern winters. I wasn't particularly into fashion or other trendy flashes of consumerism. Actually, during that era of my Southern youth, I found almost everyone's style to be inappropriate — with the exception of Charlotte, who reflected the more demure, conservative look of the south.
Still, Sex and the City captivated me because it portrayed love as I had rarely seen it on-screen or in real life. It presented the culture of dating as being a casual, fun, even joyous thing.
While many of the show's protagonists looked for serious relationships, the act of dating itself was rarely treated as a serious affair. The women dated a slew of different men (a whole bevy of famous actors played these romantic interests too, from Will Arnett to Blair Underwood). Carrie, Samantha, Miranda, and Charlotte picked their dates up on the street, at clubs and bars, in shared cabs, at restaurants while getting a bite to eat. On their dates, they'd makes mistakes and sometimes fall in love. But no matter what, even if they had their hearts broken, there were always more men to date. More than that, there were infinite opportunities to meet potential soulmates, to have one-night stands, to discuss new experiences over brunch the next morning.
While I enjoyed the whole series, there is one episode I constantly reflected on throughout my 20s. To this day, I still bring it up in conversation: The punnily titled, "A Woman's Right to Shoes."
On its surface, "A Woman's Right to Shoes" centers around the usual fashion-centric, consumerist-driven storyline SATC is famous for. Carrie is invited to a baby shower where guests must remove their shoes upon entry. Annoyed, she leaves her Manolo Blahniks at the door when she arrives, only to discover they've been stolen when she's about to leave. Carrie later asks the hostess to replace her designer kicks, but is "shoe-shamed" when her friend finds out how much they cost.
"I really don't think we should have to pay for your extravagant lifestyle," her friend comments. So in the end, Carrie announces to her friend that she is getting married to herself and is registered at Manolo Blahnik. She has only one thing on the registry — the shoes she lost at the baby shower — and her friend buys them for her. Beyond these hijinks around luxury footwear, though, I think the episode is really analyzing the plight of the single woman; the ever-present pressure to accomplish all the traditional milestones that society expects of women.
Carrie, as a single person, is succeeding in life. She has a great apartment, a small but close circle of friends, a fulfilling job, and enough money to treat herself to fabulous and expensive heels. But to others, these accomplishments pale in comparison to getting married and raising children.
Even when converted to dollars and cents, people place more value on friends' traditional achievements. Carrie estimates that, in total, she has spent $23,000 on travel and gifts to attend peers' weddings and baby showers; no one bats an eye. But Carrie's request for a $485 reimbursement for stolen shoes is labeled "extravagant."
Carrie's friend does not want to pay for Carrie's expensive lifestyle choices, but single women are repeatedly asked to emotionally and monetarily support their friends' choices, because they got married and had children.
"A Woman's Right to Shoes" was the first time I realized the very real possibility that I could be single forever — a thought at the forefront of Carrie's mind throughout the episode. But rather than wallow in it, she fights for more opportunities to celebrate singlehood.
"Hallmark doesn't make a 'Congratulations, you didn't marry the wrong guy' card. And where's the flatware for going on vacation alone?" Carrie asks Charlotte, who has been married twice. "I'm thrilled to give you gifts to celebrate your life. I just think it stinks that single people are left out of it."
The episode is very much a love letter to single people. It celebrates the fact that women who are single are not merely waiting to get married or have children. Rather, they are choosing themselves. This was revolutionary; it was before people went viral taking engagement photos with burritos instead of significant others and before women began regularly marrying themselves. Never being proposed to or never becoming a mother went against the narrative I'd created for myself, but that episode was comforting, even inspiring. It helped me see what a joyous thing the single life could be.
Now as an adult living in New York City, I realize that very little of that show holds true. One of my favorite memes says that the biggest lie in Sex and the City is that four women can walk down a sidewalk together in a straight line — even that is television magic. Still, when confronted by the idea that my life won't follow a traditional path, I remember "A Woman's Right to Shoes," and take heart. After all, as Carrie famously says, "The most exciting, challenging, and significant relationship of all is the one you have with yourself. And if you can find someone to love the you that you love, well, that's just fabulous."