12 iconic Sex and the City outfits we still think about, aside from Carrie's tutu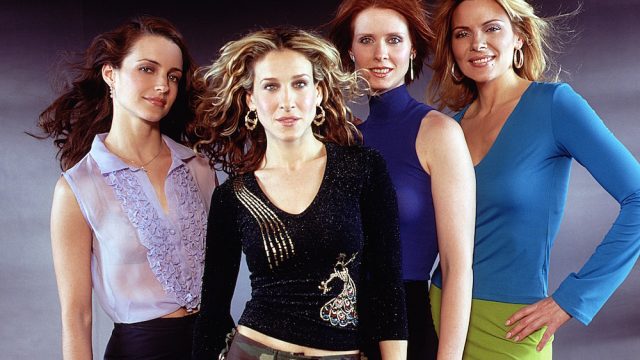 It's hard to imagine a time before Sex and the City. Watching reruns in syndication has became a staple of just about everyone's TV diet, but it was 20 years ago today that the very first episode aired on HBO. It didn't take long for Sex and the City to become just as famous for its characters' iconic style as it was for its then-subversive take on dating and relationships in New York City. Costume designer Patricia Field used Carrie, Charlotte, Miranda, and Samantha's clothing as a way to communicate their personalities and style, and give young, fashion-forward women something to aspire to.
Some of these looks are so legendary that they are still part of the zeitgeist. (Who among us didn't pin a giant flower to their jacket lapel?) In honor of the 20th anniversary of Sex and the City, we've put together some of our favorite looks from the series.
There's been a flood of SATC-related content on the internet in the past few weeks, and we love every drop of it. From an SNL Sex and the City/Handmaid's Tale mashup sketch to a Woke Charlotte Instagram account, we can't get enough. These ladies may have had a few "fashion don't" moments, but that doesn't mean the hits weren't just as memorable as the misses.
Let's take a look at 12 Sex and the City outfits we still love to this day.
https://www.instagram.com/p/BIlnvkxDrBi
Rest assured that it has not been easy to narrow our list down. We could dedicate an entire website to each of these women's fabulously memorable looks.
1Carrie's first Paris outfit
https://www.instagram.com/p/BJi7IhvjeIP
Every single thing Carrie wears while in Paris with Aleksandr Petrovsky is an absolute dream, but we've always held a candle for this deeply Parisian, almost costume-y striped number. There's something fantastical yet deeply wearable about this look.
2Miranda's wedding dress
Miranda wore a burgundy velvet dress to her beautiful autumn garden wedding. It captures Miranda's style beautifully, is elegant and unique in the way only Miranda could be. She never had a traditional Charlotte-like drive to be married, so it makes sense that her wedding-style would differ as well. We always love that she did her own thing and didn't fall prey to wedding mania.
3Carrie's post-breakup fur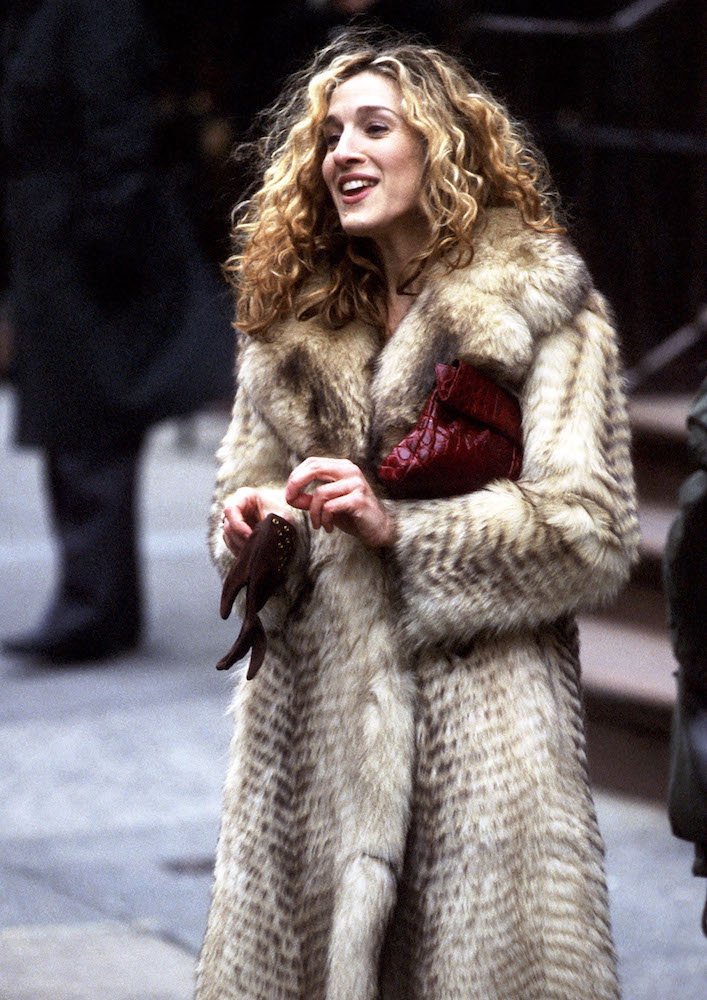 After the first of many Big-related breakups, Carrie finally peels herself off the ground to go on a date with the new Yankee. Feeling fresh and fabulous, Carrie pairs her giant fur coat with wild curls and a cute clutch – a look we still covet to this day, post-breakup or not.
4Carrie's spontaneous Berger date look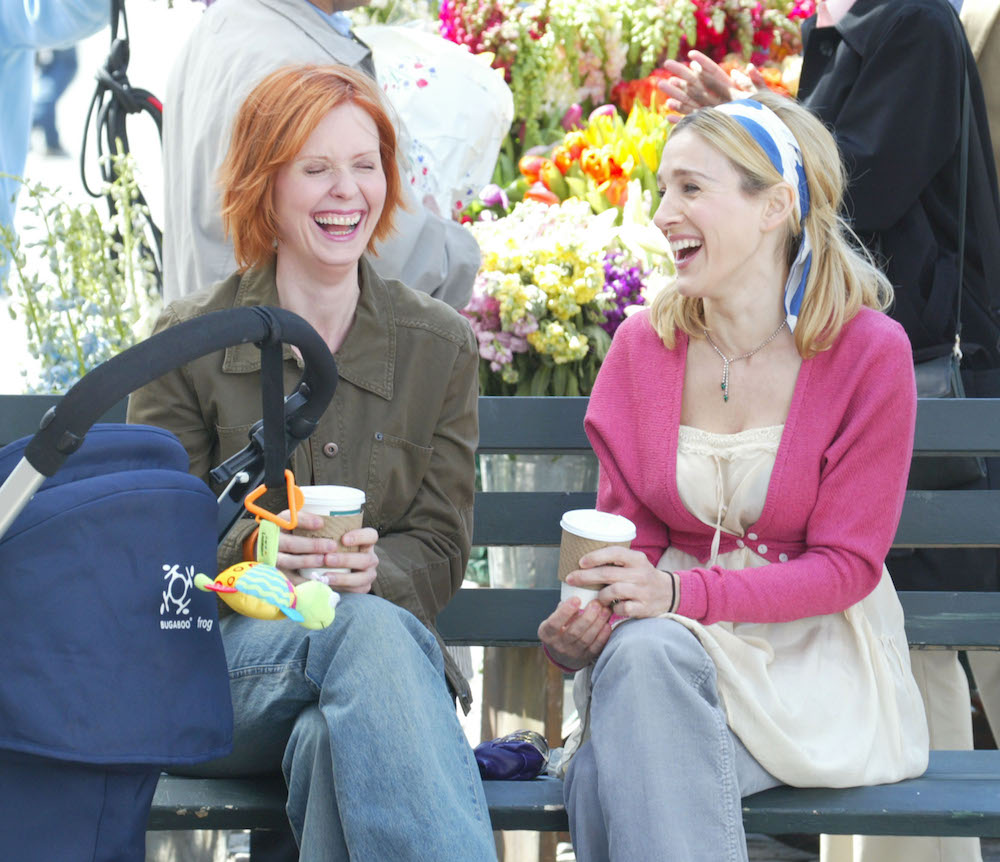 Conversely, at the start of her ill-advised relationship with Berger, Carrie throws caution to the wind and heads out to a movie wearing what can only be described as "confused granny chic." Lets break down this look: relaxed pants, a short peasant dress (or perhaps long blouse) and a cozy sweater. It's one of those "Huh?" moments that somehow works on Carrie and would look ridiculous on everyone else.
5Miranda's bucket hat
https://www.instagram.com/p/BHubuE0j1XK
This is not the first or last bucket hat on SATC but it's definitely one of the most memorable. Miranda DGAF about getting her shit done in comfortable clothing, but this is clearly a thought-out and put-together outfit, however striking it may be.
6Samantha's BBQ gingham separates
https://www.instagram.com/p/BHAzJh0l5hs
When the gentrification queen decides to throw a BBQ to make peace with the locals in her new neighborhood, she dons the sweetest gingham two-piece we've ever seen. It doesn't get much better than this summer must-have, and it was always a treat to see Samantha wearing a softer look.
7Charlotte's Atlantic City dress
https://www.instagram.com/p/BHfCEksjY13
In the midst of a burgeoning mid-life crisis, Charlotte buys a plunging, Jersey Shore-esque pink dress. It's a total departure from her usual look, which is why it's so memorable. Kristin Davis rarely got to show off that bangin' bod, so it's fun to see her in such a silly, lighthearted ensemble.
8Samantha's undercover trench and wig
https://www.instagram.com/p/BJYlYHDDinE
When Samantha rightly thinks Richard is cheating, she goes into full spy mode – donning a Raquel Welch wig and white trench coat. The trench coat has a classic shape, but the stark, bright white fabric is absolutely stunning. Only Samantha would look this fabulous while watching her life fall apart and making some very questionable decisions.
9Carrie's museum outing striped skirt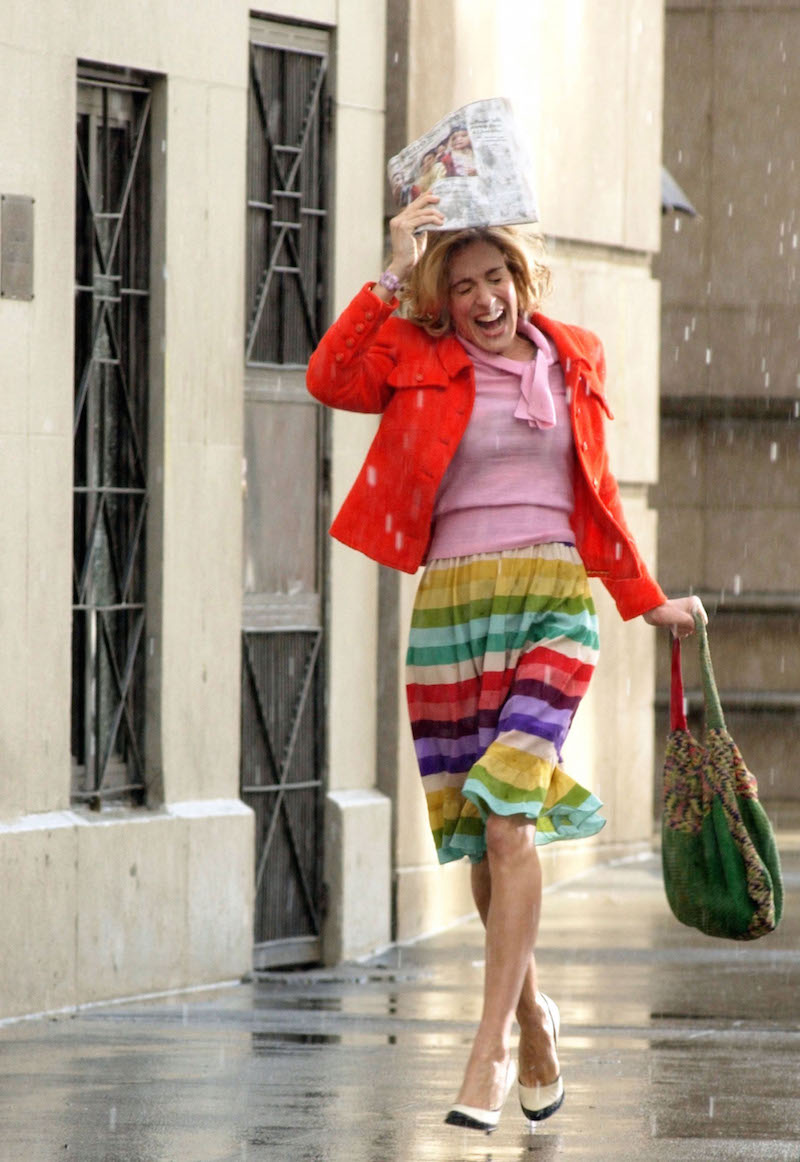 When Carrie needed to fall in love with the city again, she took to the museum circuit wearing the most adorable outfit imaginable. This is one of her most beloved and memorable looks from the shortened Season 5 and is pure Carrie. Whimsical, fresh, and paired with a new bob haircut, truly iconic.
10Charlotte's Highland Fling tartan gown
https://www.instagram.com/p/BK6dxMzjSYe
In the midst of a seemingly last-minute party, Charlotte is somehow able to put together a dress wearing Trey's family tartan. The red plaid is Charlotte to a T — preppy, pretty, and elegant.
11Miranda's menswear
https://www.instagram.com/p/BXlXUTJjd5L
Who doesn't LOVE Miranda in some good menswear? There are so many options available that it's hard to choose from, but we especially love this Annie Hall-esque pairing with a long, dark skinny tie. Her red hair looks especially bright and striking with the dark suit.
12Carrie's birthday disaster red dress and hat
https://www.instagram.com/p/BSE9cMGDouh
Everyone's worst nightmare came true when all of Carrie's friends bailed on her birthday party, but at least she looked fabulous. The gorgeous red dress had discreet little cutouts that were ahead of their time and the black vintage hat gives it a classy retro spin. Would wear.