Seth Meyers is hosting the 2018 Golden Globes, and fingers crossed for cameos from Tina and Amy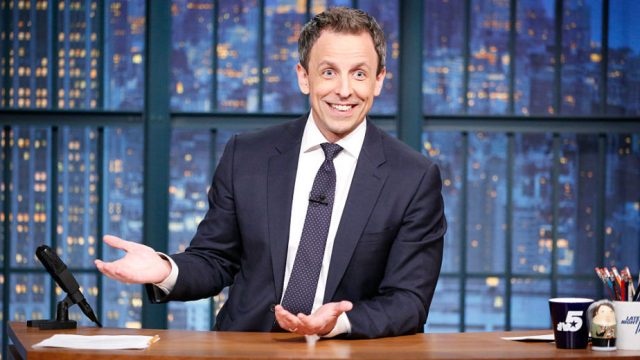 Now that Thanksgiving is over, it's time to think about other upcoming holidays and events we love. We can't wait for Christmas, New Year's, and award show season. It was recently announced that Seth Meyers will be hosting the 2018 Golden Globes, and we're so excited. He's the perfect man for the job.
Of course, the Golden Globes are always full of surprises. This year's show was hosted by none other than Jimmy Fallon. We're ~still~ thinking about the La La Land opening Fallon did for the 2017 Golden Globes. It featured a bunch of celebrities, from Nicole Kidman to Amy Adams, stuck in traffic, trying to get to the show. Just like in the movie, instead of just staying put, they started dancing in the streets and on cars.
TBH, we were sort of secretly hoping that one of our favorite female dynamic duos would be hosting the Golden Globes again: Tina Fey and Amy Poehler. But Seth Meyers is a GREAT choice. There's a good chance that they'll be making cameos during the show, especially since they worked with Meyers on SNL for so long. Surely he can put in a good word for them with the producers, right? We can't imagine them ~not~ making an appearance.
We're happy that Meyers got the gig, and we're not the only ones.
"The Hollywood Foreign Press Association is excited to have Seth Meyers host the 75th Annual Golden Globe Awards, HFPA president Meher Tatna said in a statement, reported EW. "With his natural comedic wit and innate ability to charm audiences, Seth will help us carry on the celebratory tradition of recognizing the best in television and film at the Party of the Year.
Aside from finding out that he'll be hosting the 2018 Golden Globes, the late night talk show host just found out another piece of exciting news: Meyers and his wife Alexi Ashe are expecting a second child. They're already the proud parents to a son, Ashe Olson, who was born in March of 2016.
Meyers announced the news in the coolest way ever — on Late Night with Seth Meyers!
The announcement starts at the 1:40 mark.
https://www.youtube.com/watch?v=AcoALQl7jfA?feature=oembed
With the Thanksgiving spirit still in the air, Meyers definitely has a lot to be thankful for. Golden Globe nominations will be announced on December 11th, and the show will air live on January 7th. We can't wait to see Meyers host, and we still hope that Fey and Poehler will appear too.