A theory that Seth Cohen of The O.C. is the godfather of the starter pack meme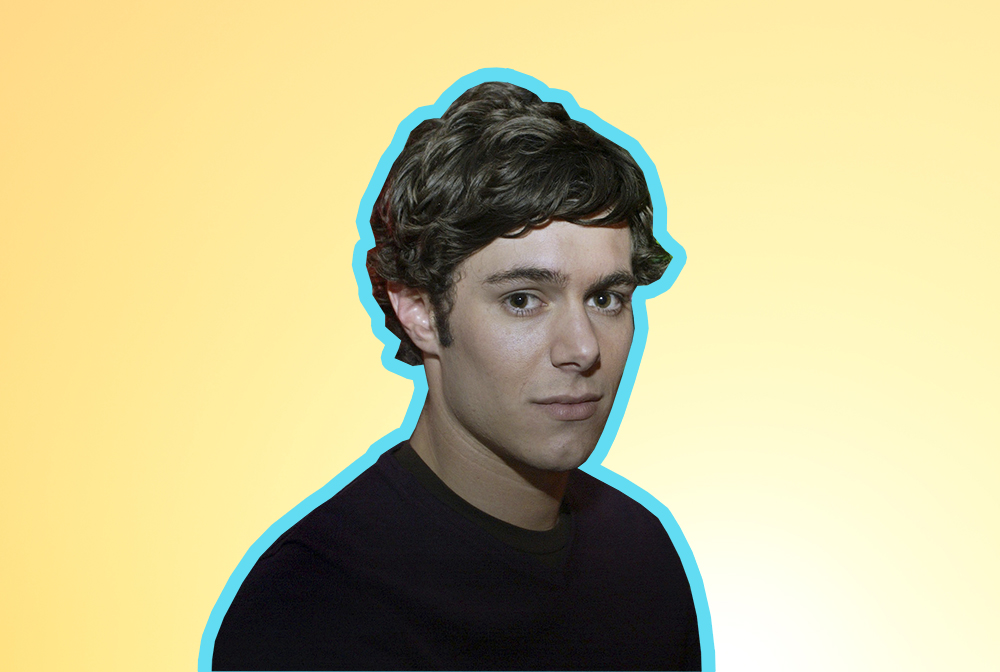 Unless you're living underneath a wi-fi-inaccessible rock or have no concept of what a meme is, you've most likely heard of a starter pack. This hilariously popular meme, mostly seen on Twitter and Instagram, is usually composed of a gallery of images that depict, at its mildest, a hilarious stereotype, and at its worst, straight-up racism. Oftentimes the starter pack meme is relatable, even if offensive (as memes sometimes are). While the meme has only been around for a few years, the concept of the starter pack made its first pop culture appearance 15 years ago. It was birthed not by the internet (Myspace was the only social media site poppin' back then), but by a TV hero of the mid-aughts: Seth Cohen.
The Josh Swartz-created teen drama The O.C. made its debut on August 5th, 2003. It focused on Ryan Atwood (Benjamin McKenzie), a bad boy from the wrong side of the tracks (Chino, California) who found a new home and family in the rich, white suburbs of Newport Beach. Seth (Adam Brody) was Ryan's foster brother: a quirky, talkative, nerd-type who loved comics, indie music, and a toy horse named Captain Oats. Complete opposites at first, Seth and Ryan ended up having one of the most memorable bromances in television history.
The very first starter pack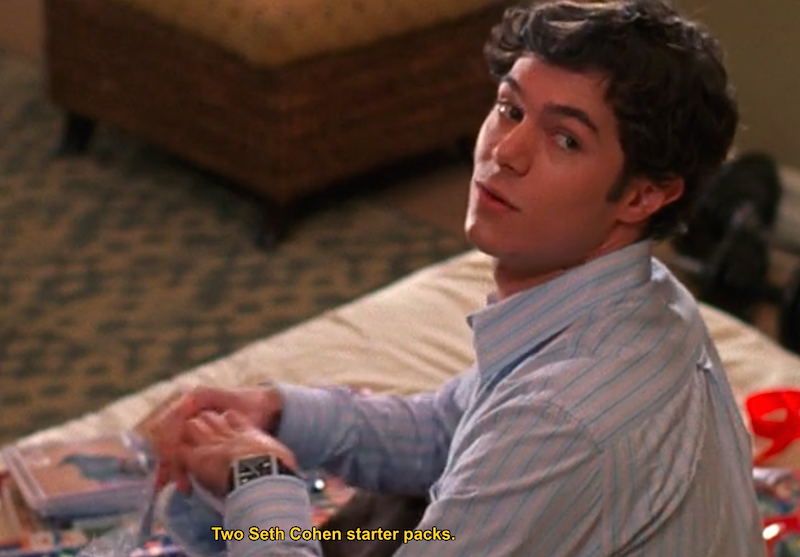 During "The Best Chrismukkah Ever" episode of Season 1, Ryan walks in on Seth wrapping presents for Chrismukkah. As you might have guessed, this is the hybrid holiday of Christmas and Hanukkah invented by Seth (told you he was quirky). It's where we are introduced to what Seth himself deemed The Seth Cohen Starter Pack. Amidst a mountain of ribbons and wrapping paper, Seth describes its contents to Ryan:
Can we get any more 2000s than those bands? I think not. In retrospect, the starter pack was not only a Seth Cohen version of Oprah's Favorite Things but a time capsule of the early aughts. The era when hip-hugging flared jeans, indie-emo bands, and Paris Hilton (she even guest-starred on an episode of The O.C.) ran rampant. While many starter packs, in both physical and meme form, are somewhat timeless, they're ultimately symbolic of the period in which they are produced. Would Seth make the same kind of starter pack in 2018? Most likely not (though The Goonies surely remains a classic invulnerable to the passing of time).
The gift no one asked for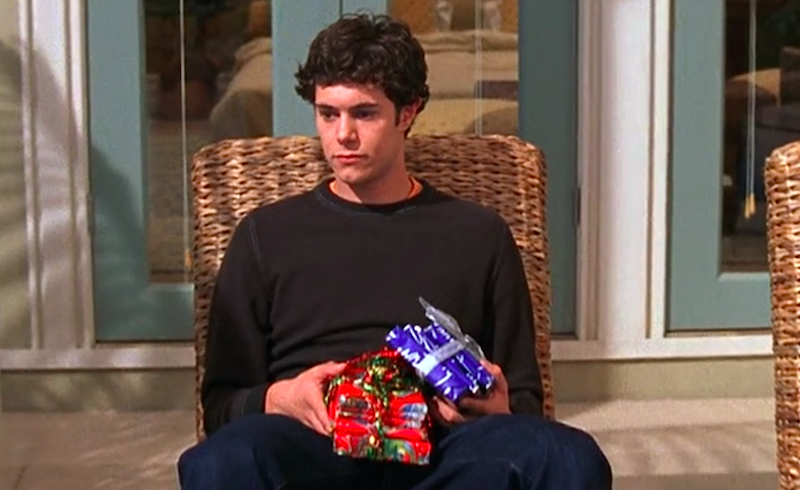 Of course, we have to point out the recipients of The Seth Cohen Starter Pack. At this point in the series, Seth was caught in the middle of a love triangle. There was Summer, his longtime crush, and Anna, the girl with whom he shared many interests. Not only did Seth lazily give identical presents to the women vying for his affections, but he imposed on them his own musical and literary tastes without respect to theirs.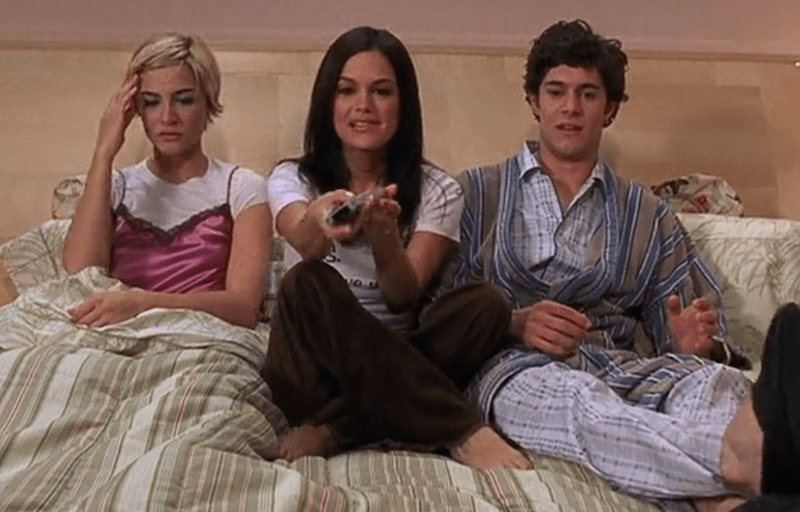 This was Chrismukkah, a time of giving, yes, but aren't presents supposed to reflect the personal preferences of the recipient? It was kind of an asshole move, especially considering that the girls' gifts for Seth were thoughtful and creative. Anna gave him a hand-drawn "The Adventures of Seth Cohen and Captain Oats" comic, while Summer satisfied his horny teenage fantasies with Wonder Woman cosplay. But this was Seth Cohen. In 2003, many of us were pervious to his indie hipster-boy charms—especially Summer and Anna.
In Seth's defense, this was an act of sharing his favorite things with the women he admired (though he could have given it alongside a more selfless gift). It can be viewed as a simple gesture of intimacy. Any of us would want to gift personalized starter packs to the people we love, or the people we want to love us. And while memes of all kinds may appear to be a frivolous by-product of social media, they're actually means of human connection. We share and repost them on our feeds as a subconscious call for emotional and psychological companionship. Almost like intangible starter packs. Bravo, Seth Cohen, bravo. Captain Oats would be proud.