"Sesame Street's" newest muppet will have autism, and it's about time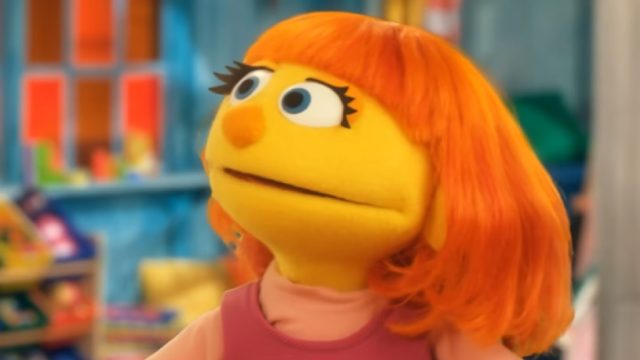 We're so happy to hear that our favorite children's show is constantly evolving. A new Muppet with autism will join Sesame Street, teaching children that all differences should be embraced and celebrated.
Autism — a condition that often makes it difficult to communicate and form relationships with others — has been talked about a lot. It's nice to know that the show is tackling the topic with intelligence and compassion.
The Muppet, named Julia, will make her official television debut this April. Those who have small children might already be familiar with her through Sesame Street-themed digital stories, where her character was introduced earlier. She was such a hit that the show decided to bring her on board as a member of the colorful cast.
Julia was even mentioned on 60 Minutes.
In the segment, it was noted that the dream would be to integrate Julia into the cast, and someday have her be a character that has autism, but is not defined by her autism.
https://www.youtube.com/watch?v=RA9FIWK8OUY?feature=oembed
It's been reported that in her first episode, Big Bird will assume that Julia doesn't care much for him. It's up to Elmo to explain that Julia likes Big Bird very much, but sometimes her initial reactions may not make it obvious.
Here's a clip of Julia and Abby Cadabby singing the famous Sesame Street theme song together.
https://www.youtube.com/watch?v=M8QQRtA0hVA?feature=oembed
Yeah, we have to admit. That's pretty adorable.
Here's another clip, in which Elmo talks about how there are a bunch of different ways to play that end up being beneficial to everyone.
https://www.youtube.com/watch?v=wCsVSHT3tpY?feature=oembed
While Sesame Street notably moved new episodes over to HBO this season, Julia's first episode — called "Meet Julia" — will be airing on both HBO and PBS, according to the Associated Press.
We think this is a fantastic move. The more children who are exposed to this incredible new character, the better.
We're so glad that Sesame Street, once again, isn't afraid to tackle tougher topics. We have a good feeling that Julia is going to be an incredible addition to the Muppet cast!