The "Sesame Street" remix of "Despacito" will be your sunrise on the darkest day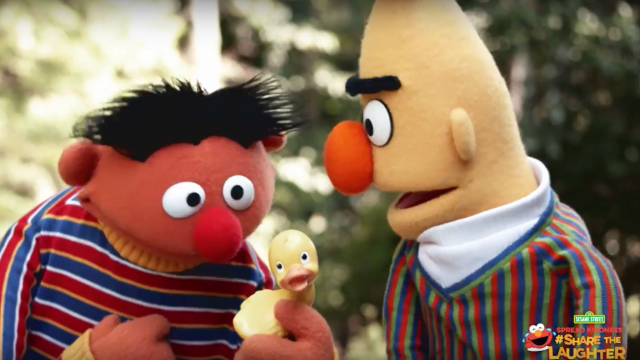 Thought you'd heard the last of "Despacito" remixes? Well, think again. After all, this isn't the song of the summer for no reason, so of course it's going to be reimagined time and time again. Now, while we may not like every remix, there's one we absolutely love. Our favorite wooly neighbors from Sesame Street have remixed the hit by Luis Fonsi and Daddy Yankee, and this time, it's about Ernie's rubber duckie.
Titled "El Patitito," which literally means "the duckie," this remix is exactly what you think it's about.
https://www.youtube.com/watch?v=iS6e3ZTuxC8?start=135&feature=oembed
Ernie starts the ballad, after some help from his Spanish-speaking monster friend Rosita, who helps him learn the word for "duck" in Spanish. So…that kind of makes Ernie Justin Bieber, right? While some of us may be Ernie, totally loving every version of "Despacito" we hear, others of us are Bert, who says, "Not this song again." (But we guarantee that even the Berts of this world have gotten this earworm stuck in their heads all summer.)
Honestly, this remix is kind of inspiring our self-care routine. While we love baths, especially salt baths, we're also kids at heart, and playing with bath toys kind of seems like it would still be lit. The only thing better than a bath with el patito would be seeing Luis Fonsi and Daddy Yankee as the musical guests on Sesame Street. We'll just be over here crossing our fingers that it happens.