Count Olaf is finally revealed in the brand new trailer for Netflix's "A Series of Unfortunate Events"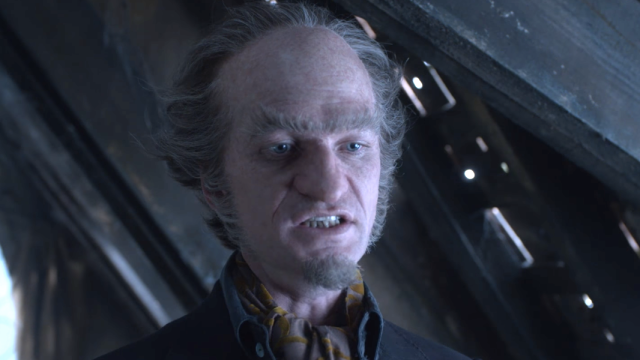 Um, Neil Patrick Harris, is that you? Because that certainly doesn't look like the lovable, Broadway show-stopping, Barney Stinson, family man we're used to seeing grace our television screens. But, it's amazing what a little prosthetics and make up can do to completely transform NPH into Count Olaf in the latest A Series of Unfortunate Events trailer.
We've already gotten a taste as to what the man behind the pen, Lemony Snicket, will look like, and we sort of heard Count Olaf laughing off in the background. Now with the newest trailer for the upcoming Netflix original series, we actually get to see the man behind the mayhem with our own eyes. It's okay to admit you're a little bit spooked by him, because it's clear the Baudelaire children are, too.
https://www.youtube.com/watch?v=IMlkSMbYiAw?feature=oembed
This is also our first look at the Baudelaire children, Violet, Klaus, and Sunny Baudelaire, and so far, we like everything we're seeing with Netflix's latest adaptation of the beloved book series.
Well, okay, it's not like we ~like~ it, like it's all sunshine and rainbows and candy for days. This is A Series of Unfortunate Events we're talking about, and as Count Olaf tells the children, they haven't "the faintest idea" how horrible and awful he can be. We're worried and also so, so excited for this to land on Netflix on — when else? — Friday the 13th of January, 2017.