Serena Williams shut down a sexist reporter who asked if she was "intimidated" by Maria Sharapova's looks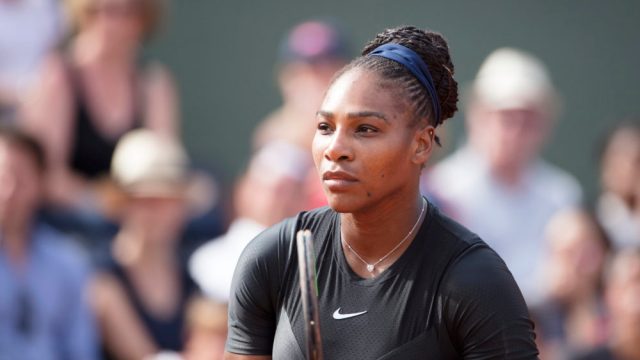 Fact: Serena Williams is one of the greatest athletes of all time. She holds a record-breaking 23 Grand Slam titles (which no other athlete, male or female, has ever achieved), and continues to dominate the court after almost 20 years of professional competitions.
This is why it's no surprise that Williams isn't here for sexist questions from ignorant reporters. The tennis player competed in the 2018 French Open over the weekend, and during a June 2nd press conference, a journalist asked her if she was intimidated by competitor Maria Sharapova's looks. Yep — that actually happened.
The cringe-worthy moment began with the reporter asking Williams to "work with me," saying that he knew she likely just wanted to get back to her baby daughter. "We're in this together, baby," he continued. Williams reportedly smiled, saying, "No, we're not; you're not going home to a screaming baby." (Williams gave birth to Alexis Olympia in September 2017).
And that's when the reporter thought it was a good idea to ask the following:
"After the 200 Wimbledon match with Maria, I had the opportunity to interview Donald Trump on his L.A. golf course, and he said that Maria's shoulders were incredibly alluring and then he came up with this incredibly analysis: That you were intimidated by her super model good looks. […] Have you ever been intimidated by anyone on a tennis court, and what are your thoughts about the occurrence. " false
Williams responded in the most direct way: "I honestly don't have any thoughts about that. I can't say I have been intimidated by anyone. That's all. That's it."
While Williams clearly doesn't need our help defending herself (we think she shot the journalist's question down pretty well on her own), we're still admittedly outraged on her behalf. Not only was the question plainly rude, but the notion of a professional, award-winning player getting intimidated by her opponents "good looks" would never have been posed to a white male athlete. Additionally, it undermines both Williams and Sharapova's immense skills on the court.
We're so glad Williams put the unknown journalist in his place and refused to acquiesce to his offensive line of questions. She's officially our #SHERO of the week.