How Producer Serena Kerrigan Built the First-Ever Instagram Reality TV Show
"My biggest goal is to spread my message...that people actually have the power to make their dreams come true."
Sundays are a day to recharge and reset by hanging with friends, turning off your phone, bathing for hours on end, or doing whatever else works for you. In this column (in conjunction with our Instagram Self-Care Sunday series), we ask editors, experts, influencers, writers, and more what a perfect self-care Sunday means to them, from tending to their mental and physical health to connecting with their community to indulging in personal joys. We want to know why Sundays are important and how people enjoy them, from morning to night.
While it was a dream come true to work at Refinery29 as a video producer for three and a half years, content creator and Queen of Confidence Serena Kerrigan knew when it was time to move on. "It got to a point where I felt like I stopped learning," the 26-year-old tells HelloGiggles. Kerrigan adds that she felt ready to challenge herself, take a risk, and find something new and exciting. "At that point in my life, I had started to build my brand, The SFK Queen of Confidence," she recalls. "[It] was my side hustle, but I am the type of person who puts 110% of effort into everything I do. So I said to myself, 'What if I put all of my attention and energy into this, instead of juggling both?'"
Even though Kerrigan says she never thought of herself as an entrepreneur, she realized her personal brand was strong enough to develop TV shows and products, like her Instagram series, Let's Fucking Date, the first reality TV show on the platform. The series, which launched in April , follows Kerrigan in real-time as she goes on blind dates, with followers tuning in and commenting along the way. So far, the show has garnered over 10k views each episode, and the Instagram account has over 17k followers.
And with Season 2 having just launched just this past Wednesday (go watch the first episode here), Kerrigan is continuing to put that 110% effort into making the show better than ever. "We already proved the concept with the first season, so we focused on the elements that would make it feel like a real television show on Instagram Live," she says. "Our goal is to try and provide a sense of escape for people during this global pandemic and it has become my main focus."
In addition to the show, Kerrigan also recently released the Let's Fucking Date Card Game, to "help inspire the message to help women feel confident," she says.
"My biggest goal is to spread my message extremely loud and clear to everyone in the world—the message that people actually have the power to make their dreams come true. I wanted to figure out a way to make people believe in themselves the way I believe in myself. If I am telling people to go after what they want, to truly trust and believe in themselves, then I have to do the same," Kerrigan explains.
Kerrigan's projects all fall under the SKF LFG LLC (Serena Fucking Kerrigan Let's Fucking Go) title, a name that was created to "not only to include my confidence journey, but everyone else's too," she explains. "The first part, SFK, symbolizes MY confidence journey, but I want everyone to unlock their SFK. Your SFK is the person that is the main character of your life, the star of the show. I added the Let's Fucking Go for the community element. It's empowering one another, it's a let's do this, let's get after this, let's fucking go. And the 'let's' is very important because it insinuates that we are on a team because empowered people empower others."
For this week's Self-Care Sunday, we spoke to Kerrigan to learn more about her journey with her confidence and business. Here are her go-to self-care rituals, plus advice for people struggling to feel confident themselves.
Mental Health
HelloGiggles (HG): How would you say your relationship with your confidence has affected your mental health over the years?
Serena Kerrigan (SK): Before I became the Queen of Confidence, the opinions and perceptions of others controlled my identity and subsequent actions. Whenever I felt insecure, I became very self-conscious and imagined that people were judging me, which increased my anxiety. I so desperately wanted to be liked by everyone that I lost a part of myself. When I began to listen to my gut and act on my own accord, it felt so liberating. Not everyone is going to like me, and that's okay. The people who love me will give me constructive criticism and feedback when I make mistakes.
HG: What are some of the best mental health practices you would suggest others do if they're having a hard time building up their confidence?
SK: Sign up for a confidence coaching session with me or watch my TikToks! 🙂
Physical Practices
HG: What are some physical activities you've been doing lately for your confidence and self-care?
SK: I love Sundays. I actually have a playlist on my Spotify called "Sunday." I kind of want to name my daughter Sunday. Maybe it's because I love Sunday Riley products? I just like to chill out, maybe watch some TV. I rarely get to watch TV anymore because I am always consuming short-form content that inspires me to create my own. It's very rare that I am not working. I've been trying very hard to just pause, and Sundays are the perfect time to do it.
Before the pandemic, Sundays were that day of reflection and relaxation. Now, all the days seep into one another, but I really tried to continue the Sunday tradition of trying to let go a little bit. Letting go as in eating carbs, ordering that delicious Pad Thai, and eating ice cream. I let my Sundays have no rules and be really free and easy.
The best part about Sundays now is that I don't get the scaries anymore, because I love my job and I really look forward to it. I think that is what changed when I started my own company—I get really excited about what's ahead.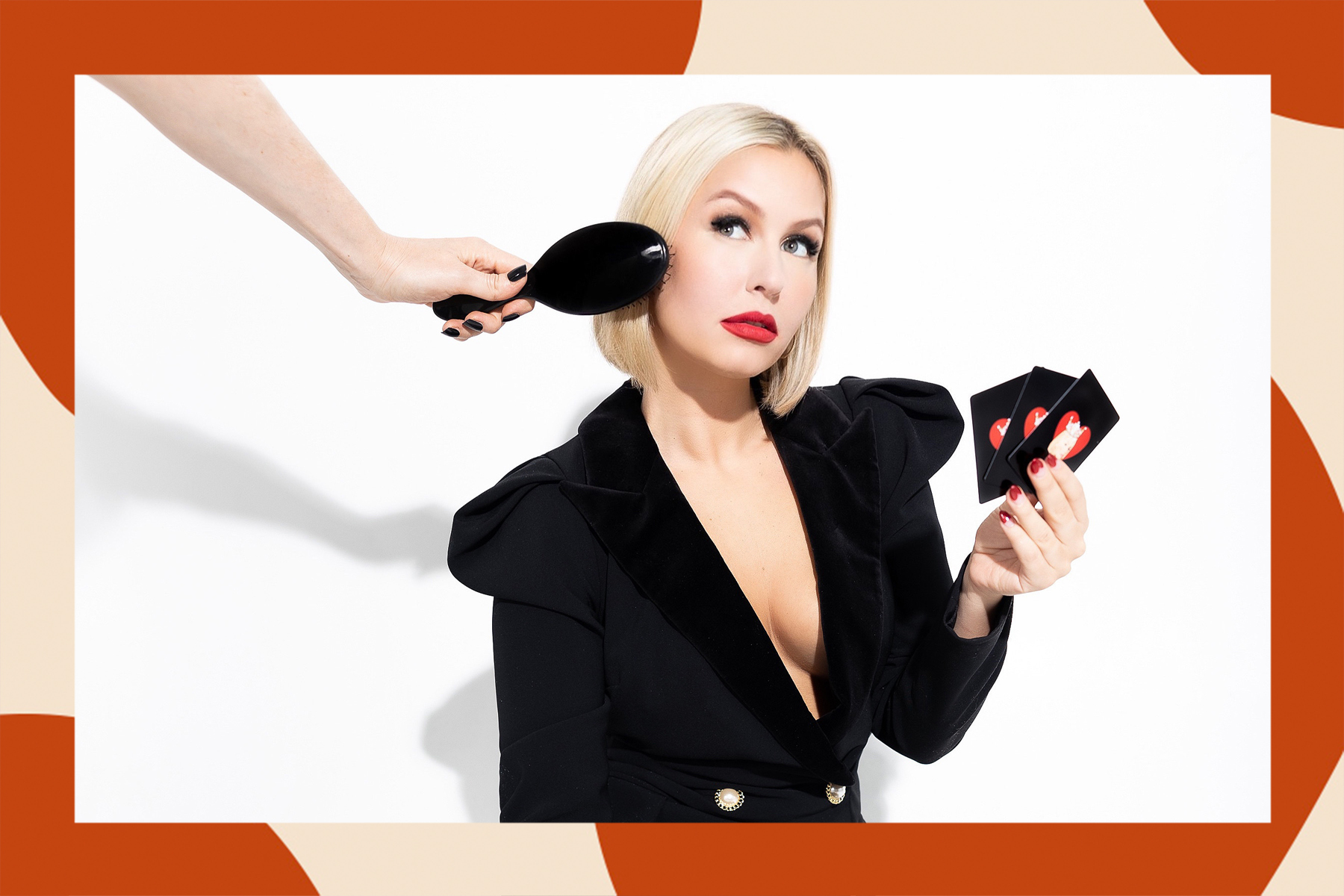 Community Care
HG: How have you been staying connected with loved ones during this time, especially now that you're the boss of your own company?
SK: We are so lucky that we have the technology we do, to stay connected, whether it's with dating, calling your grandma, or talking to a friend. Even though I am a lot busier, I find that when I have the chance to disconnect from my job and see a friend or go out for dinner, I'm much more focused on talking to them and the conversations [have] become a lot more intimate and meaningful. It's not like, "Oh, what did you do last weekend?" "Oh, I went to this party with this person." We talk about life choices and happiness. The conversations are more in-depth and special. If anything, I feel like we are more connected than ever before. 
HG: As an entrepreneur and TV host, how have you been trying to support your community latey?
SK: The whole point of my business is to inspire confidence, and I am trying to support my community by demonstrating how to date safety during the pandemic (aka virtually). Even my card game is geared towards this. Whether you're with a group of friends, or you're bored on a virtual date or on an in-person one, or whether you're single or in a relationship, hopefully, the card game will provide a meaningful, exciting way to break down barriers.
Personal Joys
HG: Do you have a self-care routine (or products) that you've been gravitating toward lately?
SK: I was never really big on skincare, but during this pandemic, I have become adamant about the whole multi-step routine: washing my face [and then using] toner, serum, moisturizer, mask, etc. It has become somewhat of a calming ritual. I also go to therapy every week, which is very important to me. Everyone has some sort of trauma they need to work through and it's important to have a handle on it so that it doesn't impact your future in a negative way. 
HG: What is the one thing you always make sure to do on Sundays to build and maintain your confidence?
SK: It's not just a Sunday thing. I do it every day. I talk to the girl in my reflection and remind her that she is a fucking bad bitch.
HG: What has the pandemic has taught you about confidence?
SK: I became very self-sufficient. The pandemic and resulting social distancing forced me to become more creative and think outside of the box. I set goals for myself and work hard to reach them, which in turn, makes me more confident.
Using this time of stillness to reflect on what your goals are in life, and truly believing that you can attain them, is extremely important. It doesn't matter how much time it will take to get there, as long as you set specific objectives and strive to reach them every day. 
HG: What is your advice for people who don't feel confident in themselves, their jobs, or their relationships?
SK: Talk to yourself in the mirror, as if you are talking to your best friend. At the end of the day, the only person who is a constant in your life is yourself. You must nurture that relationship the way you would with anyone you love. Once you become your best friend and your biggest advocate, you will unlock the key to confidence and happiness.