Sephora's wedding fragrance sampler will help you decide what to smell like on your big day
Wedding season is officially upon us, and whether you're a bride, bridesmaid, or guest, finding the perfect fragrance for the big day is a lovely way to infuse your memories with an unforgettable scent. It can be especially meaningful for brides to pick an extra special perfume, one that they'll always remember when looking back on their wedding day. It can be overwhelming to go through the myriad perfume options available, but luckily for us, Sephora has a game-changing new fragrance set that will make your life a whole lot easier.
The limited-edition Sephora Favorites Wedding Season Perfume Sampler includes 10 samples of some of Sephora's most popular women's fragrances. You'll be able to sniff and test them all out to ensure that the dry down on your skin is to your taste. Once you choose your favorite, you can use the included voucher for a free, full-sized perfume of your choice. That's a pretty insane deal, seeing as most perfumes are often worth more than what the entire sample kit costs.
Whether or not you're a perfume lover, this is a great way to plan for your big day and also to start curating your own collection.
Head on over to Sephora and check out the Wedding Season Perfume Sampler, it's an absolute dream.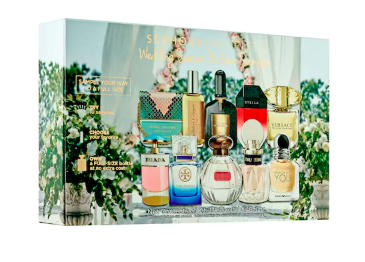 The set includes the following samples from cult-fave brands and fragrances from Versace, Emporio Armani, Marc Jacobs, Mui Mui, Tory Burch, Tom Ford, Prada, Stella McCartney, Tocca, and Atelier Cologne. From the products to choose from, hopefully, one of the 10 perfumes strikes your fancy.
Let the perfume hunting begin!