I tried Sephora's new lipstick try-on app, and it was surprisingly awesome
When it comes to applying make-up, I'd describe my skill level as somewhere between "toddler who's discovered a tube of mascara under the couch" and "vaguely competent human who can follow video tutorials as long as they require fewer than seven products." So when I found out that Sephora had added a new lipstick try-on feature to its Sephora To Go app, I was eager to see what make-up is supposed to look like when applied properly — and surprisingly, it totally delivered.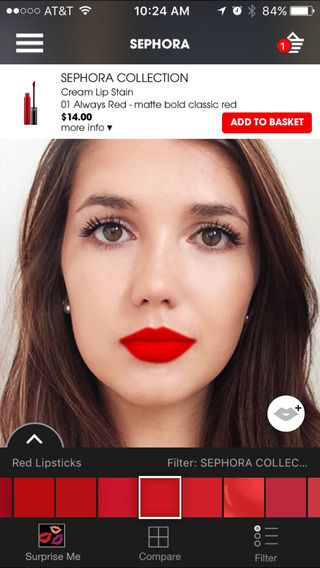 Using hi-tech face-mapping technology, "Sephora Visual Artist" detects the location and shape of your lips either via an uploaded photo or through your camera in real-time. Unlike similar make-up apps or the desktop version of SVA (available here), you don't have to drag little markers around your lips/face for the app to work — so it's perfect for those of us who are less technologically inclined. (Or, you know, have big fingers.)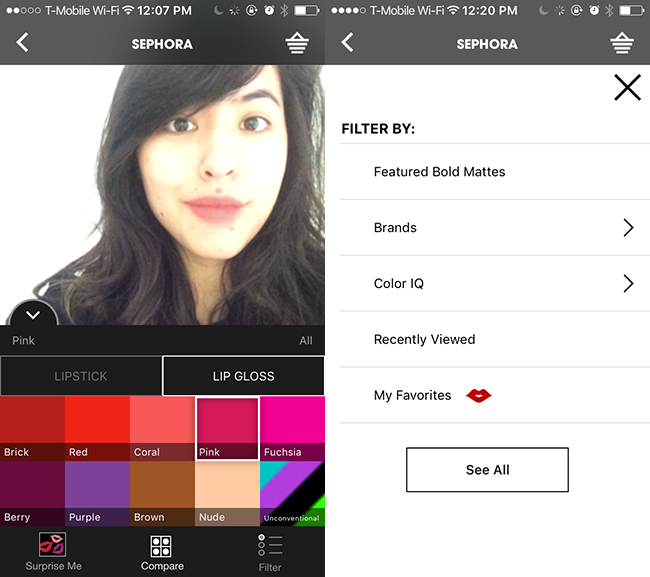 From there, you can apply a variety of lipsticks and lipglosses in a rainbow of colors to see what you like best, and save all your favorites for later. You can filter by brand, color family, and the latest make-up trends. It'll even take into consideration your Color IQ and suggest shades that will best suit your skin tone.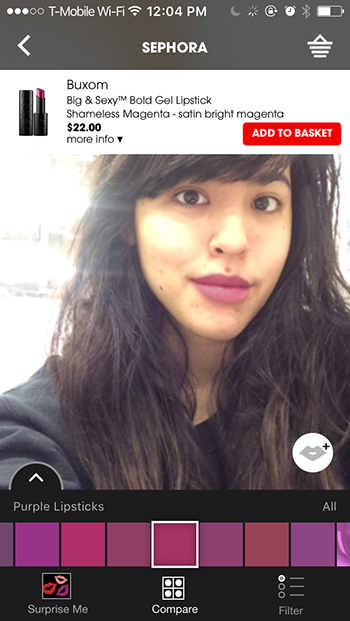 Full disclosure, I'm not wearing any make-up today — so whatever you see in these pictures was applied by Sephora's app. It's surprisingly spot-on with its lip detection, and I immediately found myself with a perfect purple pucker. You can also compare up to four different shades at once if you're having trouble deciding on a color.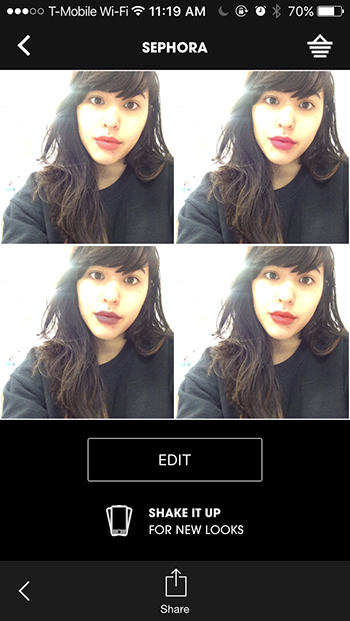 My favorite feature, however, was the "Shake It Up" option under Compare. It gives you four totally new colors on the same photo, and gives you more info on all of them in case you fall in love. Get ready to see the same picture of me a bunch of times, because this was weirdly addictive.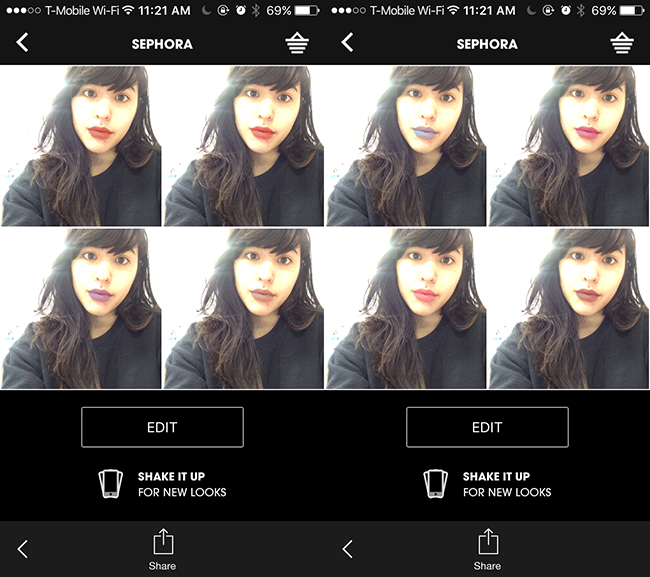 I even tried some "unconventional colors" — and now I'm tempted to channel 13-year-old me and invest in some black lipstick.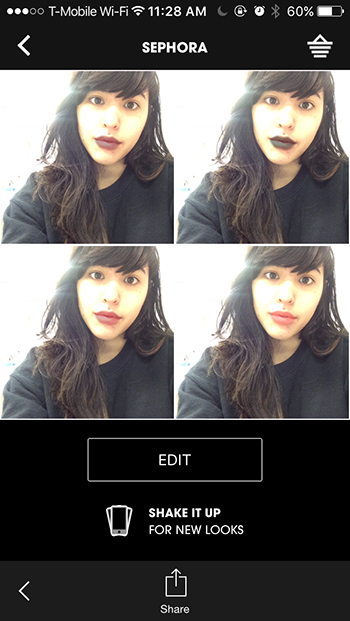 If I were to have one complaint about the app, it would probably be that it's kind of hard to find good lighting for it. It washes you out a ton, and even though I tried it all over the office, I still felt like I looked way paler than I am in real life. It's definitely something to take into consideration when considering what lipstick colors to buy — which you can do directly through the Sephora To Go app. Nonetheless, if you can't make it into an actual store, this new try-on feature is an awesome way to test out some new make-up without any of the commitment.
Try it out for yourself by downloading the app right here!