Sephora is carrying a new makeup brand with an expansive shade range that focuses on medium skin tones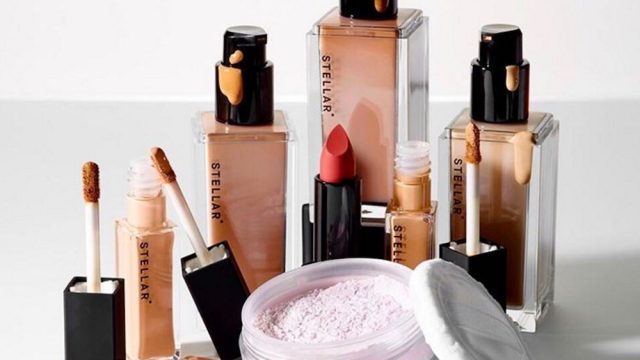 If you've always been frustrated with the lack of makeup options for your medium skin-tones (me, me, me!) you're about to see your beauty dreams comes true. As I've mentioned before, I often feel like us medium skin tones girls get the short end of the stick where beauty is concerned. Brands don't always remember that there's a huge range of skin tones and undertones that fall under the medium range, and finding the perfect foundation or concealer can be tough when you're stuck in the middle.
That's where Stellar Cosmetics comes in: The line was literally made for the purpose of giving medium-skinned girls options tailor made from them. Whether you're on the fair or deeper end of the medium spectrum, you'll find something here — and the options will work for warm, cool, olive, AND neutral complexions.
Former Canadian VJ and show host Monika Deol created the inclusive line after realizing there was a need. The medium-skinned lady understands how tough it can be, so she created a makeup line designed specifically to address the issue. The best part? It's available at Sephora, so we can all say goodbye to those days of desperately hunting for the right shade!
Sephora announced via Instagram that they'll now be stocking the brand's goodies, and they're already available online. The Stellar's offerings include foundations, powders, and concealers. And, since not every color magically looks amazing on medium skin (contrary to popular belief), the brand has also rolled out blush and lipstick shades that will flatter our complexions, too.
This is a seriously huge win, not just for medium-skinned makeup lovers, but for diversity as a whole. We come in a whole range of shades, and we love that this brand is giving every skin tone the love it deserves. Prices range from $22 to $38. It's Friday, so why not treat yourself?