Dry your tears: your hard-earned Beauty Insider points from Sephora aren't technically expiring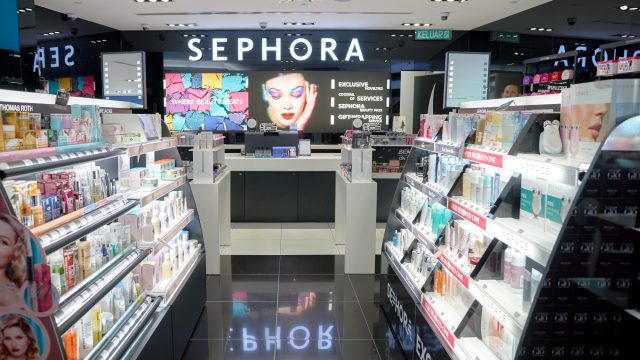 When news broke that Sephora would be wiping out our hard-earned Beauty Insider Points, Twitter exploded. Customers threatened to take their business to Nordstrom or Ulta (both have pretty nifty rewards programs). It was a rough day for beauty junkies.
Seriously, those of us who like to bankroll points until at least the 750 tier responded to Sephora's new policy with a unanimous, "Oh helllll no." Initially, reports claimed that after 18 months, Sephora Beauty Insider Points would expire — so let's clarify the facts.
We kicked it old school and called Sephora's customer service line to get the tea. Here's what we were told:
"Your Sephora Beauty Insider Points will expire after 18 months of inactivity on the account."
That means 18 months of not shopping at Sephora, aka adding or cashing in points on your account. This does not mean that as an active Sephora shopper you have to cash in your points in an 18-month window. As long as your account is active, you can rack up points forever more.
Sephora further clarified the newly updated policy in an email to HelloGigges, stating,
"To best serve our current and future Sephora Beauty Insider clients, we've recently updated our Terms and Conditions regarding inactive accounts. We regret any confusion caused, this change only affects Beauty Insider accounts that are completely inactive for 18 months [as of December 30th, 2017], at which time points will be marked expired."
The Sephora rep added,
"Any Beauty Insider can keep their account active in a few easy ways, such as redeeming a Beauty Insider reward of any value, claiming your free Birthday Gift annually, or making a purchase with your Beauty Insider account profile. At Sephora, our goal is to provide the most compelling prestige beauty reward program, ensuring all program perks continue to surprise and delight."
Here's the official statement on the Sephora Terms and Conditions page:
"It's our hope that you redeem your points on a regular basis. All unredeemed points shall expire when a program member has not engaged in point activity associated with that membership account (through purchase or redemption) for 18 months or more. If you have questions regarding the date of your last point activity or your last purchase, you may call 1-877-SEPHORA (1-877-737-4672) for more information."
If you have any other questions, we recommend shooting Sephora a call to get info straight from the source.