How the #sensualselfie challenge helped me reclaim the beauty of my postpartum body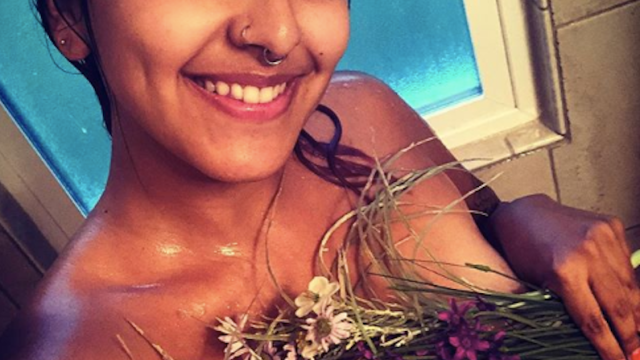 Last month, I learned about the #sensualselfiechallenge hashtag on Instagram—an amazing photo project created by Ev'Yan Whitney, a sex educator and sexuality doula with a big social media presence. As Ev'Yan explained on her Instagram, the challenge asks you to "take one selfie a day for five days that highlights your body, celebrates your sexuality, and encourages you to take up space. And we will guide you along the way with prompts, affirmations, inspiration, and encouragement." I followed the provided link, signed up for the challenge, and quickly received warm messages of inspiration from Ev'Yan herself.
Thousands of photos would be posted with the hashtag as women and femmes of all ages softened folks' Instagram feeds with beautiful and ~body-posi~ images of nudity and confidence. Admittedly, I felt super overwhelmed by the challenge because I'm a mom now. Loving my body and taking nudes comes second (or fiftieth) to my demanding bundle of love.
But then I thought it over: If I am a new mom who struggles with body image, isn't that exactly why I should participate in the #sensualselfiechallenge?
Since giving birth, I have been on a postpartum fitness journey. Exercise means a lot of different things to different people, but for me, fitness has been more about loving myself enough to stay active and healthy. And not purely for myself either, but for my son; I want to live a long life with and for him. So, thanks to the hard work I've been putting in at yoga studios, in sessions with a trainer, and at the gym solo, I felt confident enough to embark on this five-day bare-it-all social media journey. I admit I can be pretty vain in general (as is evidenced by my own Insta feed full of selfies and some bikini shots) but I'd make sure to never reveal my stretch marks or uneven breasts, which were my two biggest insecurities going into this challenge.
I wondered how I'd actually get over that mental mess so I could express my own physicality and beauty in an artistic way.
I kept Day 1 of the challenge pretty mild, simply posting a swimsuit shot that barely showed the stretch marks that start at my midsection. Phew. That wasn't too bad. But for the second challenge, I decided to push myself.
I went all the way in: A torso shot of me cupping my breasts, a glimpse of my right nipple peeking through my fingers. My full belly was exposed and the caption read:
"Ok, I guess I'm really taking it here. This is for my womxn and mothers who expand with love and sometimes contract our bodies, either for yourself or for the opinions of others. If she can become a mother, she can be anything, especially sensual. Especially sexy. And not for another…just for myself. Just as I am. I exist this way if I post or not. Only my hands can hold me in just the right way. I am married to myself and my body, not by force but by choice. Every day, I nourish myself properly and move my body. I am loving myself. I am renewing my vows. I am repeating to myself that I am loved, that I am strong and motivated to live free and live long. 'Til death do us part, cuerpazo…
I decided to insert those words of affirmation into my post because we all need to hear and believe them. I received a lot more likes than usual, even garnering 40 comments (that's a lot to me)! My vulnerability and self-love was met with 100% positivity.
https://www.instagram.com/p/BghArhhAE6B
On Day 3 of the #sensualselfiechallenge, we were asked to post an unflattering photograph and pour love into the parts of our bodies that we criticize…great. This day was difficult, but I figured, they've seen me naked already, so who cares? After posting about my belly, I once again received nothing but positivity and adoration from my IG family, and I appreciated their words to my core.
Then it was Day 4. Ev'Yan asked us to photograph our breasts head-on (because of Instagram's policies, we'd obviously have to edit out our nipples). I thought about my uneven breasts: I did not want to admit to my little Instagram sphere that my boobs are so, so lopsided.
But I also did not want to live in denial about my body. Nor did I want to pretend that I am the only person with breasts that are not the same size.
Though my breasts were already uneven, they have only grown more uneven while breastfeeding my son. He favors my right breast, rendering my left breast virtually useless. I wasn't looking forward to it, but still, I took the photo. I opened up to the love my breasts deserve without imposing a need for unrealistic symmetry on them.
My Instagram comments, again, were filled with only sweet messages of love and understanding. How could that be? I did not know, but I only wanted more of it. I wanted to preserve the safe internet space that I'd created, a space that allowed for nudity and feminine love, undisturbed.
https://www.instagram.com/p/BgmCZ8CABeP
I know that I am beautiful, and I know that beauty comes from realness, and what's realer than unapologetically bearing all?
I needed this challenge. Even after four days of expressing my powerful body, I was having a hard time accepting that the challenge was almost over. Luckily, Ev'Yan ended the marathon of sensual selfies with a prompt dedicated to beauty, airiness, and flowers. I smiled in my photograph because I had fucking made it. And I was having fun. Against all odds—and most of those odds being my own funny thoughts—I completed the #sensualselfiechallenge with a hell of a lot more self-love and bravery than I had before.

By Nora Sanchez